Watch Greensburg
In May 2007, Greensburg, Kansas was leveled by one of the largest tornados in U.S. history. Very few structures remained in the aftermath of the deadly EF5 tornado, and the town lost everything. Inspired by the desire of the townspeople to rebuild
3 Seasons,

23

Episodes - Canceled/Ended

7/10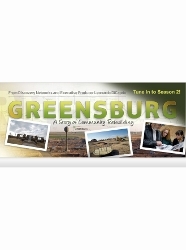 Greensburg

Full Episode Guide
Episode 4 - A Final Look: This Is Home

Over 95% of the city was destroyed by the tornado, but City Hall, hospital, churches, and a wind farm is complete.

Episode 3 - A Final Look: The Big Well

Residents question restoration plans forThe Big Well, one of the last pieces of Greensburg's history that survived the storm. Taylor Schmidt returns home from college excited to see the changes that have been made in town.

Episode 2 - A Final Look: The Crossroads

Greensburg is starting to look more like a town since the reconstruction is being completed. However, many townspeople don't like the modern look of the buildings or their cost.

Episode 1 - A Town Reborn

City administrator Steve Hewitt presents a plan to city officials to rebuild Greensburg as the world's first Eco-town.
Episode 6 - Second Anniversary

Episode 5 - Back in Business

Episode 3 - One Step Forward

Episode 2 - Greensburg Goes to China

Episode 1 - The Future Is Now