Watch Greg the Bunny
For Greg the Bunny and Warren the Ape, the cancellation of their Fox sitcom is now just a painful memory. More current concerns are overdue rent and funding Warren's drinking habit.
1 Season,

15

Episodes

9/10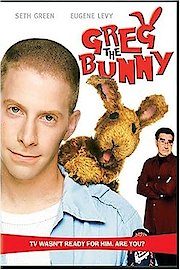 Greg the Bunny

Full Episode Guide
Episode 15 - The Addiction

Greg embarks on a paranoid romp after viewing The Addiction -- a horror film about modern-day vampires.

Episode 14 - The 13th Step

Warren tells the show's creators that he and wife Maggie are heading off to Martha's Vineyard -- instead, he holes up in a room at a creepy motel to drink and obsess about contacting his estranged wife.

Episode 13 - Sleazy Rider

Unable to complete a decent parody of the movie, Tootsie, Greg, Warren and their entourage decide to switch gears and take on the classic antiestablishment film, Easy Rider.

Episode 12 - Naturally Sewn Killers

Greg and entourage pay tribute to Oliver Stone in a send-up of Natural Born Killers, when Warren and Greg head out on a spree of bloodthirsty killing and experimental filming.

Episode 11 - Martian Serum 7 from Mars

Episode 10 - Sockville / The Blues She is My Frien...

Episode 9 - Blue Velveteen / Daddyhood

Episode 8 - 2001-1: Space-N-Stuff / Martian Serum...

Episode 7 - Dead Puppet Storage / Naturally Sewn ...

Episode 6 - Sex, Button Eyes and a Video Ape / Wu...

Episode 5 - Plush: Behind the Seams / The Passion...

Episode 4 - The Godpappy / Sleazy Rider

Episode 3 - Blah / The Addiction

Episode 2 - You Know, For Kids! / The 13th Step

Episode 1 - BunnyHall / Wacky Wednesday
If You Like Greg the Bunny , Then Try...