Watch Harry's Law
Harry's Law, created by David E. Kelley, was a comedy-drama which aired on NBC. It ran for twelve episodes in its first season. The show was renewed for a second season which consisted of twenty-two episodes. The season two finale aired in late May of 2012. NBC will not be renewing Harry's Law for a third season.
Kathy Bates starred as a recently fired patent lawyer named Harriet Korn. The series began with a seemingly jaded Harry finding passion for law again in the form of criminal defense. She and a handful of associates practiced law in an office located in a shoe store which was ran by her assistant Jenna Backstrom. As the second season began, Harry's firm moved to a larger office upstairs.
Despite Harry's abrasive, world-weary disposition, she took a genuine interest in her accused clients and worked toward proving their innocence with heartfelt sincerity. She even hired one of her clients Aml as a paralegal after he attempted suicide due to drug possession charges.
Other supporting characters on the show included a young arrogant attorney named Adam Branch and a semi-famous plaintiff's attorney named Tommy Jefferson. Plots involving relationships and romantic triangles amongst various attorneys, paralegals and assistants were interwoven throughout the series.
Kathy Bates's portrayal of Harry led to her nomination for Outstanding Lead Actress in a Drama Series at the 63rd Primetime Emmy Awards in 2011. After NBC's announcement of cancellation, fans on Facebook and other social media outlets created petitions and fanpages in an effort to revive the show.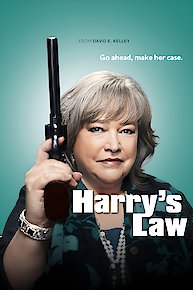 Harry's Law

Full Episode Guide
Episode

22

-

Onward And Upward

Harry's ex-husband died unexpectedly leaving her to plan the funeral.

Episode

21

-

The Whole Truth

Harry looks at an old case when she learns a gang member who has wrongly been convicted of killing a cop is being sentenced to death.

Episode

19

-

And The Band Played On

Harry and Adam help Phoebe with her case on an entire college marching band being charged with murder after there's a hazing and a student is killed.

Episode

18

-

Breaking Points

Episode

16

-

The Lying Game

Episode

15

-

Search and Seize

Episode

14

-

Les Horribles

Episode

13

-

After The Lovin'

Episode

12

-

New Kidney on the Block

Episode

11

-

Gorilla My Dreams

Episode

10

-

Purple Hearts

Episode

7

-

American Girl

Episode

4

-

Queen Of Snark

Episode

3

-

Sins of the Father

Episode

2

-

There Will Be Blood

Episode

1

-

Hosanna Roseanna
Episode

11

-

With Friends Like These

Episode

10

-

Send In The Clowns

Episode

9

-

The Fragile Beast

Episode

8

-

In The Ghetto

Episode

7

-

American Dreams

Episode

6

-

Bangers in the House

Episode

5

-

A Day In The Life

Episode

4

-

Wheels Of Justice

Episode

2

-

Heat of Passion
If You Like Harry's Law, Then Try...