Watch Heidi (1993)
Heidi is an orphan who lives a happy life with her grandfather in the Swiss Alps until she is taken away.
1 Season,

2

Episodes - Ended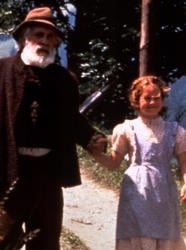 Heidi (1993)

Full Episode Guide
Season 1
(2 clips available)
As the big city drains Heidi's energy and spirit, she finds herself torn between her new friendship and her memory of life in the Alps. Heidi faces a difficult decision, and in time, she follows her heart and finds a miracle.

After charming her reclusive grandfather and falling in love with the beautiful mountain he calls home, Heidi is uprooted and sent to Frankfurt where she befriends Klara, a young girl confined to a wheelchair.