Watch Hero: 108
Series Length:
2 Seasons,

27

Episodes
Description:
Humans and animals lived together in harmony for years in the Hidden Kingdom until the evil High Roller, after bestowing the power to speak to animals, convinced the animals that humans were an evil menace. But a group of brave young animal defenders, known as First Squadron, rebels and tries to end the conflict.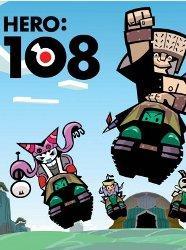 Hero: 108

Full Episode Guide
Episode 13 - Pitched Battle of the Air Force I/Pit...

Woo the Wise creates a crystal-based machine that can mix several different animals into one. HighRoller, not to be outdone, combines the Bald Eagles with Bats and Hens to create "The Ultimate Wing Fighting Force." This new fighting force takes on First Squad in an air and ground attack unlike anything we've seen before. HighRoller and his minions attack Big Green, led by an enormous Black Dragon, but Lin Chung and Woo the Wise use Woo's new machine to create their own dragon who manages to fend off the attack. Unfortunately, High Roller manages to get his hands on Woo's machine and creates a new creature using his own DNA and then unleashes the ultimate attack on Big Green. It will take everything First Squad has to defeat this greatest of all challenges!

Episode 12 - Frog Castle/Cheetah Castle II

First Squad discovers that the Frogs are abusing humans at Frog Castle, but when they take action, the Frog Army's sticky tongues are too much for them. Fortunately, Mystique Sonia's powerful tongue can help save everyone, but first they'll need some help from everyone's favorite singer, the Rattle Diva. Aliens invade Cheetah Castle and take them prisoner because of their badminton skills. First Squad comes to the rescue, but soon HighRoller joins the fight, and when the aliens take over the bodies of Jumpy GhostFace, Mystique Sonia, Mighty Ray and Mr. No Hands, Lin Chung and the Cheetah King and Queen are not sure how to battle against their own friends without hurting them.

Episode 11 - Sheep Castle/Penguin Castle

The Sheep Queen and her army take ApeTrully captive, but First Squad's rescue fails because they are tricked into wearing wool sweaters which are really traps. Baboon King and Yaksha come to the rescue, but Sheep Queen makes it clear that she will not surrender unless First Squad can beat her at a knitting competition. ApeTrully fails in his attempt to bring the Penguin Castle into Big Green and they take him captive. First Squad arrives to battle the Penguins, but end up in a bowling match which will decide their fate. Unfortunately, Mighty Ray sends one of his bowling balls through a castle wall, which angers the Penguin King and he unleashes an army of penguin clones.

Episode 10 - Deer Castle/Porcupine Castle

First Squad must rescue ApeTrully after he's been taken prisoner by the Deer King. Unfortunately, the deers' vibrating antlers are too powerful for First Squad. However, Mystique Sonia discovers a flower with seeds that can grow buns which turn solid things soft. The deer eat these buns, turning their antlers soft, thus destroying their special powers. First Squad heads out to Porcupine Castle to rescue the Big Green Air Force, but their hot air balloons are easily shot down by the Porcupines. Once on the ground in Porcupine Castle, First Squad is challenged to a dart-throwing competition by HighRoller and the Porcupine King, with everyone's fate hanging in the balance.

Episode 9 - Duckbill Castle/Ostrich Castle

Episode 8 - Table Soccer Competition/Groundhog Ca...

Episode 6 - Pitched Battle of the Great Wall Trai...

Episode 5 - Crab Castle/Fierce Battle of the Pig ...

Episode 4 - Chameleon Castle/Bald Eagle Castle

Episode 3 - EgretOx Castle/Firework Festival of E...

Episode 2 - Snake Castle/Octopus Castle

Episode 1 - Parrot Castle II/Folk Game Competitio...
Episode 19 - Pitched Battle of the Air Force; Pitc...

Episode 14 - Turtle Cannon Competition III; Scorpi...

Episode 13 - Air Battle; Shark Castle

Episode 12 - Cat Castle; Cheetah Castle

Episode 11 - Lion Castle; Crocodile Castle

Episode 10 - Dog Castle; Rhino Castle

Episode 9 - Pitched Battle of the Navies

Episode 8 - Elephant Castle II; Peacock Castle

Episode 7 - Camel Castle II; Turtle Cannon Compet...

Episode 6 - Pitched Battle of the Tank Army

Episode 5 - Baboon Castle; Folk Game Competition

Episode 4 - Pandaffe Castle; Eagle Castle

Episode 3 - Parrot Castle; Turtle Cannon Competit...

Episode 2 - Liger Castle; Camel Castle

Episode 1 - Rabbit Castle; Elephant Castle
If You Like Hero: 108, Then Try...