Watch Hitched or Ditched
In this original one-hour reality show, hosted by Tanya McQueen, couples in long-term relationships who have not yet taken the final leap into marriage will be nominated by a friend who believes it's time for the couple to take the leap or call it quits. The challenge takes place over seven days leading up to the couple's dream wedding. Over the course of one week, special exercises will push the relationship to the limit as the couple confronts issues like jealousy and strained relationships with future in-laws - all the while planning the wedding of their dreams. When the big day arrives, the couple will have to make the final decision - will they ditch their relationship or get hitched?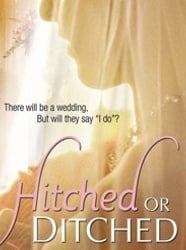 Hitched or Ditched

Full Episode Guide
Episode 6 - The White Devil

An interracial North Carolina couple who have been dating for 10 years must decide whether to get married or end their relationship.

Episode 5 - Windy City Dilemma

A Chicago couple who've been dating over four years now must decide whether to wed or break it off for good. The would-be bride has dreams of moving to Los Angeles and become a model and actress, whereas the groom wants to remain in Chicago and remain in his job as a sales executive.

Episode 4 - Rescue Me... From Your Mom

Despite their families being against this relationship, a New Jersey couple who have dated for two years now must decide whether they are ready to get married or split for good.

Episode 3 - Don't Hate the Player

A San Diego couple who have been dating for three years are given an invitation to their own wedding. The bride-to-be struggles with issues concerning her family, while the groom tries to convince everyone that his playboy days are over. Also: An ex-boyfriend crashes the bachelorette party.

Episode 2 - A Cheater in Bean Town

Episode 1 - Pilot: Bastards Out of Carolina
If You Like Hitched or Ditched, Then Try...