Watch Holmes On Homes
The television show called "Holmes on Homes" appears on HGTV every week. We get Mike Holmes' opinion on various homes. When a homeowners decides to time to do renovation to their home, it's a "buyer beware" world as there are many shady or lazy contractors in this world. These professionals will comes take short-cuts or put a band-aid on the problem, and it often costs the homeowner a lot of hassles. As you can imagine, the homeowner often loses a lot of money when the contractor does not do the job right. Mike Holmes, on the other hand, will tell you how it is.
When Holmes goes to renovate a house, he is looking for professionals who have done a poor job the first time the house was renovated. His show has now become popular in many counties throughout the world. Holmes is known for being honest with his opinions, and so homeowners should not seek his advice unless they want an honest opinion of what is going on. Mike's job is to restore the house to a good condition after it has fallen into severe disrepair. Mike has discovered many problems through the years.
Some of these problems include but are not limited to: carpentry issues, electrical issues, roofing issues, and plumbing issues, and much more. When he catches a problem, he shows the audience how the job should have gotten done. In addition to fixing the problem, Mike will help the homeowner make a better decision in the future on who to trust when it comes to renovation work.
The nice thing about this show is that it tells the story of true people who got ripped off and ways not to see ripped off the future. Mike's information is extremely helpful to any homeowner who needs to do work on their home. If you decided to watch this show, you would probably enjoy it!
Sundays at 9:00 pm on HGTV

5 Seasons,

54

Episodes - Canceled

January 23, 2016

10

/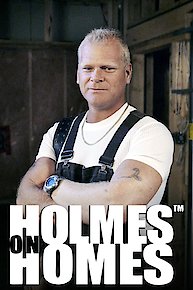 Holmes On Homes

Full Episode Guide
Episode

13

-

Pane in the Glass

Episode

12

-

Behind the Scenes

A look at what goes into the filming of Holmes on Homes.

The Holmes Crew address a custom-built home, whose brand-new components are beginning to show signs of deterioration. Footage from this episode was also featured on CBC Marketplace in 2009, where two other homes built by the same builder were investigated.

Mike has to fix a problem in a kitchen.

Episode

9

-

A Different Slant

Episode

8

-

Eroding Brick Work

Episode

7

-

Island Cottage Rescue

Episode

6

-

Season 7, Episode 6

Episode

4

-

Bath Reno Gone Wrong
Episode

13

-

Third Time Lucky

Episode

12

-

Country Kitchen

Episode

11

-

Frozen Assets

Episode

8

-

Lack of Truss

Episode

7

-

Pasadena 911 -- Part 2

Episode

6

-

Pasadena 911 -- Part 1

Episode

3

-

Completely Incomplete

Episode

2

-

Let's Rejoist

Episode

1

-

Shaky Foundation
If You Like Holmes On Homes, Then Try...