Watch House Hunters on Vacation
House Hunters on Vacation takes viewers along as families and couples get a little help finding the vacation home of their dreams. Vacation home rental properties are toured and each vacationing guest is given the choice of three properties to choose from where they will then spend a week living. Choosing a vacation property for your next trip can be difficult when you are not there to see it, so guests are brought to their vacation destination and given in person tours of each.
What the guests see and like are heavily focused on, as is the location of each vacation rental property because these items play a huge role in what is ultimately decided. A host generally scouts out several properties beforehand, narrowing featured vacation homes down to what the family is looking for. After touring each home and evaluating them for location, space and comfort, among other things, the families then have to make a decision on where to stay for the remainder of their trip.
Monday 8:30 PM et/pt on HGTV

2 Seasons,

16

Episodes - Currently Airing

June 6, 2011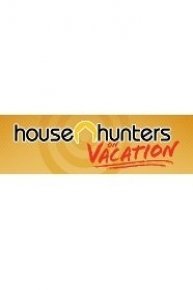 House Hunters on Vacation

Full Episode Guide
Episode

10

-

A Family of Four from Maryland Goes t...

George and Gina Kyle have two high school aged kids with college on their minds. The family knows they only have one more chance to take a vacation together while living under the same roof, so this trip is very important to all of them.

Episode

9

-

A Family From Boca Raton, Florida Goe...

Matt and Natalie are teachers and rarely get to travel. Natalie also never sees her family. The family is sent to New Mexico to choose between three rental homes.

Episode

8

-

Four Friends Turn Thirty in London At...

Sarah and her three best friends are all turning thirty this year! But their hectic schedules are complicating plans for a girlfriend getaway. Sarah, Cristina, Laura, and Gia are in for a big birthday surprise when they find out they'll be celebrating together in London, England.

Episode

7

-

HGTV Surprises Newlyweds with a Roman...

When Nathan and Michelle moved into Nathan's childhood home in Encinitas, California they knew the kitchen needed to be remodeled. So, instead of going on a honeymoon, they spent their money on transforming the kitchen. House Hunters Vacation is surprising them with a honeymoon to London.

Episode

6

-

A Hollywood Getaway Among the Stars

Episode

5

-

A Minnesota Family of Four Goes on Th...

Episode

4

-

Southern California Family Gets A Tas...

Episode

3

-

Family of Eight Hits a Vacation Jackp...

Episode

2

-

Let's Show Our Moms the Wine Country

Episode

1

-

A Family From Baltimore Visits Jackso...
Episode

6

-

Momcation Getaway to St. Thomas

Episode

5

-

Dream Vacation in Key West

Episode

4

-

House Hunters on Vacation Hits Miami

Episode

3

-

House Hunters on Vacation Surprises a...

Episode

2

-

Dream Vacation in San Diego

Episode

1

-

A Dream Vacation to Maui