Watch House of Anubis
House of Anubis is a relatively new show aimed at tween audiences that airs on Nickelodeon. It premiered in 2011. Filmed in Liverpool and produced by American, British, and Belgian producers, the show revolves around a group of teens at a boarding school who discover an eye of Horus necklace with supernatural powers.
The back-story is intriguing and sure to captivate audiences. The boarding school, Anubis House, dates back to the 1900s and is shrouded in mystery. In House of Anubis, the school's students manage to navigate the tricky waters of adolescence while solving mysteries and other problems that arise on the spooky campus. Symbols, trinkets, and other objects of Egyptian lore are used to unlock and find clues. The group of boys and girls handle crushes, feuds, and other bumps in the road while attempting to handle lost classmates, shady faculty members, and suspicious new students. Most of the student body is oblivious to these strange happenings, but a small clique not only knows what is happening but keeps the school and others out of danger. Through wacky supernatural happenings and suspenseful run-ins with creepy creatures, the students band together and use their wits and teamwork to solve problems.
House of Anubis is a fun adolescent ride through all the complications, twists, and turns of high school. The action never stops, though it does avoid being too action-packed for younger viewers to tolerate. Each episode has both substance and story, fleshing out characters and having plenty of adventure to keep audiences captivated.
Weekdays 7:00 PM et/pt on Nickelodeon

12 Seasons,

107

Episodes - Currently Airing

5.3/10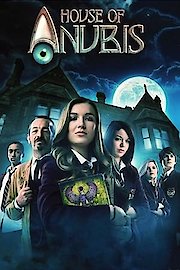 House of Anubis

Full Episode Guide
Episode 1 - House of Intruders

When Mick discovers Mara cheated for him, he retaliates. Amber finds a secret message written behind the wallpaper.
Season 11
(43 full episodes)
Episode 11 - The Touchstone of Ra

With graduation just around the corner, the kids visit an Egyptian museum and get ahold of an odd stone. Soon, the stone is causing chaos, forcing the Sibunas to solve the stone's mystery before it's too late.

Episode 10 - House of Heroes

Harriet sacrifices herself as Eddie and KT finally unlock the portal to destroy Ammut and save them all. KT says an emotional goodbye to Frobisher. Joy and Jerome have Mara's blessing, and Alfie has a special gift for Willow.

Episode 9 - House of Ammut

As Ammut begins to form, Frobisher demands KT's key. Eddie and KT discover Willow has it, and realize the purpose of the keys. Jerome explains his feelings to Joy in a letter. But Joy refuses to read it.

Episode 8 - House of Defeat

Episode 6 - House of Heartbreak

Episode 5 - House of Capture

Episode 4 - House of Suspicion

Episode 3 - House of Cunning

Episode 2 - House of Imposters

Episode 1 - House of Treachery
Season 10
(40 full episodes)
Season 9
(36 full episodes)
Season 8
(8 full episodes)
Season 7
(40 full episodes)
Season 6
(40 full episodes)
Season 5
(60 full episodes)
Season 4
(40 full episodes)
Season 3
(26 full episodes)
Season 2
(52 full episodes)
Season 1
(32 full episodes)