Watch How the Universe Works
How the Universe Works is a science and educational documentary that comes on the Discovery Channel. Mike Rowe is the narrator in this hour long show. This show is geared towards all audience members no matter what age they are. How the Universe Works gives us viewers an in depth look on topics ranging from: The birth of planet Earth, the formation of comets, how mega storms develop and how to stay prepared, asteroids and their impact, volcanoes and their eruption, and planets and their evil twins (just to name a few). We will be able to see reenactments of what the scientists are trying to explain. Each episode of How the Universe Works depicts an array of topics and each topic will being discussed in its entirety.
Each topic given to us has scientific analysis, reports, data, and evidence to back up their claims. From elite and respected scientists to archeologists and historians, each group of people bring something special and unique to the table. When all of the evidence is compiled and viewed, the pieces from everyone's point of view fit together like a puzzle. Critics and viewers alike rave about this show because it is easy for any individual to understand and comprehend.
With today's technology looking at the stars or looking at a volcano makes each scientist's job a lot easier than previously noted. The technology being used today can look farther, deeper, and more carefully than any kind of scientific instrument or tool used before. Making their findings even more tangible and relevant. How the Universe Works gives us the answers that we have been asking ourselves for so many years. Scientists are at the brink of discovering new planets that can't be seen with simple telescopes and they are finding out more information to the question of are we alone. These scientists can also explore the answers on why mega disaster hit, and what man kind can do as a whole to stop a disaster from hitting our planet.
Tuesday 7:00 PM et/pt on Discovery Channel

5 Seasons,

46

Episodes - Canceled

April 25, 2010

10

/
Watch Full Episodes of How the Universe Works

Season 5, Episode 2
Mystery of Planet 9 (42:00)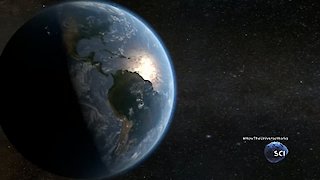 Season 4, Episode 8
Forces of Mass Const...
Season 4, Episode 7
The First Oceans
Season 4, Episode 6
Secret History of th... (43:00)
Season 4, Episode 5
Dawn of Life (43:00)
Season 4, Episode 4
Edge of the Solar Sy... (43:00)

How the Universe Works

Full Episode Guide
Episode

3

-

Life & Death on the Red Planet

Episode

2

-

Mystery of Planet 9

Scientists have discovered a mysterious ninth planet on the very edge of our solar system. Ten times the size of Earth, this strange world could have moons with extraterrestrial life.

Episode

1

-

Most Amazing Discoveries

A countdown of discoveries that changed everything known about the universe.
Episode

16

-

The Universe's Greatest Miracle

Episode

15

-

Strange Attractions

Episode

14

-

Cosmic Cannibals

Episode

13

-

Alien Oceans

Episode

12

-

To Infinity and Beyond

Journey to the very end of our bizarre solar system, and see how its strange features affect life on trillions of miles away on Earth.

Episode

11

-

Earth's Guardian Angel

Episode

10

-

Interstellar Motor Company

We follow the odyssey of a comet as it sails through space, watching every move as it evolves from a chunk of ice and rock into an active nucleus engulfed in a gaseous haze. What we learn is a revelation; comets are even more mysterious than we imagined.

Episode

9

-

The Planet of Nightmares

A journey to a terrifying place in the solar system where clouds of poison and scorching heat make life impossible.

Episode

8

-

Forces of Mass Construction

There's a mysterious force you can't see or touch, but it affects everything in the universe. Magnetism has shaped our cosmos, and without it, Creation would simply disintegrate. We follow scientists trying to understand how this strange force works.

Episode

7

-

The First Oceans

How were the first oceans created? For years, scientists suspected they came from molecules delivered to Earth from distant stars by asteroids, but an exciting new discovery suggests that its true origins are be more exotic than anyone ever imagined.

Episode

6

-

Secret History of the Moon

Our Moon is stranger than you think, and we reveal its incredible secrets. Is the moon the reason for life on Earth?

Episode

4

-

Edge of the Solar System

Giant magnetic bubbles millions of miles wide, bizarre invisible matter, and a death star tearing through bands of icy comets, flinging them into violent orbits. All this and more could be inside our cosmic backyard, and effecting our lives on Earth.

Episode

3

-

Monster Black Hole

Black holes are the least understood places in the universe, where the rules of physics collapse. We go inside the supermassive black hole in the center of the Milky Way to uncover terrifying secrets about parallel universes, wormholes, and space-time.

Episode

2

-

Earth: Venus's Evil Twin

There is a hellish planet in our solar system; covered in thick dense clouds and roasted by colossal temperatures. Incredibly this is a vision of Earth's future. To understand how our world will be destroyed we need to look at Earth's evil twin Venus.

Episode

1

-

How the Universe Built Your Car
If You Like How the Universe Works, Then Try...
Most Popular How the Universe Works Episodes
Season 5 Episode 1

Most Amazing Discoveries

11/29/2016

Season 1 Episode 1

Big Bang

4/25/2010

Season 5 Episode 2

Mystery of Planet 9

12/06/2016