Watch Hunter X Hunter
Hunter X Hunter is a popular anime, or Japanese animation, show. It was based off of a manga, also known as a Japanese comic, and closely follows the same story line. The show centers around the main character, a young boy named Gon Freecss. Gon's father was a great hunter. Hunters are adventurous sorts who brave wilderness and danger in order to complete many different tasks, including finding various treasures and studying or capturing specific creatures. Unfortunately, this meant that Gon was left with family members at a young age, and has not seen his father in quite a while.
The danger of the lifestyle of a hunter does not turn Gon off, however. In fact, Gon decides that he too wants to become one of the world's best hunters. He is not only interested in the excitement of the profession, but hopes that one day, his travels will lead him to his father.
In order to be a great hunter, Gon trains as hard as he can in his small town. Eventually, he feels that he is ready to pass the Hunter Examination, a test that every would-be hunter must complete. Gon sets out on the first leg of his journey, ready to face whatever the world throws at him.
Right away, Gon's friendly and outgoing personality begins to make him friends. Several other people who are also taking the Hunter Examination notice how strong and clever Gon is. Gon decides to work together with three others, hoping that teamwork will help them pass the rigorous test. However, passing the test is only the first part of Gon's journey. Over the course of the series, Gon and the many friends he meets will face numerous challenges. As Gon continues on his journey, he encounters creatures he never expected to meet, and also faces any adversity that comes his way.
Watch Full Episodes of Hunter X Hunter

Season 2 Episode 79
No X Good X NGL (23:56)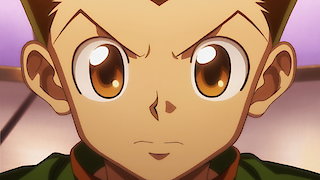 Season 2 Episode 78
Very X Rapid X Repro... (23:55)
Season 2 Episode 77
Unease X and X Sight... (23:56)
Season 2 Episode 76
Reunion X and X Unde... (23:57)
Season 2 Episode 75
Ging's Friends X and... (23:55)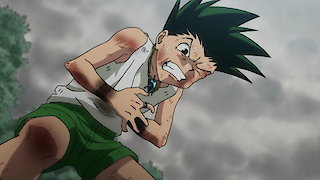 Season 2 Episode 74
Victor X and X Loser (23:55)

Hunter X Hunter

Full Episode Guide
Season
2
27 full episodes
Episode

79

-

No X Good X NGL

Gon and his friends enter the NGL. Meanwhile, the Chimera Ants have started going through surprising changes.

Episode

78

-

Very X Rapid X Reproduction

Kite has narrowed down the location of the Chimera Ants.

Episode

77

-

Unease X and X Sighting

Gon and Killua decide to join Kite and his team in their research mission gathering information on the Chimera Ants.

Episode

76

-

Reunion X and X Understanding

Using cards brought back from the game, Gon and Killua head out to meet someone who they hope is Ging.

Episode

75

-

Ging's Friends X and X True Friends

Gon and his friends finally defeat Genthru and collect 99 trading cards.

Episode

74

-

Victor X and X Loser

Gon is overwhelmed by Genthru's power, but he isn't backing down.

Episode

73

-

Insanity X and X Sanity

Episode

72

-

Chase X and X Chance

Tsezguerra suggests that Gon and his friends should continue training while his team distracts Genthru.

Episode

71

-

Bargain X and X Deal

Gon, Killua and Hisoka face Razor head on, and a winner will finally be crowned in this dodge ball showdown!

Episode

70

-

Guts X and X Courage

Gon comes up with a plan to beat Razor, and it requires Killua's help.

Episode

69

-

A X Heated X Showdown

Gon and his friends team up with Hisoka and Goreinu to challenge Razor again. Also helping out is Team Tsezguerra.

Episode

68

-

Pirates X and X Guesses

Gon and his friends meet the pirate boss Razor, but are overwhelmed by his power.

In order to stop Genthru from clearing the game, Gon and Killua are asked to join an alliance.

Episode

66

-

Strategy X and X Scheme

Killua passes the Hunter Exam on his second attempt and returns to the game. Once reunited, Gon, Killua and Biscuit begin collecting cards steadily.

Episode

65

-

Evil Fist X and X Rock, Paper, Scisso...

Gon continues to hone his special ability by using the Enhancer, Emitter and Transmuter aura types.

Episode

64

-

Strengthen X and X Threaten

Gon and Killua wrap up their training, while the Bomber appears before the players who had formed an alliance.

Episode

63

-

A X Hard X Master

Biscuit announces to Gon and Killua that she will be their teacher.

Episode

62

-

Reality X and X Raw

Gon and Killua head for Masadora, the City of Magic, in search of spell cards.

Episode

61

-

Invitation X and X Friend

Gon and Killua enter the world of Greed Island in hopes of finding Ging, but all they find is a message left by him.

Episode

60

-

End X and X Beginning

Gon and Killua join the tryouts to become Greed Island players

Episode

59

-

Bid X and X Haste

The auction for the game Greed Island finally begins.

Episode

58

-

Signal X to X Retreat

Kurapika has captured Chrollo and negotiates an exchange for Gon and Killua with Pakunoda.

Episode

57

-

Initiative X and X Law

The Phantom Troupe finds out that Kurapika is the one who killed Uvogin.

Episode

56

-

Beloved X and X Beleaguered

Episode

55

-

Allies X and X Lies

Kurapika learns that the Phantom Troupe is still alive. He teams up with his friends to capture Pakunoda.

Episode

54

-

Fortunes X Aren't X Right

Kurapika recounts the events that have occurred and reveals his new Nen ability.

Episode

53

-

Fake X and X Psyche

Kurapika heads to the auction site to confirm the death of the Phantom Troupe's leader for himself.
Season
1
128 full episodes
Gon climbs the world's tallest tree, and at the top he finds his father, Ging, whom he's been searching for all along. Gon wants to tell Ging all about his journey so far: about leaving his hometown of Whale Island to find him, about passing the rigorous Hunter Exam and becoming a Pro Hunter, and about all the precious friends he made along the way. Gon's first experience spending time with Ging as father and son awaits him.

The Chimera Ant Koala confesses his sins to a redheaded girl. When Koala finishes his confession, the girl quietly begins to talk. Meanwhile, Gon has discovered that Kite is actually still alive and goes to see him. What will Gon say when they finally meet?

Gon's recovery is celebrated by the Hunters assembled in the Association headquarters. And Gon finally meets his father Ging for the first time. The Ging from the photograph in Mito's house. The Ging that Satotz, Razor, and Kite spoke of. That Ging is now waving at Gon. Gon runs over to speak to Ging.

The election for chairman is now on its 8th vote. Beans releases the results of the vote which are displayed on the screen for everyone to see and there is quite a stir. The result is that Leorio is in 1st while Pariston is in 2nd. However, Leorio failed to secure 50% of the vote so there will be a final vote between the top two vote-getters. Meanwhile, back in Gon's hospital, Alluka wakes up after napping on Killua's lap. Killua makes his forbidden wish to Something.

After the 7th vote for the 13th Hunter Association Chairman, the remaining eight candidates are cut down to four for the next vote. After Ging's cryptic comment that the outcome is that there is no outcome, Cheadle asks him how to defeat Pariston. Ging's response is that Pariston doesn't want to win and doesn't want to lose, which is what makes him strong. What does he mean?

After the 5th vote for the 13th Hunter Association Chairman, it's determined that there will be a run off among the top eight vote-getters. Meanwhile, Hisoka is killing Hunters from the Seirin Group who seek to capture one of the Needlemen and discovers a map which marks where Killua's airship will land. Illumi has obtained the same map and is in hot pursuit while the butlers Tsubone and Amane are also following the airship.

As Goto and the other butlers assist Killua, they encounter Hisoka, who is helping Illumi to kill Alluka. Killua carries Alluka and runs through the forest towards Parasta, but he is followed by a shadowy figure...who turns out to be the butler Tsubone. After Killua puts on a burst of speed to shake Tsubone, she calls her granddaughter Amane who is also a butler and tells her to cut them off. Will Killua be able to reach Gon?

While Killua is reunited with his sibling Alluka, his older brother Illumi is seeking assistance from Hisoka and telling him the family secret regarding Alluka's power. This power has the potential to destroy the Zoldyck family. When three of Alluka's requests are fulfilled, Alluka will grant a wish.

The election for Chairman Netero's successor has begun. Hunters line up at the headquarters to cast their vote. The rules require that 95% of the 661 member Hunters participate, or the vote must be reheld. There is much confusion as the first and second votes fail to meet the requirement.

The leaders of the Hunter Association, the Zodiacs, have assembled. Gon's father Ging is one of the members. They discuss how they will carry out Netero's will and hold an election, but vice chairman Pariston quickly derails the conversation. Will the Zodiacs be able to reach a consensus?

With the death of King Meruem, the battle between humans and Chimera Ants comes to an end. The humans suffered great casualties, but they emerge victorious. Welfin, Brovada, Hina, Shidore, and the other Chimera Ants, some with memories of their previous lives and some without, choose to take different paths.

One word from Welfin is all it takes for Meruem to remember Komugi. Having moved underground, the King transforms his aura into particles to find where Palm is hiding. When the King declares that the battle is over and reveals his reason for coming to Palm, she is shocked.

The battle between Gon and Pitou is over. At the same time, Meruem, Youpi, and Pouf stand before the west tower. Pouf is very worried that Meruem will remember Komugi. As Meruem steps inside the west tower, he feels that something is missing.

Gon begs Pitou to heal Kite as tears streak down his face. Kite's still body lies in front of Pitou. Pitou uses Doctor Blythe to heal himself instead of Pitou. After confirming that the fingers on his left hand move, Pitou tells Gon that he must kill him. Gon is shocked and calls Pitou a liar as he is surrounded by aura. A sudden gust then blows out the candles in the room...

King Meruem returns to the palace with Youpi and Pouf to find hundreds of thousands of humans lined up for the selection. Knuckle is hiding inside the crowd with Melereon waiting nearby while Palm stands by behind the palace and Ikalgo waits above the hallway. All of them grow tense as the King returns. Meanwhile, Pouf's clones are searching for the Gungi board and pieces which will trigger the return of the King's memories so he can hide them. At the same time, Gon and Pitou head to the hiding place in Peijing to heal Kite.

Pouf and Youpi see King Meruem's ravaged body. The sky is filled with their cries of anguish. Tears of despair streak down their cheeks. However, the King is still alive. Pouf immediately comes up with an idea to save the King. He tells the King to eat him. As Pouf sacrifices himself to save the King, his tears of despair become tears of elation. And in the end...

"Mereum. That's your name." Netero finally tells the King his name. In the next moment, he is engulfed by blinding light. When Netero stopped his own heart, he triggered the powerful bomb inside his body named Miniature Rose. Netero self-destructed to put an end to the battle.

Netero uses his ultimate technique, 100-Type Guanyin Bodhisattva, to repeatedly strike the King into the ground, as though he is swatting a fly around. However, the King is unscathed. The King attempts to counter Netero's attacks while Netero mounts a defense, leading to an intricate melee.

Shaiapouf and Menthuthuyoupi rush to find the King. At the same time, Neferpitou continues to use Doctor Blythe to heal Komugi on the second floor of the palace while Gon sits nearby. Behind Gon stands Pouf, and behind Pouf is Knuckle, who ignored Melereon's warnings and revealed himself to challenge Pouf to a duel.

As the fight between the King and Chairman Netero begins, Ikalgo is still underground lamenting his inability to finish off Brovada. However, Ikalgo recalls his mission to find Palm and pulls himself together.

Zeno's Dragon Head flies through the night sky to deliver is cargo to the battlefield. The King, Mereum, stands on its arm. Netero stands on its body. Upon arrival, the King asks Netero why he wants to fight.

Youpi pretends to grow increasingly irritated by Loanboy's interest tick and lose his temper. At the same time, the disguised Ikalgo is searching the palace for Palm.

After Zeno leaves the palace, he is stopped by Cheetu. Cheetu wants to test his new ability on Zeno. After Zeno warns Cheetu to watch his back, Cheetu is immediately attacked from behind. Meanwhile, Knuckle is carrying a gravely injured Shoot and trying to escape Youpi.

Killua now understands what Zeno meant when he said to draw their own conclusions about what was happening inside. Gon and Killua enter the tower where Neferpitou, their target for avenging Kite, awaits. Inside they find Doctor Blythe hovering over a gravely wounded Komugi. When Gon spots Pitou, he is surrounded by a cloud of vehement aura.

After Gon and the Hunters infiltrate the palace, they are separated by a powerful attack from Youpi. Morel uses his Nen smoke to distract Youpi and head towards the King, leaving Shoot and Knuckle to deal with the Royal Guard. At the same time, Gon and Killua also spring into action.

Zeno and Netero's attack throws the palace into chaos. Gon, Killua, and Shoot encounter Youpi at the bottom of the stairway leading up to the King's room. Meanwhile, Pitou and Pouf rush to the King, fearing the worst. Upon arrival, Pitou begins to shed tears. What has happened to the King?

Only one day remains before the selection begins. Gon, Killua, and Ikalgo go over the operation plan one more time. They attempt to simulate every possible scenario. Meanwhile, a siren begins to blare inside Peijing.

Three days remain until the selection begins. Gon and the other Hunters are joined by new allies as they prepare to infiltrate the palace. Meanwhile, King Mereum, who has recovered from his injury, and Komugi continue to play Gungi. However, Komugi has grown fatigued.

The lion Chimera Ant Leol has chased Morel into an underground cathedral for a duel. Leol activates his Nen ability to create large waves and a surfboard. The waves are used to attack Morel while Leol rides the surfboard and charges Morel.

While the King and Komugi continue to play Gungi, Knov has successfully infiltrated the palace. His objective is to play four-dimensional exits for the other Hunters to use.

The King's meeting with world champion Gungi player Komugi has left him baffled and irritated. However, he's also enjoying their matches. The King proposes that they wager on their next match, promising Komugi that he will grant any wish she makes if she wins.

The Hunter Knov is making his way towards the Palace. The Chimera Ants Leol and Flutter are watching Knov in an attempt to learn what powers he has, but they lose sight of him.

The King is finding ways to entertain himself while waiting for the selection. He summons masters of Shogi and Go and defeats them in matches. It appears that he has incredible physical and mental strength. Next, the King summons Komugi, a blind girl who is the world champion of a board game called Gungi which originated in the Republic of East Gorteau. When the match begins, the blind girl opens her eyes.

Ikalgo betrays his fellow Chimera Ants to save Killua, his former enemy. At the same time, Gon is bonding with a Chimera Ant named Melereon. Melereon tells Gon about his own power, which is a risky move for a Nen user. However, he's willing to take that risk to build a relationship of trust with Gon, for his objective is to defeat Meruem, the Chimera Ant King.

After splitting up with Gon, Killua is attacked by an octopus Chimera Ant named Ikalgo. Ikalgo has the ability to possess humans and transform his legs into a cannon for firing projectiles. However, he's captured by Killua before he can find a host. Killua tells Ikalgo that he'll spare his life in return for information about his ally's powers, but Ikalgo tells Killua that he won't sell out.

Knuckle and Shoot attempt to ambush Cheetu, but at the last moment, Cheetu changes directions and vanishes. The two Hunters realize that someone must have warned Cheetu. Meanwhile, Killua and Gon are both being followed. The Chimera Ant following Gon decides to reveal himself.

Killua and Gon split up to stop the selection process, but Gon finds his path blocked by two new Chimera ants, an owl and a bat. Both are nocturnal hunters. Gon has a hard time coping with how loud the bat's wings are and how soft the owl's wings are.

Gon and Killua infiltrate the Republic of East Gorteau in an attempt to stop the selection process that is occurring. They arrive at a village, only to find it deserted. However, after discovering traces of blood on the floors and walls, they follow the trail outside to a mass grave that has been disturbed by wild dogs. Killua then realizes what the true purpose of the national celebration is.

Zazan has built a new Chimera Ant nest in Meteor City, home of the Phantom Troupe. The Phantom Troupe members head inside the nest to defeat Zazan. Inside, they split up to fight Zazan's underlings. The Phantom Troupe reveal their secret abilities, but will it be enough to exterminate the Chimera Ants?

Meteor City, home of the Phantom Troupe. Kalluto, Feitan, Shalnark, Phinks, Shizuku, and Bonolenov arrive after hearing that Chimera Ants have taken over. Upon arriving, they come across grotesquely disfigured bodies. It is the work of Zazan, who has built her nest atop the garbage of Meteor City.

Knuckle and Morel face off against Cheetu. The difference in physical strength between Chimera Ants and humans is immense, as the two Hunters appear to be overwhelmed by Cheetu's speed. However, Knuckle and Morel have a plan. Armed with wit and experience, they begin by having Morel cover the area with white smoke.

The King is on the move. After invading the Republic of East Gorteau and eating a Nen user's aura, his own power grows. Meruem quickly takes control of the palace. Meanwhile, after losing to Knuckle and Shoot, Gon and Killua return to the inn to face Palm's wrath for breaking their promise to take her to NGL.

After surrendering, Colt requests that the Hunters save the dying Queen. Morel immediately dispatches a team of researchers to the castle. Inside, Knuckle and Shoot discover an incredible sight.

At long last, the Queen gives birth to the King. The Chimera Ants are cowed by the menancing aura emitted by the King. Pitou, Pouf, and Youpi kneel before the King to greet him, but with that gesture, they have abandoned the Queen.

Gon and Killua are finally facing off against Knuckle and Shoot. Killua takes Shoot while Gon's opponent is Knuckle. Gon succeeds in sensing Knuckle through his aura, but then LoanBoy pops up on his left arm. Meanwhile, Killua is struggling against Shoot.

Gon has finally forced Knuckle to use his full strength. However, Knuckle immediately identifies the weakness in Jajanken, Gon's special attack. Knuckle goes on the attack by exploiting those weaknesses. Gon finds myself unable to fight back. However, he continues to attempt to charge up his Nen for Jajanken.

Gon and Killua head back to their lodging, exhausted after the battle with Knuckle. That is when their second opponent, Shoot, attempts to finish them off. However, he leaves in a cold sweat without making a move. Palm is worried about the progress that Gon and Killua are making in their training, but Gon promises that they will win. Meanwhile in the Queen's castle, the growing King's fetus begins to pulse.

Gon and Killua are training to take the tokens from their targets. Immediately after finishing their training, they're sent exhausted by Bisky to fight Knuckle. Gon and Killua don't feel very good about their chances to win. Will they figure out a way to defeat the stronger Knuckle?

Kite used himself as a decoy to allow Gon and Killua to escape. The two boys vow to save Kite, believing that he lives. However, to return to NGL, they must clear the condition set by Chairman Netero, leader of the expeditionary force, which is to defeat two assassins and take their tokens. Gon and Killua accept the condition and return to the board by the train station. That is when they sense an ominous aura behind the.

Kite, Gon, and Killua follow Hagya as they seek the Chimera Ant nest where the Queen awaits. However, as they are about to reach the Queen's castle, one of the Royal Guards, Pitou, appears before them. Pitou attacks Kite with ferocious speed. How do Gon and Killua react?

Hagya sends his soldiers after Gon, Killua, and Kite in an attempt to capture rare humans. Gon and his friends struggle to find inside the forest as Chimera Ants relentlessly attack. At the same time, one of the Queen's Royal Guards has been born.

The Hunter Association has dispatched an expeditionary force to exterminate the Chimera Ants. Meanwhile, Gon and his friends are being targeted by Chimera Ants who seek to eat rare humans. They are forced into one-on-one battles with Chimera Ant captains. They easily dispatch their opponents, but Kite continues to feel uneasy.

Some of the more aggressive Chimera Ants have eaten the villains who ran the NGL underground and grown increasingly evil. When Gon looks away from their gruesome act, Kite admonishes him. Now, they must battle for their lives. Meanwhile, a Chimera Ant is on the verge of discovering Nen.

Gon, Killua, and Kite discover the remains of a destroyed village. There, they encounter their first Chimera Ant. Gon and Killua are shaken by the speed and power displayed by the Chimera Ant. However, Kite tells them that they must defeat the Chimera Ant or leave.

Pokkle and Ponzu use Ponzu's bees to deliver messages asking the Hunter Association to help eliminate the Chimera Ants. Meanwhile, the Chimera Ants have attacked Gyro, the shadowy ruler of NGL, and taken his guns. As the situation gets worse, Ponzu's message reaches Gon's group

After passing a strict border checkpoint, Gon and his new friends enter NGL where they suspect the Chimera Ant is. However, ten other teams of Hunters have already arrived before them. Meanwhile, the Chimera Ants, with their new names and individual personalities, are attacking humans.

Kite uses the location where the Chimera Ant arm was discovered and ocean patterns to determine where the actual Chimera Ant is. It turns out to be an isolated country that bans all forms of technology. Meanwhile, the Chimera Ants continue to evolve.

Gon and Killua join Kite's team as they investigate the Chimera Ants. The Chimera Ants are dangerous insects that can pass traits from the prey they consume to their offspring. As Kite begins to fear the worst, the Chimera Ants begin to feed on humans.

Gon and Killua use the cards they brought back from the game to warp to Nigg, who they believe is Ging. However, they are sent to a completely different man who immediately knocks them to the ground. However, Gon finds him familiar for some reason.

After defeating Genthru and collecting 99 restricted cards, Gon and his friends participate in the final event, a quiz tournament open to all players. After winning, Gon receives Ruler's Invitation. Who is the person that sent the invitation?

Genthru has shown that he is much stronger than Gon. However, after Gon refuses to back down, he finally uses Little Flower to severely injure Gon. Does Gon still have a chance to win?

In order to beat the game, the other players must face off against Genthru. Tsezgerra offers to distract Genthru for three weeks. While Gon trains hard, Team Tsezgerra leaves the game temporarily to delay Genthru, but Mr. Battera has an unpleasant surprise for them.

Gon, Killua, and Hisoka team up to catch Razor's strongest throw. They're taking Razor head on. Once the ball has been secured, Gon uses all of his strength to launch it at Razor. The game of dodgeball is drawing to a close.

Gon is unable to hold onto Razor's throw and is sent to the outfield. He uses Back to return, but Hisoka is also injured and the situation looks grim. However, Gon has an idea for defeating Razor, but he needs Killua's help to pull it off.

Gon and his friends have teamed up with Hisoka and Goreinu to challenge Razor again. To round out the party, they recruit Team Tsezgerra. Their preparations allow them to breeze through the first few matches, but then Razor challenges them to a game of dodgeball.

The condition for obtaining Patch of Shore is to chase a band of fifteen pirates out of town. Gon and crew are immediately taken to the boss, Razor, but they are quickly defeated. The plan is to recruit stronger party members and try again, so they start with the player named Chrollo.

Team Genthru now has 96 different types of restricted slot cards after tricking Team Tsegzerra. Gon and Killua receive an invitation from other players to team up to prevent Genthru from beating the game. They head to Soufrabi to monopolize Patch of Shore, one of the cards Genthru is missing.

Killua returns after easily passing his second try at the Hunter Exam. Now that Gon, Killua, and Bisky are together again, they begin working on beating this game by collecting cards. Meanwhile, the other players are scheming to gather the cards they need to complete the game.

After hearing Bisky's lecture on rock-paper-scissors, Gon decides to work on a special technique modeled off of rock-paper-scissors by using Enhancer, Emitter, and Conjurer abilities. Meanwhile, Killua leaves the game temporarily to take the HUnter Exam. While he's gone, Gon and Bisky find learn about the Bomber's most recent attack.

Gon and Killua are gradually improving their Nen under Bisky's tutelage. They are now able to easily capture the monsters that they previously struggled against. While their training draws to an end, the Bomber is paying a visit to the players who have teamed up.

Bisky is looking to train Gon and Killua. Their first test is to defeat the Bounty Hunter Binolt within two weeks! Though he may be injured, he's strong enough to warrant a bounty on his head. What will the two of them do?

Episode

62

-

Kurapica x Friends x Spider's Doom

Gon and Killua set off for Masadora in search of spell cards. On the way, they run into many different monsters. However, they struggle against some of the stronger monsters. A girl named Biscuit watches as they fight their way through. What is her goal?

Episode

61

-

Spider Reunion x Zoaldyeck Family x F...

Gon and Killua have finally made it inside the world of Greed Island, their clue to finding Ging. However, all they found was a message from Ging telling Gon to enjoy the game. Their first step is to find a city and gather information. There, they receive an invitation to join a group that's trying to clear the game.

Episode

60

-

Kurapica x Secret Assassins x Zoaldye...

Gon and Killua are trying to get themselves chosen as Greed Island players. Tsezgerra, the judge, says that he will make his decision after they show him his Nen. Only 32 of the 200 applicants will pass. Can Gon and Killua make it through?

Episode

59

-

Spider's Nest x Captured x Assassin T...

The game Greed Island, which holds a clue to finding Ging, is finally on auction. Gon and Killua ask the winning buyer to hire them as players, but they're told that their Nen is too weak. They begin to work on special abilities so they can be selected as players.

Episode

58

-

Gon x Killua x Lethal Pursuit

Kurapika has captured Chrollo. He offers to release Chrollo if Pakunoda brings Gon and Killua to him. However, Kurapika is unable to control his emotions in the presence of the Troupe leader. Will Kurapika finally have his revenge?

Episode

57

-

Gon x Treasure x Dangerous Man

The Phantom Troupe has learned that Kurapika was the one who killed Uvogin. It's only a matter of time before they realize that the captured Gon and Killua are working with Kurapika? Chrollo takes Gon and killua to the hotel lobby, where Paknoda and the other Troupe members are waiting. Suddenly, the lights go out. Gon and Killua try to escape in the darkness. But Chrollo is the one who has vanished...

Episode

56

-

Scarlet Eyes x Final Battle x Cost of...

Chrollo uses the information he has on Neon to identify the location of the chain user, Kurapika. Meanwhile, Killua is keeping an eye on the Phantom Troupe base when he is joined by Melody, who helps determine that the Troupe is headed towards Kurapika's hotel. The Troupe is finally closing in on Kurapika.

Episode

55

-

Ubo x Kurapica x Senritsu's Conscienc...

After Chrollo tells fortunes for all of the Troupe members, they suspect that Hisoka has betrayed them. Hisoka's desire to fight Chrollo drives him to take a big risk by altering his own fortune. Meanwhile, after learning that the Troupe is still alive, Kurapika teams up with Gon and friends and work on a plan to capture Pakunoda.

Episode

54

-

Hisoka x Alliance x Eliminate Spiders

Gon, Killua, Kurapika, and Leorio are finally reunited. Kurapika reveals his Nen powers to the others. However, Killua is afraid that Kurapika is now in danger because one of the Troupe members can read minds. Meanwhile, Chrollo is using the fortune telling power he stole from Neon to tell the fortunes of the Troupe members.

Episode

53

-

Ryodan x Injuu x Community

The leader of the Phantom Troupe is dead... Kurapika is shocked by the news. Unconvinced, he tries to get a glimpse of the body. Meanwhile, the dead bodies of the other Troupe members have been discovered.

Episode

52

-

Underground Auction x Annihilation x ...

The Troupe is attacking the auction with all their power. The Ten Dons hired assassins are no match, except for Zeno and Silva.

Episode

51

-

Spiders x York Shin x The Staff

The auction has been rescheduled, and the Mafia expects the Phantom Troupe to attack again. The Ten Dons have hired multiple assassins to deal with the Phantom Troupe. Light Nostrade sends Kurapika to join the assassins in dispatching of the Troupe.

Episode

50

-

Killua x Big Fortune x Hunter's Bar

Gon and Killua have been captured by the Phantom Troupe. They are questioned about the chain user that the Troupe is searching for, but the two of them don't know that the chain user is Kurapika. As they're about to be released, Nobunaga decides to keep them around as potential recruits for the Troupe. Will Gon and Killua be able to escape?

Episode

49

-

Heartbeat x Kurapica x Dousing Chain

Gon and his friends are hoping to win the reward that's been placed on the Phantom Troupe. At the same time, Machi and Nobunaga have been dispatched to search for the "chain user" because Uvogin hasn't returned. Gon and Killua receive a tip and begin shadowing the two Troupe members.

Episode

48

-

Kurapica x Black Eyes x First Job

Gon, Killua, and Leorio are trying to get their hands on enough money to buy Greed Island. As they pass through the market, Gon stumbles across a way to identify valuable items. The plan is to buy cheap and sell low, but someone else is bidding on all their items.

Episode

47

-

Father x Secret x Confession

Kurapika finds himself face to face with Uvogin, a member of the Phantom Troupe that destroyed his Kurta clan. Uvogin says that he doesn't remember the Kurta, which infuriates Kurapika. Their one-on-one battle is about to begin.

Episode

46

-

I'm Home x Welcome Home x I'm Killua

Uvogin was able to escape with some help from his fellow bandits. However, after the blow to his pride, he is determined to track down and Kurapika and defeat him. Kurapika realizes that the Phantom Troupe has identified their location and moves the boss to a safe place while awaiting the Phantom Troupe's arrival by himself.

Episode

45

-

Restriction X Oath X Chain Of Punishm...

Kurapika was able to capture Uvogin, a member of the Phantom Troupe. Kurapika struggles to control his rage as Uvogin makes demands as though he isn't a captive. That is when Kurapika receives an e-mail from Hisoka...

Episode

44

-

Waste x Decision x Exam Results

After Uvogin slaughters the Mafia's pursuit, the Mafia dispatches their secret weapon, the Shadow Beasts. However, Uvogin is able to defeat them by himself. During the battle, the spider tattoo on Uvogin's back is revealed, and Kurapika springs to action.

Episode

43

-

Talent x Distraught x Nature of Killi...

The Phantom Troupe attacks the underground auction held by the Mafia. Afterwards, there is no sign of the merchandise or guests. The Mafia place a reward on their heads and begin pursuit. Kurapika and the other bodyguards on patrol join the pursuit. Kurapika is drawing closer to the Phantom Troupe.

Episode

42

-

Hisoka's Love x Fight x Gon's Real St...

The auction is finally about to begin. Gon, Killua, and Leorio are working hard to amass enough money to buy Greed Island. Kurapika has been assigned to monitor the auction house. Meanwhile, the Phantom Troupe draws close. All paths will soon cross in York New City!

Episode

41

-

Bandage x Punch x One Round Match

The biggest auction in the world is about to take place in York New City. The Phantom Troupe leader, Chrollo, has instructed the members to gather in the city. For what purpose? The band of murdering thieves is about to make its move.

Episode

40

-

Two Months x Rest x With Nen Restrict...

Kurapika and the other job seekers arrive at the home of a human trophy collector and are attacked by a unknown force. As they fight off the assailants, Kurapika is able to identify that one of the group members is behaving suspiciously. Meanwhile, Gon and Killua head for York New City to search for information on Greed Island, the game that may lead them to Ging.

Episode

39

-

Convene Skill x Register x The Fight ...

The Phantom Troupe is Kurapika's most hated enemy. Five years ago, they took his relatives and friends, along with their scarlet eyes. Kurapika begins his battle to recover his brethren's eyes and send the Troupe to hell.

Episode

38

-

Burn x Idea x Nen

The box left by Ging for Gon contained a cassette tape with a recording of Ging's voice. However, once the tape was stopped, it erased the message. The only remaining leads are the ring and game memory card left in the box.

Episode

37

-

Sky x Tournament x Fighter Participat...

Episode

36

-

Coin x Reunion x Change of Clothes

After landing a punch on Hisoka, Gon returns the tag from the Hunter Exam. Hisoka is ecstatic to see Gon's development and uses his own Nen to attack. Gon is scared, but he recklessly continues to attack! Will he emerge victorious?

Episode

35

-

Killua x Punishment x Family Conferen...

Gon and Killua begin training in Hatsu, the culmination of everything they've learned about Nen. And finally, Gon challenges Hisoka to return the favor from the Hunter Exam. "I'm going to give the tag back to Hisoka while punching him in the face!"

Episode

34

-

Skateboard x Probationer x Real Inten...

Gon has fights against Gido and Riehlvelt coming up. He's still mad about what they did to Zushi. Gon is able to withstand Gido's attacks and overwhelm him in battle. This causes Hisoka to smile.

Episode

33

-

Training x Hound x Concerted Effort

After two months, Gon and Killua are finally allowed to practice Nen again. That's when Gido, Sadaso, and Riehlvelt appear before them and tell them to fight them in the arena. Gon and Killua refuse, but Killua finds Sadaso's behavior to be very suspicious.

Episode

32

-

Tour x Tourist x Killua's House

Kastro has used his ability to create a clone of himself with Nen to sever Hisoka's arm and take an advantage in the fight. However, despite losing both arms, Hisoka appears to be perfectly calm. Kastro loses his cool and attacks Hisoka.

Episode

31

-

Dismissed x Party x Enemies are Bound...

A month has passed since Gon was seriously injured, and Hisoka and Kastro are about to fight in Heavens Arena. Kastro was able to knock Hisoka down in the past and sounds very confident in his interview. Hisoka appears unperturbed by the upcoming fight.

Episode

30

-

Killua x Drop Out x Turn Back with Fo...

Gon faces the Nen user Gido in his first 200s Heavens Arena match. Gon uses Ten to protect himself, but he soon finds himself on the defense against Gido's Dancing Tops. As Gon desperately tries to find a way to fight back, he makes a bold decision...

Episode

29

-

Passed? x Failed? x End of Exams

After reaching the 200th floor, Gon and Killua run into Hisoka's barrier of Nen. They ask Wing to use the violent method for activating their Nen potential. As the deadline for registration draws near, they begin training in one of the four major principles of Nen, Ten.

Episode

28

-

Chat x Excuses x Comparing Guts

As Wing explains the tenants of Nen to the boys, Killua believes that they aren't being told the whole story. After a meteoric rise from the 1'st floor to the 190's, they finally get their chance to register for a fight on the 200th floor. But just stepping off the elevator, the murderous intent is unlike anything they have experienced.

Episode

27

-

Hisoka x Kurapica x The Spider's Whis...

Gon and Killua have arrived at Heavens Arena, where opponents get stronger as you ascend the tower, to train and make money. Both of them are immediately advanced to the 50th floor after their initial battles on the 1st floor. There, they meat Zushi. When Killua faces off against Zushi, he has no difficulty at all, until Zushi uses a strange technique reminiscent of what Illumi used...

Episode

26

-

President x Interview x Paper Test

A letter from Gon arrives at Whale Island for Mito... (A recap of everything that has happened.)

Episode

25

-

Slimy x Stingy x Inside a Cave

Canary guides Gon and his friends to the butler office. There, they meet the butler Goto, who challenges them to a coin game so he can determine if they are worthy of being Killua's friends. After winning the game and reuniting with Killua, Gon now looks ahead to his next objective...

Episode

24

-

Damage x Resume x Fake Smile

Episode

23

-

Hisoka x Crash x Gon

Gon and his friends have decided to pass through the Trial Gate to see Killua. First, they must train in the servants' residence until they can open the gate. Meanwhile, Killua has learned that Gon and the others are here to see him. Gon, Leorio, and Kurapika are able to open the gate after completing their training, but the apprentice butler Canary stands in their way.

Episode

22

-

Found Him x Hide! x Catch Up!

After arriving in the Republic of Podokea, Gon, Leorio, and Kurapika board a tour bus to Kukuroo Mountain, where Killua lives. However, they're blocked by a massive gate. Anyone who attempts to enter through the side door is eaten by the watchdog. Gon tells the guard that they are friends of Killua and asks to be let in.

Episode

21

-

Fouth Exam x 44 x Number of Death

Gon is upset that Killua was forced to kill. Gon is mad at Illumi and proclaims that he will go to Kukuroo Mountain to rescue Killua. As Gon and his friends depart, Satotz mentions that the Hunter Exam isn't over yet...

Episode

20

-

Giant Wave x Cannon x Huge Rush

After breaking his arm in the fight against Hanzo, Gon wakes up in a bed and is immediately congratulated by Satotz for passing the Hunter Exam. He then informs Gon that Killua has failed. Gon is incredulous as Satotz tells him what happened when Killua faced off against his brother Illumi.

Episode

19

-

Separated x Diary x Soaked

Gon and his friends have advanced to the final phase of the Hunter Exam. The final phase is a tournament where the winners are out and the losers advance. The rule is that if you kill your opponent, you'll be disqualified. The first mach is Gon versus Hanzo. Gon can't do anything against Hanzo, but he refuses to give up. Hanzo is losing his patience and threatens to break Gon's arm.

Episode

18

-

Treasure x Memory x Hotel Room

Gon and his friends have been trapped inside a cave by poisonous snakes. Bourbon, the person responsible for the trap, is already dead, and nobody knows how to disarm the trap. Meanwhile, Leorio, who was bitten by the snakes, is growing weak. Gon manages to get them out of the sticky situation and through to the final phase of the exam. But first, Netero wants an interview with each of the remaining applicants...

Episode

17

-

3 People? x 5 People? x The Last Deci...

Killua grows tired of having Imori shadowing him so he challenges Imori to a fight and quickly dispatches him. Meanwhile, Gon has joined up with Leorio and Kurapika. The three of them devise a plan for taking Ponzu's tag and track her down to a suspicious-looking cave. That is when Leorio insists on heading in alone.

Episode

16

-

Rock x Scissors x Heart

Episode

15

-

Transient x Life x Majtani

Gon is relying on Bloodcrazy Butterflies to find his target, Hisoka, before waiting for the perfect time to use his skill with the fishing rod to snatch Hisoka's tag. Meanwhile, Leorio is tricked by Tonpa and loses his own tag, but Kurapika helps him recover it. Now that Kurapika and Leorio know that neither is the other's target, they decided to form an alliance.

Episode

14

-

Candle x Policy x Internal Discord

The applicants head to Zevil Island for the fourth phase of the exam. Each person draws a number which corresponds to the ID number of their target. The ID tag of their target is worth 3 points, their own ID tag is worth 3 points, and all other ID tags are worth 1 point. Each applicants must collect 6 points in order to pass this phase of the exam. Gon's target turns out to be...

Episode

13

-

Agree x Disagree x Trap

Gon writes a letter to Mito-san and Grandma detailing his journey from home to the latest challenge at Trick Tower.

Episode

12

-

Good Boy? x Bad Boy? x Killua

The five group members take different approaches to their fifty hour penalty. Once they're allowed to return to the test, they must overcome many more obstacles. Eventually, they arrive before two doors with one hour left. One door leads to a long and difficult path that allows five people to pass. The other door leads to a short and easy path that only allows three people to pass. How will the five members vote on this decision...?

Episode

11

-

Explore x Sports Spirit x Stowaway

Leorio is in a gambling showdown with their remaining time limit on the line. Soon enough, Leorio only has 10 hours remaining. With no room for error, Leorio turns to a bet involving rock, paper, scissors. Leorio was confident going in, but he falls to his opponent's mind games. Two wins, two losses. The group is in a tight spot and their fate rests upon Killua.

Episode

10

-

Failing Score x Panic x Voice from He...

Gon and Kurapika have won their matches, giving the group a 2-1 lead, but their opponents claim that Majitani is only unconscious, so Kurapika's match hasn't been settled. Leorio grows impatient with Kurapika, who refuses to finish the job. The five members begin to bicker as time ticks away...

Episode

9

-

Menchi x Seriously Pissed x Second Ex...

Gon and his friends must win three out of the next four rounds. The second round is a game to see whose candle is extinguished first. However, Gon's candle was tampered with. Next, Kurapika finds himself in a deathmatch against the serial killer Majitani. However, Majitani soon reveals a spider tattoo on his back, the symbol of the Phantom Troupe...

Episode

8

-

Magician x Smile x Wild Animal Warnin...

The airship arrives at the top of Trick Tower, the site for the third phase of the exam. The applicants must reach the bottom within 72 hours to pass. Gon, Killua, Kurapika, and Leorio finally discover a way into the tower. However, they need five members before they can progress any further. Who will be the fifth person...?

Episode

7

-

Trauma x Limit x Sweet Trap

After Gon and his friends successfully passed the second phase of the exam, they boarded the airship which would take them to the third phase. Gon and Killua are exploring the airship when they run into Netero, who proposes a very simple game. All they have to do is take a ball away from Netero and they can become hunters.

Episode

6

-

Steak x Marathon x Exam Begins

After a scuffle with Hisoka, Gon and his friends are able to safely make it to the site for the second phase of the exam. The examiners for the second phase are Menchi and Buhara. Their task is a cooking test. The applicants struggle to create a dish that satisfies the Gourmet Hunter Menchi. Will anyone be able to make something that satisfies Menchi...?

Episode

5

-

Lie x Truth? Kiriko

The applicants made it through the long underground tunnel to find themselves in a foggy wetland. The applicants can barely see a thing as they are targeted by many monsters. Gon and Killua are running near the front of the group, while Leorio and Kurapika are in the back, which is when they spot a group of applicants surrounding Hisoka.

Episode

4

-

Decision x Shortcut x Long Way

The first phase of the exam is to follow the examiner Satotz to the second phase of the exam. A number of applicants have dropped out from the tedious trek that has no end in sight. Leorio is running with Kurapika and starting to lose steam, but then his desire to become a Hunter kicks in again. After running 80 kilometers, they reach a flight of stairs. Satotz picks up the pace again...

Episode

3

-

Pride x Stormy Ocean x Duel

The Kiriko have brought our three heroes to the exam site. Many applicants have already arrived. There's the veteran Tonpa, the creepy-looking Hisoka, the talkative ninja Hanzo, and the boy with the skateboard Killua. The first phase of the exam is finally about to begin.

Episode

2

-

Encounter x Intimidation x Departure

Gon, Leorio, and Kurapika have arrived at the city where the exam will be held. They follow the captain's advice and head for a shortcut to the exam site. On the way, they pass through a slum where a group of old ladies are waiting for them. The ladies tell them that they must pass their quiz or be disqualified from the Hunter exam.

Episode

1

-

Boy Going on a Journey x Leaving a So...

Gon finds out from Kaito that his father, Ging, is still alive. Gon becomes determined to find him.
If You Like Hunter X Hunter, Then Try...
Most Popular Hunter X Hunter Episodes
Season 1 Episode 1

Boy Going on a Journey x Leaving a Sound of t...

10/16/1999

Season 1 Episode 39

Convene Skill x Register x The Fight Begins

12/31/1969

Season 2 Episode 79

No X Good X NGL

5/12/2013