Watch Hwang Jin Yi
Hwang Jin Yi is a historical drama series that chronicles the actual life of a famous Korean entertainer. It features many veteran Korean actors and several notable up-and-coming actors, Kim Young-ae and Kim Bo-yeon among them. Composed by the television writing team of Yoon Sun-joo and Kim Chul-Kyu, the action takes place in 16th century Korea, during the reign of King Jungjong, during the Joseon Dynasty.
Born from a low social class, Hwang Jin Yi is the unclaimed child of a nobleman and an accomplished Gisaeng, the Korean equivalent of a Japanese geisha. She is considered very beautiful, intelligent, charming, and of an independent spirit. Like her mother, she falls in love with a man from a higher social class after moving into a Gisaeng home to learn her craft. Kim Eun-ho, Jin Yi's love interest, is at the mercy of his aristocratic parents, who reject his relationship with the lowborn Jin Yi. While trying to elope with Jin Yi, Eun-ho contracts pneumonia and dies.
Hwang Jin Yi is more than a mere Gisaeng. She is also a poet, musician, and dancer, and the Hwang Jin Yi series follows every aspect of her life from humble beginnings to riches. After the death of Eun-ho, Jin Yi is pursued by other men, including a member of the Imperial family, and an old childhood crush, Nom Yi, who was long ago banished from the household for an infraction, only to return years later to be a steward to Jin Yi's family. Devastated by Eun-ho's death, Jin Yi takes to drinking, and at one point attempts suicide, but is rescued by her bodyguard.
Hwang Jin Yi's tale is comprised of 24 episodes, each one shedding light on the considerable social challenges faced by female artists, entertainers, and women of all classes in 17th century Korea. Elsewhere in the series, Jin Yi engages Nom Yi as her procurer, one who intercedes on her behalf, safely drumming up business for her.
Jin Yi manages to survive by her wits, eventually becoming the greatest Gisaeng in all of Korean history.
1 Season,

24

Episodes - Canceled

October 11, 2006

10

/
Watch Full Episodes of Hwang Jin Yi

Season 1, Episode 24
Episode 24 (01:03:00)
Season 1, Episode 23
Episode 23 (59:00)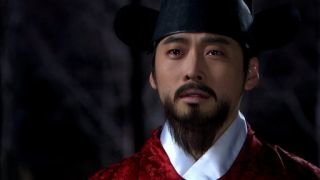 Season 1, Episode 22
Episode 22 (01:00:00)
Season 1, Episode 21
Episode 21 (01:02:00)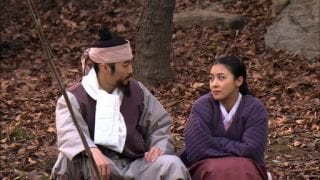 Season 1, Episode 20
Episode 20 (57:00)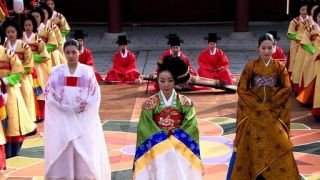 Season 1, Episode 19
Episode 19 (57:00)

Hwang Jin Yi

Full Episode Guide
Season
1
24 full episodes
Before the competition, Jin Yi runs away to practice her art.

Jung Han finds out about Jin Yi's baby.

Jung Han's execution day arrives.

To protect Jin Yi's life, Jung Han puts himself in danger to keep her safely hidden.

Three years later, the Song-Do courtesan troupe is still adjusting to the loss of Mistress Im.

Bu Yong and Jin Yi compete for the Headmistress title at the King's banquet.

Mistress Im's emotional outburst at the banquet puts her life at danger.

While Jin Yi and Bu Yong perfect their dances, Jin Yi discovers an external inspiration for her dance.

As Jung Han's affections for Jin Yi grow deeper, Jin Yi discovers the true identity of her biological father.

Jin Yi's teasing and impudence as a courtesan starts getting her into trouble.

Bu Yong comes up with a twisted plot to get Jin Yi and Mistress Im sent off as government slaves.

Jin Yi's renewed passion for dancing threatens some people in the courtesan troupes, leading them to take some drastic measures.

When determining the regulations of the Sword Dance competition, Mistress Im finds a way to coerce Jin Yi into dancing again.

When the Emperor orders for the best courtesans to be written down in the Book of Music, Mistress Im's encouragement for Jin Yi to dance again turns Jin Yi to a rival Headmistress.

Four years later, the girls have become true courtesans, but Jin Yi is still reeling from Eun Ho's death.

Charmed by Jin Yi's beauty and talents, Eun Ho's father offers to raise her hair, creating a multitude of complications between the young couple.

In preparation for the governor's banquet, the girls become increasingly aware of the difficulties of being a courtesan.

In order to protect her love with Eun Ho, Jin Yi tells Mistress Im that she would rather live as a slave than as a courtesan. Although Mistress Im allows this, she meets Jin Yi with a wager.

With the Palace Courtesan Tournament early next month, Mistress Im informs the novice courtesans that they must first lose their virginity in order to enter the tournament.

When Young Master Eun Ho and Jin Yi's illicit relationship comes to light, the conflicts show both the class differences and limitations between courtesans and noble-borns.

In an effort to keep Jin Yi in the Song Do courtesan troupe, Mistress Im suggests a competition at the Palace to select the best courtesan novices and the best troupe to house and teach the courtesans.

While Jin Yi continues to learn the skills of a courtesan, Kim Eun Ho, the Magistrate's son, becomes enraptured with Jin Yi's beauty and spirit.

Instead of punishing Hyun Geum for hiding Jin Yi away at birth, Jin Yi is taken into the Song Do courtesan troupe to be trained as a courtesan.

Jin Yi, a young orphan girl raised in a Buddhist temple, performs a dare of 3,000 bows so that she can go into the city and search for her mother.
If You Like Hwang Jin Yi, Then Try...
Most Popular Hwang Jin Yi Episodes
Season 1 Episode 18

Episode 18

12/07/2006