Watch I Hate My Kitchen
I Hate My Kitchen is a design series on the DIY Network. It features James Young, a licensed contractor and electrician who renovates ugly, old, and worn out kitchens into budget friendly updated spaces for homeowners. From updating cabinets, to selecting energy efficient appliances, flooring and updated paint colors, James and his crew transform spaces for homeowners who are on a budget and are in dire need of an updated look. Quite often, kitchens have never been renovated and are in the original state when the home was built.
James visits the clients at their homes in an effort to get an understanding of what the homeowner would like to change in the space to make it more functional and efficient. They discuss a wide variety of new products on the market and innovative tools they can incorporated into their spaces. These new changes are all budget friendly and are selected because of their durability of everyday use and how well they will stand the test of time. The client decides what style they are seeking to create. In some episodes the clients have chosen Tuscan, Country, Shabby Chic, Retro, Contemporary, and Colonial.
In some design plans, it is not necessary to demolish the entire kitchen. All that may be needed is to update the cabinets with new molding and paint, or sand down the old worn wood flooring so it may be re-stained. However, in most cases, it is necessary to gut the entire kitchen and start off with a clean slate. Depending on the budget of the client, this is the preferable way.
The transformation begins as James and the homeowners work together to create a new floor plan that will function more efficiently. New flooring, appliances, countertops, backsplashes, lighting and accessories are selected to give the space a much needed update.
By the end of the episode, the homeowners are delighted with the changes and all of the budget friendly choices James has selected.
Tuesday 9:00 PM et/pt on

DIY Network

6 Seasons,

82

Episodes - Currently Airing

October 5, 2010

Reality

10

/
Watch Full Episodes of I Hate My Kitchen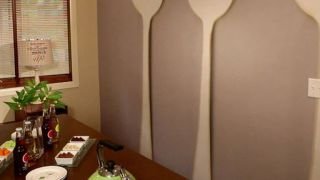 Season 3, Episode 13
Wasted Space (20:00)
Season 3, Episode 12
Cultural Contemporar... (20:00)
Season 3, Episode 11
Rustic Redo (19:00)
Season 3, Episode 10
Blog Cabin (19:00)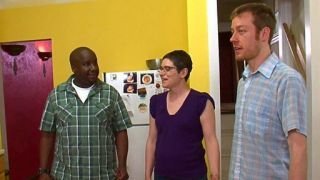 Season 3, Episode 9
Unfinished Business (19:00)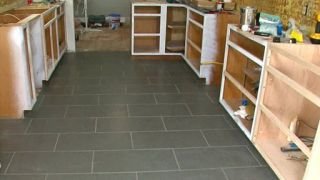 Season 3, Episode 8
Mod Makeover (19:00)

I Hate My Kitchen

Full Episode Guide
Episode

11

-

How to Reuse and Repurpose in a Moder...

Episode

10

-

Improving a Boring Building Grade Kit...

Episode

9

-

Turning a Dated Kitchen in a Suburban...

Episode

8

-

A Kitchen Makeover That Mixes Modern ...

Episode

7

-

A Reclaimed Kitchen With Historic Til...

Episode

6

-

Cozy Comfy Kitchen with Apple Green a...

Micaela just moved into her first home, a 1950s two-bedroom rambler that was in need of a lot of love.She's done a great job at clean and painting, but the kitchen remains a disaster.The dingy cabinets don't stay shut and have been known to hit her in the head. The appliances are old and don't work, the sink is permanently stained and the countertops are dated and chipped. The floor is coming up in parts and the pink brick backsplash is layered with grease. With a budget of $24,000, James helps Micaela transform her kitchen into the cozy, comfy space she wants. Bright apple-green and white cabinets make the new space pop. A funky button backslash, open shelving, and a DIY pot rack give the room personality. But it's the clever use of removable gingham wallpaper on the ceiling that takes this kitchen transformation to new heights.

Episode

5

-

Classic Modern Mix for a Young Couple

A young couple love their historic home's charm, but hate the kitchen that was last updated at a time when baby blue laminate and pink flowers were popular. With help from contractor James Young, the couple take down walls and create an open concept kitchen, that mixes traditional elements with funky pieces that match their personalities. The new kitchen's centerpiece is a huge DIY butcher block island that costs a fraction of what it costs in stores. They also update unsightly radiator covers, create easy DIY shutters and install beautiful large-format rectified tiles. In typical fashion for James, the new hardwood floors come with a twist, and the built-in bar stools are one-of-a-kind. The transformation leaves the couple nearly speechless, all for a budget of $25,000.

Episode

4

-

Fresh Condo Kitchen Reno for Two Sist...

Two young sisters share a condo they have lovingly updated into a chic, modern living space. But the kitchen is stuck in the 80s, and they need licensed contractor James Young's help to turn it into the open-concept entertaining space that fits their lifestyle.

Episode

3

-

A Newlywed Couple Needs a Kitchen for...

Newlyweds ask licensed contractor James Young for help updating their dated 70s kitchen. Their appliances are old and out of date, and the style clashes with the rest of their tastefully decorated house. James helps the couple open up walls and shows how to save money by reusing and updating the kitchen cabinets.

Episode

2

-

Creating a Rustic Country Kitchen wit...

A 70s kitchen eyesore, complete with blue plaid wall paper, mismatched appliances and an awkward faux brick feature wall gets an update from licensed contractor James Young.

Episode

1

-

Creating an Eclectic Open Kitchen Con...

Emily and Dave love their charming 70s home, except for the closed-in, outdated kitchen with broken appliances and well-worn cabinets.
Episode

20

-

Marnita's Kitchen

Episode

19

-

Treehouse Zen

Matt and Zeny's 7-level home has loads of space and an open floor plan that they love, but after updating much of the house to match their sleek, minimalist style, they got stuck on what to do with their cramped, outdated kitchen.

Episode

18

-

English Garden

Nicola and Brad stumbled upon their charming 1940s Cape Cod while walking through their neighborhood. They instantly fell in love with the spacious house and the rest is history. However, the larger space came with an ugly 1980s kitchen and 8 years later, it is still an eyesore. To complicate matters, a broken toilet on the second floor left the ceiling in shambles.

Episode

17

-

Classic With an Edge

Danny & Ashley started renovting their early 1900's fixer upper 4 years ago, but got sidetracked by a wedding and a baby. Now, they're finally ready to tackle their outdated and cramped kitchen with help from Licensed Contractor James Young.

Episode

16

-

Loft in the 'Burbs

Jackie and Nicole love the location of their split-level home in a quiet suburb, but the kitchen needs to be updated.

Episode

15

-

European Sophistication

Four years ago, Blake and Alison found their spacious home and knew it was perfect for their family. Although they've made a lot of improvements, the kitchen is desperate for modernization.

Episode

14

-

Tudor Revival

Lindsay and Jason love their Tudor style home, but the outdated kitchen is an eyesore.

Episode

13

-

Grandma's Kitchen

Tyrone has fond memories of his grandma's house, but now that he owns it, he is frustrated with the dysfunction of the kitchen.

Episode

12

-

Industrial Contemporary Chalet

Newlyweds Beau & Jesalyn couldn't resist their 1950's ranch style centered on a beautiful lot backing up to an urban creek. But the kitchen is a major disappointment. James Young's plan includes knocking out a wall between the kitchen and family room to create one big, open space.

Jason Young helps two sisters expand their tiny kitchen into a functional space with an adjacent mudroom.

Episode

10

-

Down Home Country

Roy & Katie's kitchen has a terrible layout, minimal cabinet space, and completely ancient appliances. Licensed Contractor James Young transforms the kitchen into a complete cozy country themed space.

Jim & Jen love the open floor plan of their 1940's home, but the outdated galley-style kitchen needs a transformation.

Episode

8

-

50th Episode: Cramped to Convenient

Matt has renovated every room of his 1920's bungalow except the tiny kitchen. A gorgeous built-in hutch has prevented him from expanding the room, but contractor James Young comes up with a plan to remove and repurpose the buffet, turning it into part of an island.

Episode

7

-

Handle with Flair

Nikkie & Joe have a large 60's rambler with one seriously outdated kitchen. It's covered in multiple layers of wallpaper, and the barely functioning yellow appliances have got to go.

Episode

6

-

Timeless & Traditional

Jeff and Amanda have a closed off kitchen that doesn't flow with the rest of their 1920's home. They lack DIY skills, so James Young tries to show them how to make the most of their budget and teach them a few things along the way.

Episode

5

-

Earthy Sophistication

Jeff and Sonia's 80's kitchen is definitely the problem child in their house. It's got plenty and space, but zero style. James Young helps them update it with modern, flat-front cabinets, stone counters, and poured epoxy resin floors. Convenient extras like a built-in coffeemaker help turn their kitchen into an earthy, sophisticated space.

Episode

4

-

Feng Shui Bungalow

Mike and Leigh love everything about about their charming 1920's bungalow - everything, that is, except the poorly planned out kitchen.
Season
3
13 full episodes
If You Like I Hate My Kitchen, Then Try...