Watch In Living Color Online - Full Episodes
Series Length:
5 Seasons,

122

Episodes
Description:
In Living Color was a television program that ran from 1990-1994. During its four seasons on air, there were many famous actors, comedians and even rappers who made up the cast of the show. Notable actors such as: Jim Carrey, Tommy Davidson, Jaime Foxx, Damon Wayans, Shawn Wayans and Kim Wayans all got their opportunity to showcase their talents on the show.
The program was a series of comedic sketches written and performed by the actors who wrote the script. At the beginning of the show the host (Kenan Ivory Wayans) would introduce different members of the show to the audience. The first act he would introduce would be the Fly Girls, who were an assortment of female dancers. Their job was to bring in the show, cue the commercial breaks as well as end the show with various dance routines. Kenan would then introduce the D.J. for the night who would spin the records for the Fly Girls to dance to.
After the Fly Girl's performance the skits would begin. The program usually showed anywhere from ten to fifteen different skits per night and each skit would be a unique story line all on its own. Each skit would involve some or all of the cast of In Living Color interacting with one another in various ways. For the first four seasons of the show, most of the original cast members played re-occurring roles. Even the Fly girls performed some cameo roles as well as smaller acting parts.
As the show progressed into later seasons some new cast members began to appear on the show. Entertainers such Tupac, James Brown and Rodney Dangerfield, joined the showcase (playing themselves) and adding to the shows repertoire. The show also allowed new acts to perform on stage at the end of each show. Acts such as Kriss-Kross and En-vogue were invited to perform as well as act in the show.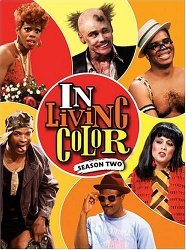 View More Clips & Extras