Watch Income Property
Income Property is a show on the HGTV Network, starring Scott McGillivray. Scott, a carpenter by trade, has renovated over 20 income generating homes that he converted and renovated himself. Each week, he assists homeowners, by offering design options to renovate an otherwise unused space and create a potential income suite. The goal is to generate income that will lower the homeowner's monthly mortgage payments, and add value to the property. The space selected to renovate is usually the basement area.
In each episode, Scott meets with the homeowners to assess the space. Generally, the space has electrical, plumbing, code, and layout issues. He provides them with two options, each having an estimation of return on investment by way of monthly rent received for it. The homeowner decides which option will work best for them based upon their budgets. Once an option is selected, Scott, the homeowners, and a team of electricians, carpenters, and plumbers get started with the renovation. The spaces often will require that walls be demolished, changes in the electrical wiring, and flooring resurfacing. Because of these extensive renovations, quite often, an inspector is required to visit the property to ensure the wiring, plumbing and firewalls are up to code and comply with the housing authorities. Once inspections are approved, the next phase of the renovation continues. Scott asks the homeowners to stay out of the space when the renovation is nearly complete, so they will be surprised at the final reveal.
Once the renovation is complete, a real estate appraiser comes in to assess the value of the income suite with the new changes. They also provide an estimation of the amount of rent the homeowners should charge. A stager brings in furniture, appliances and accessories that will show off the space, and give it the wow factor to potential renters.
By the end of the episode, the newly developed space is revealed to the homeowners. Scott informs them of the increased value of the home and the estimated market rents. He also advises the homeowners of what features should be included in a newspaper ad to rent out the space.
Thursday 9:30 PM et/pt on HGTV

10 Seasons,

149

Episodes - Currently Airing

January 1, 2009

10

/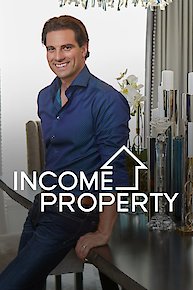 Income Property

Full Episode Guide
Episode

11

-

Lynne & Heather

Heather is a teacher who bought a newly renovated bungalow with a "ready to rent," two-bedroom basement apartment, which was the key to affording the house on her own.

Episode

10

-

Barry & Jenn

Episode

8

-

Caitlyn & Ron

Episode

7

-

Foundation for Love

Episode

6

-

Fishing Dreams, Rental Reality

Episode

5

-

A Vacation Home with Rental Potential...

Episode

4

-

Putting Family First With Another Bab...

Episode

3

-

She's on a Mission of Independence

Episode

2

-

A Pricey Property Payback to Stay Clo...

Episode

1

-

Second Time Around for a Second Famil...
Episode

41

-

Investing for Baby

Episode

40

-

Lights, Camera, Income!

Episode

39

-

Fostering Independence

Episode

38

-

Income for Animals

Episode

37

-

Scott Free Vacation

Episode

36

-

Checks on the Beach

Episode

35

-

Country Cashflow

Episode

34

-

Luxury Retreat

Episode

33

-

Big House Big Dreams

Episode

32

-

Shaky Ground

Episode

30

-

Built for Mom and Dad

Episode

29

-

United We Buy

Episode

28

-

No Pension, No Problem

Episode

27

-

Higher Earning

Episode

26

-

Caring for Mom

Episode

25

-

New Love, New Rental

Episode

24

-

Same Rental, Twice the Income

Episode

23

-

Digging out of Debt

Episode

22

-

Affording the Dream

Episode

21

-

Thirty-Something Investors

Episode

20

-

The Princess and the Rental

Episode

19

-

City Dreams, Small Town Budget

Episode

18

-

Baby Makes 3, Tenant Makes 4

Episode

17

-

Love, Marriage and Investments

Episode

16

-

Carrying Costs for an Expecting Coupl...

Episode

15

-

Sarah & Milo

Episode

13

-

Andrew & Chris

Episode

12

-

Kuo-Bao & Megan

Episode

10

-

Alison & Deirdre

Episode

9

-

Jeff & Kirsti

Episode

8

-

Urban Vs. Suburban

Episode

7

-

Wrestling with Real Estate

Episode

6

-

Big City, Big Prices

Episode

5

-

Moving Up, Paying Down

Episode

4

-

Life Changes Fast

Episode

3

-

Bidding for Retirement

Episode

1

-

Nicole & Michelle