Watch Jeopardy!
Jeopardy! is an American "answer and question" quiz show which has been on the air in one form or another for nearly half a century. The show has had two hosts, initially Art Fleming, with Alex Trebek hosting from 1984 to the current day. The idea for the show originated during a plane trip with show creator Merv Griffin and his wife, Julann. Merv had been wracking his brain trying to come up with a new "question and answer" show after the scandals of the last ones, when his wife demonstrated a few examples of turning the order around.
The premise of the show is that three contestants (with the left-most booth reserved for returning champions) complete in three rounds, "Single Jeopardy!," "Double Jeopardy," and "Final Jeopardy!," respectively. Single Jeopardy! features six categories, each with five answers. One of the answers in Single Jeopardy! is known as the "Daily Double," where a contestant can wager up to their total earnings that show (or up to $500 otherwise) on the answer. Double Jeopardy is similar to Single Jeopardy! except that the cash values for all questions are worth double, and it contains two Daily Double answers. Final Jeopardy is where the iconic "Thinking" thirty second piece of music comes from. The contestants are only given the category of the answer they must provide the question to and may wager their total earnings. They are then given the answer after the commercial break, with 30 seconds to provide the winning question.
Previously, a winner could only keep a five-game winning streak. After a fifth win, the contestant would be kept on notice for the yearly tournament of champions. However, the ban was lifted several years ago, which allowed Ken Jennings to perform an unprecedented seventy-four consecutive wins. Furthermore, winnings were originally capped; anything above the cap was donated to a charity of the winner's choice. Both the five-show limit and earnings cap were lifted in 2003.
Weekdays 7:30 PM et/pt on Syndicated

29 Seasons,

2678

Episodes - Currently Airing

9.3/10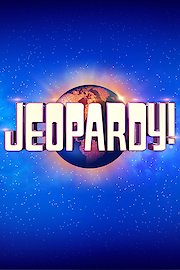 Jeopardy!

Full Episode Guide