Watch John Fulton
Chronicling the life of John Fulton Short who followed his dream of becoming the first foreign Bullfighter in Spain to achieve the full rank of Matador.
1 Season,

5

Episodes - Canceled/Ended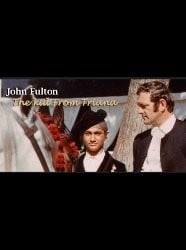 John Fulton

Full Episode Guide
Episode 5 - Death in the Afternoon

The time has come for John to hang up his cape. He decides to end his career where it all began, Mexico. After a shaky start he triumphs with a glorious and emotional finale.

Episode 4 - The Last Serious Thing

After Federico's cruel father comes to claim him back, John has to concoct a plan for Federico to get away while he arranges the adoption papers.

Episode 3 - The Sun Also Rises

John finally gets his 'Alternativa' in Seville; the ritual qualifying of a Matador but it is fraught with dangers. He gets invited to fight in Mexico with the famous Spanish Matador, 'El Cordobes'.

Episode 2 - The Wounds of Hunger

Episode 1 - Blood and Sand
If You Like John Fulton, Then Try...