Watch John Fulton
Series Length:
1 Season,

5

Episodes
Description:
Chronicling the life of John Fulton Short who followed his dream of becoming the first foreign Bullfighter in Spain to achieve the full rank of Matador.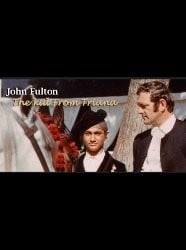 John Fulton

Full Episode Guide
Episode 5 - Death in the Afternoon

The time has come for John to hang up his cape. He decides to end his career where it all began, Mexico. After a shaky start he triumphs with a glorious and emotional finale.

Episode 4 - The Last Serious Thing

After Federico's cruel father comes to claim him back, John has to concoct a plan for Federico to get away while he arranges the adoption papers.

Episode 3 - The Sun Also Rises

John finally gets his 'Alternativa' in Seville; the ritual qualifying of a Matador but it is fraught with dangers. He gets invited to fight in Mexico with the famous Spanish Matador, 'El Cordobes'.

Episode 2 - The Wounds of Hunger

John meets another hero who helps him: the legendary Ernest Hemingway. He continues on the arduous path to becoming a bullfighter, with little or no money. Meanwhile a tragic suicide affects him deeply.

Episode 1 - Blood and Sand
If You Like John Fulton, Then Try...