Watch Keeping Score
The host of Keeping Score is Michael Tilson Thomas. The show was formed by PBS in conjunction with the San Francisco Symphony. He usually has classical music from Copland, Beethoven, or Stravinsky; these are just some of the major composers that have appeared on the show. The French composer Hetor Berlioz wrote a romantic piece named Symphonie Fantastique to a beautiful lady that he was in-love with. His work had personal meaning to him.
Tilson Thomas investigates the question that he asks in the beginning of the show. On one of the episodes, Tilson Thomas investigates how Aaron Copland decided to blend several different kinds of sounds. The sounds that Copland investigated include: folk, hymns, and jazz. Copland made a type of music that is still popular to this day as it is found a lot in 20th century America.
In the show, the original score was made in the same fashion as Pyotr Illyich Tchaikovsky. He was a Russian composer who rehearsed and premiered his fourth performance at the San Francisco Symphony. It shows modern interpretations of classical music, and it shows the history of classical music. Some of the most masterful works of music can be found on the show.
Gustav Mahler appeared on two episodes of the show, and the host went to Mahler's hometown in Austro-Hungarian. In these respective episodes, you see how Mahler started his musical career from young conductor to experienced musician. Mahler did a lot of work through the San Francisco Symphony.
Shostakovich is another composer that appears on the show. The episode had the potential to make Shostakovich or break his career. The respective composer has a lot of powerful words to say throughout the piece. Another composer that appears in an episode is Charles Ives. The focus of his career was ways to cope with your own success; he alive in the early 20th-century. The three goals of Ive's music are: the American way, truth, and beauty. These are just some of the composers that have appeared on Keeping Score.
Thursday 9:00 PM et/pt on PBS

3 Seasons,

10

Episodes - Returning Series

June 1, 2004

10

/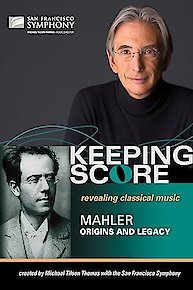 Keeping Score

Full Episode Guide
Episode

3

-

A Mahler Journey

Episode

2

-

Mahler: Legacy

Michael Tilson Thomas reveals Gustav Mahler's personal inspiration for his work - his own experiences.

Episode

1

-

Mahler: Origins

The first of two episodes explores the roots of Gustav Mahler's music. SFS Music Director Michael Tilson Thomas journeys to rural Bohemia to rediscover the inspirations of Mahler's music, and traces Mahler's life through the premiere of his first symphony in 1888. It shocked the contemporary audience, but as MTT and the San Francisco Symphony reveal, on location and in performance, this ground-breaking symphony contains elements of everything else that Mahler composed. Shot on location in the Czech Republic, Austria, Hungary, and in performance in San Francisco's Davies Symphony Hall.
Episode

3

-

Dmitri Shostakovich: Symphony No. 5

Hidden beneath the surface of his life-saving Symphony No. 5, Shostakovich may have left a subversive cipher. Publicly called to task by the brutal forces of Stalin, the Soviet Union's golden boy composer was literally writing for his life. This episode of Keeping Score investigates the arresting symphony that would either redeem Shostakovich or condemn him to the Gulag. Did he dare hide a kernel of musical criticism in his paean to the Motherland? Join Michael Tilson Thomas and the San Francisco Symphony as they explore the enigma of this masterwork. What Shostakovich has to say might depend on what you're brave enough to hear.

Episode

2

-

Charles Ives: Holidays Symphony

Episode

1

-

Berlioz: Symphony Fantastique
If You Like Keeping Score, Then Try...