Watch Keyshawn Johnson: Tackling Design
Outspoken NFL veteran wide receiver Keyshawn Johnson may be known best for his play on the field, but now he's putting a completely different set of skills to the test in "Keyshawn Johnson: Tackling Design". Furniture, fabric and finishings used to be just a hobby, but with his football days behind him Johnson's wide-receiving now has more to do with fitting furniture through the front door of a house. Will clients take this former pro-athlete seriously as an interior designer? The ten episode half-hour series follows Johnson as he tries to make a name in the world of interior design. And given the pressures and personalities, Johnson's famous temper is sure to be put to the test.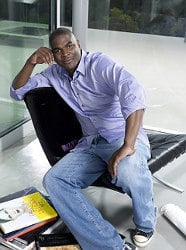 Keyshawn Johnson: Tackling Design

Full Episode Guide
Episode 12 - Deb and Pete's Multi-Purpose Room Rus...

Keyshawn is hired by Deb and Pete to create a family room/playroom that can also be a guest room. But Mason, Deb and Pete's 7-year-old son, says he wants this to be his bedroom as well.

Episode 11 - Jessica and Chris' Neutral Zone

Keyshawn thinks it'll be easy to do Jessica and Chris' guest room. But they want a more conservative look, which Keyshawn calls boring!

Episode 10 - Nancy's Bedroom Blitz

Nancy's home has been under construction for the past two years. So, Keyshawn comes up with an "Old Hollywood" style for the room, but he and Nancy disagree on almost everything!

Episode 9 - Megan's Painting Penalty

Keyshawn has been asked to design a new bedroom for homeowner Megan's two young boys to share. One has Autism, which means he'll have to try different colors and textures.

Episode 8 - Tackling Design: Nadine & Jeff's Home...

Episode 7 - Tackling Design: Robyn's Kitchen Reve...

Episode 5 - Mom and Daughter's Double Team

Episode 4 - Jill and Rob's Baby Bowl Game

Episode 3 - Ron and Lee's Kitchen Kickoff

Episode 2 - Dawn and Kurtis' Garage Gridiron
If You Like Keyshawn Johnson: Tackling Design, Then Try...