Watch Kim Cattrall: Sexual Intelligence Online - Full Episodes
Series Length:
1 Seasons,

1

Episodes
Description:
Kim Cattrall: Sexual Intelligence explores the history, biology and imagery of human sexuality through the ages. This HBO documentary graphically covers sexual topics, such as G spots, fantasies and anatomy, as well as representing many orientations from straight, gay, and bisexual. The explicit and sometimes controversial content is best suited to a mature and open-minded audience because of the straightforward presentation.
Actress and author Kim Cattrall, best known for her role as the sexually liberated Samantha Jones of Sex and the City fame hosts the film and adds comic interludes between the segments. The program covers the human perspective on sexual relationships from Roman times to the present. Conversations with academics Maggie Paley and Betty Dodson present ancient artwork and writings to understand how the Greeks and Romans interpreted and experienced sexuality. Best-selling authors such as Dr. Michael J. Bader and Thomas Moore, who wrote The Soul of Sex, discuss the present day social history of sex, and how different cultures define sexuality. There is also a panel of regular folks, who discuss their romantic lives, from a happily married couple to singles looking for a partner.
This two-hour documentary explores the past and present through the themes of Desire, Messaging, Arousal, Fantasy, and Release. A companion book to the series, Kim Cattrall Sexual Intelligence, explores human sexual history in more detail. In the film, Cattrall takes the audience around the world, to give a first-hand look at Roman statues, ancient artifacts and medieval paintings. She maintains a light-hearted approach to the risqué material, while also providing frank and explicit questions about the often embarrassing and provocative topic of sexuality. The film provides a friendly and thoughtful overview of a controversial side of human nature.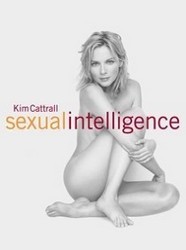 If You Like Kim Cattrall: Sexual Intelligence, Then Try...
Most Popular Kim Cattrall: Sexual Intelligence Episodes