Watch Kuroshitsuji
If ever a competition were to be held to determine the most routine and predictable anime shows of all time, "Kuroshitsuji" (Translation: Black Butler) would easily make the Top Ten. "Kuroshitsuji" is an anime (Japanese cartoon) adaption of a manga (Japanese comic) of the same name. The series tells the tale of Sebastian Michaelis, who, despite appearing to be a normal pretty-boy human working as a butler in Victorian-era England, is in fact a demon held in service by a supernatural contract. Under this contract, he is required to work for Ciel Phantomhive, a thirteen-year-old business owner and head of the Phantomhive noble family.
But of course, every deal has its fine print, and the fine print of this particular contract is a doozy: for helping Ciel avenge his deceased parents, Sebastian will earn the ability to kill Ciel and take his soul.
Despite such a dark and clever set-up, "Kuroshitsuji" is a mixed bag from beginning to end; each episode after the exciting first one follows a simple formula that is so predictable that many episodes can be skipped entirely, and nothing important to the show's story overall will be lost.
It doesn't take long to realize that ultimately, the show has one goal only: please viewers searching for a fan-service based bishounen show (i.e. a show about beautiful men that act as eye candy); this goal is the reason each episode is extremely cliche and stereotyped, a point that is especially highlighted when, once during each episode, Sebastian finds himself bowing and saying one of two catchphrases, including, "I am one hell of a butler."
Still, despite each and every silly moment, no one can deny the effort put into animating the smallest of details in the show, and the creativity that clearly went into each episode's scenario is actually often quite impressive. Business deals going wrong can easily lead to a murder most foul, and thanks to the powers possessed by Sebastian the demon butler, it's not a question of if each conflict will be resolved - it's a question of what impressive trick the butler will perform to end it.
And so, while the show may not be heavy in story or originality, it will, admittedly, certainly make any viewer smile.
1 Season,

24

Episodes

October 8, 2008

Anime

10

/
Watch Full Episodes of Kuroshitsuji

Season 1, Episode 24
His Butler, Fluent (24:15)
Season 1, Episode 23
His Butler, Up in Fl... (24:45)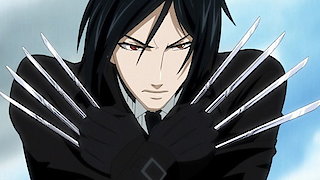 Season 1, Episode 22
His Butler, Dissolut... (24:45)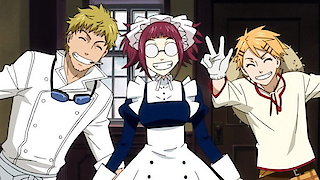 Season 1, Episode 21
His Butler, Engaging... (24:45)
Season 1, Episode 20
His Butler, Escaping (24:45)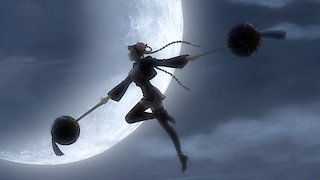 Season 1, Episode 19
His Butler, Imprison... (24:45)

Kuroshitsuji

Full Episode Guide
Season
1
24 full episodes
Episode

24

-

His Butler, Fluent

Having regained the services of his Butler, the Young Master issues a chilling order to kill. Sebastian is eager to please, but this task will require a revelation of his true nature.

Episode

23

-

His Butler, Up in Flames

The Young Master arrives in London only to find the city engulfed by flames. After an ominous warning from the undertaker, Ciel attempts to visit the queen, but he's shocked by his treatment at the hands of the palace guards.

Episode

22

-

His Butler, Dissolution

Episode

21

-

His Butler, Engaging Servants

A series of flashback reveals the secret pasts - and hidden talents - of the Phantomhive staff. While the servants go about their daily duties, the Young Master gives a chess lesson to pretty lady.

Episode

20

-

His Butler, Escaping

Episode

19

-

His Butler, Imprisoned

Episode

18

-

His Butler, Transmitted

Episode

17

-

His Butler, Offering

Episode

16

-

His Butler, in an Isolated Castle

Episode

15

-

His Butler, Competing

Episode

14

-

His Butler, Supremely Talented

Episode

13

-

His Butler, Freeloader

Episode

12

-

His Butler, Forlorn

Episode

11

-

His Butler, However You Please

Episode

10

-

His Butler, On Ice

Episode

9

-

His Butler, a Phantasm

Episode

8

-

His Butler, Training

Episode

7

-

His Butler, Travel

Episode

6

-

His Butler, At the Funeral

Episode

5

-

His Butler, a Chance Meeting

Episode

4

-

His Butler, Capricious

Episode

3

-

His Butler, Omnipotent

Episode

2

-

His Butler, Strongest

Episode

1

-

His Butler, Able
If You Like Kuroshitsuji, Then Try...
Most Popular Kuroshitsuji Episodes
Season 1 Episode 1

His Butler, Able

10/02/2008