Watch L.A. Hair
L.A. Hair is a reality television show about beauty professional Kim Kimble and her Los Angeles hair-styling salon that caters to celebrity clients. The emotional drama and creative tension that happens behind the scenes of the glamorous Hollywood lifestyle are fully showcased at Kimble Hair Studio. Before the unblinking eye of the camera, Kim and her group of stylists work together and against one another while handling the egos and hair emergencies of their very famous clients.
Kim Kimble's expertise comes from over twenty years in the business, working with production crews on film and television sets as she became a noteworthy name with the likes of Robert Townsend and Beyonc
Thursday 9:00 PM et/tp on WE tv

5 Seasons,

51

Episodes - Currently Airing

May 31, 2012

10

/
Watch Full Episodes of L.A. Hair

Season 5 Episode 3
Down Wright Shade
Season 5 Episode 2
Go Big or Go-Shady (43:00)
Season 5 Episode 1
The Kimpire Strikes ... (46:00)
Season 4 Episode 101
L.A. Hair Season 4, ...
Season 4 Episode 13
Shade and Betrayed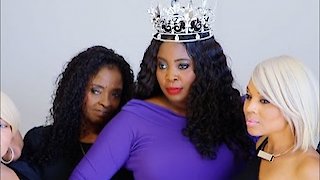 Season 4 Episode 12
Snitches Get Stitche...

Watch Episodes
Clips & Extras
L.A. Hair

Full Episode Guide
Season
5
3 full episodes, 9 clips available
Episode

3

-

Down Wright Shade

Episode

2

-

Go Big or Go-Shady

The shears come out when Kim & Gocha battle it out in a fantasy hair competition. Kim styles Grammy-award singer Chrisette Michele for a music video.

Episode

1

-

The Kimpire Strikes Back

The "Hair Majesty" Kim Kimble is back but her staff...has been cut loose! It's time to rebuild the "Kimpire" as she trims out the old and weaves in the new!
Season
4
14 full episodes, 24 clips available
Episode

101

-

L.A. Hair Season 4, Sneak Peek

Kim Kimble goes head to head with celebrity stylist, Jonathan Antin. This season...there WILL be a blowout. Watch a sneak peek now!

Episode

100

-

L.A. Hair Confidential

Episode

13

-

Shade and Betrayed

Kim names the new manager for her salon. Terry forms an unlikely alliance. In Atlanta for the Bronner Brothers Hair Show, chaos erupts when Gocha reveals her "Plan B" and Terry makes a shocking announcement.

Episode

12

-

Snitches Get Stitches

Kim tests Terry & Gocha's management skills by having them organize a staff photo shoot, which explodes into chaos. Leah meets with Jonathan. Gocha shares a secret with Dontay. Kim styles actress Elise Neal.

Episode

11

-

Time for Some Hair-therapy

Jonathan enrages Kim when he talks about her on live TV. Terry and Gocha must co-manage the salon, while Leah explores a new business venture. A snitch gets Gocha kicked to the curb. Kim styles Teyana Taylor.

Episode

10

-

Hair Today, Gone Tomorrow

Kim confronts Jonathan after he tries to buy her salon. Kim is suspicious of Gocha's loyalty. Kim hosts a party, makes announcement that sparks a meltdown.

Episode

9

-

Weave Got an Informant!

Anthony confronts Angela about their relationship. Kim styles LaTavia Roberson. A meeting with a major beauty distributor could mean big business for Kim. A secret about Gocha creates chaos at the salon.

Episode

8

-

The Kim-pire Strikes Back

Kim's staff embarks on a secret mission to Jonathan's salon to find out if he bought out her bag supply; Anthony takes on Gocha; and Kim styles Garcelle Beauvais.

Episode

7

-

A Hair-Raising Proposal

Kim and Jonathan agree to move forward with their partnership, but Kim explodes when she sees Jonathan's proposed contract. Anthony and Naja are suspicious of Gocha and Angela. Kim styles actress La La Anthony.

Episode

6

-

Model Behavior

Angela approaches Jonathan; Kim makes Gocha project manager for a photo shoot; Kim styles Erica Campbell.

Episode

5

-

Lights, Camera, Meltdown

Kim confronts Jonathan about being in her VIP room. Secret shoppers sent by Kim visit the salon; China storms out. An infomercial training shoot becomes tense when Jonathan's blunt direction offends Kim.

Episode

4

-

Wigs in the Wild

Kim styles Zendaya while Dontay pleads for his job back. Team building in the wilderness spirals into meltdowns; China goes ballistic. Security cameras are installed and Jonathan gets caught in Kim's VIP room.

Episode

3

-

Nail'd By Naja

Naja's return shocks Kim. Kim is pissed when Jonathan is extremely late for a meeting. The stylists rebel. Dontay fights for his job.

Episode

2

-

Catwalk, Cat Fight

Kim styles Tia Mowry. The Kimble team works at LA Fashion Week, and sparks fly as they share limited backstage space with Dontay and Angela. Jonathan is impressed. Kim is shocked by Naja's return to the salon.

Episode

1

-

I'm the Boss, Hunty!

A mysterious envelope and surprise proposal from celebrity stylist Jonathan Antin. A new hire sparks trouble in the salon, and a key stylist is fired when Kim is pushed to her limits. Kim styles Mary J. Blige.
Season
3
12 full episodes, 16 clips available
Season
2
12 full episodes
Season
1
8 full episodes, 29 clips available
Most Popular L.A. Hair Episodes
Season 5 Episode 2

Go Big or Go-Shady

1/12/2017

Season 2 Episode 12

L.A. Hair Confidential

8/22/2013

Season 5 Episode 1

The Kimpire Strikes Back

1/05/2017

Season 4 Episode 2

Catwalk, Cat Fight

8/06/2015
L.A. Hair Video Clips & Extras
L.A. Hair | 'Tiger Sheds His Mane' Deleted Scene | Season 5
Clip (01:23)
L.A. Hair | James Wright Needs to be Saved! | Season 5
Clip (01:08)
L.A. Hair | General Jasmine & Geisha Gocha | Season 5
Clip (01:38)
L.A. Hair | 'Look What the Wind Has Blown In!' Sneak Peek | Season 5
Clip (00:39)
L.A. Hair | Only One Queen | Season 5
Clip (01:07)
L.A. Hair | 'Gochas Back!' Deleted Scene | Season 5
Clip (01:38)
L.A. Hair | 'Go Big or Go-Shady' Sneak Peek | Season 5
Clip (00:59)
L.A. Hair | Like Obama Says 'Time for a Change!' | Season 5
Clip (01:40)