Watch LazyTown
Series Length:
2 Seasons,

44

Episodes
Schedule:
Mondays, Tuesdays, Wednesdays, Thursdays, Fridays on Nick Jr.
Description:
Lazytown is a kid's show on television that is ironically opposite of its title. Lazytown's motto in the beginning of the show is 'no one is lazy in Lazytown.' The show actually promotes a healthy lifestyle for young children. The brightly colored background, energetic characters, and rubbery puppets, create a fast pace tone to provide positive encouragement for youngsters. The show captures young children's attention so that they can act upon the practice of a healthy lifestyle, and this is done by demonstrating exercise in a fun and exciting way.
Lazytown captures the underlying theme of healthy living through the hero character by combating his rubber puppet nemesis in a creative and silly way. The story is interesting and easily understood through its simple plot devices from the theme of healthy living.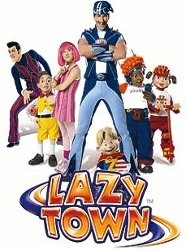 LazyTown

Full Episode Guide
Select the sources you want displayed in the episode guide. All others will be hidden.
18 Netflix Episodes

SUBSCRIPTION
Season 2
(18 full episodes)
When Robbie hears that Sportacus is showing the kids how to use an Energy Book, he tries his best to lure them into bad behaviors.

Episode 17 - Snow Monster

Robbie poses as a snow monster to keep the kids from playing outside in the snow but gets in trouble when he ignores the signs near a frozen lake.

Episode 16 - Once Upon a Time

Pixel invents a device that lets the kids jump into their favorite fairy tales, prompting Robbie to jump in, too, and try to alter the happy endings.

Episode 15 - Sportacus Saves the Toys

Robbie invents a machine that pulls toys away from kids. After luring Sportacus out of the country, he takes away all of the toys in LazyTown!

Episode 14 - Dancing Dreams

Episode 13 - The Lazy Genie

Episode 12 - Lazy Rockets

Episode 11 - Lazytown Goes Digital

Episode 10 - Birthday Surprise!

Episode 7 - Friends Forever

Episode 6 - Lazytown Circus

Episode 5 - Double Trouble

Episode 4 - Trash Trouble

Episode 3 - Little Sportacus

Episode 2 - Rockin Robbie

Episode 1 - Haunted Castle
Episode 27 - Robbie's Greatest Misses

Episode 25 - Miss Roberta

Episode 24 - Soccer Sucker

Episode 23 - Sportacus Who?

Episode 22 - Remote Control

Episode 20 - Pixelspix.com

Episode 19 - Prince Stingy

Episode 18 - Record's Day

Episode 15 - Laziest Town

Episode 14 - My Treehouse

Episode 13 - Cry Dinosaur

Episode 11 - Dr. Rottenstein

Episode 9 - Happy Brush Day

Episode 7 - Hero for a Day

Episode 6 - Swiped Sweets

Episode 5 - Sleepless in LazyTown

Episode 4 - Crystal Caper

Episode 1 - Welcome to LazyTown
Most Popular LazyTown Episodes