Watch Liberty's Kids
The animated television series Liberty's Kids is geared toward audiences that range in age from 7 to 14 with the purpose to teach them about the origins of the United States of America. The series focuses on major events that happened in the U.S. such as the Revolutionary War, Declaration of Independence and the Boston Tea Party just to name a few. Celebrities such as Walter Cronkite, Sylvester Stallone, Ben Stiller, Billy Crystal, Dustin Hoffman, Arnold Schwarzenegger and Don Francisco's voices were used for the series.
Liberty's Kids was originally Kevin O'Donnell's idea and written by Doug McIntyre. It then was produced by DIC Entertainment and later aired on PBS Kids. The series aired on several networks until finding a home on qubo in 2012. It's a 30 minute show that includes commercials, guessing games, riddles and continental cartoons.
September 2, 2002 was the airing of the first episode of Liberty's Kids which was titled Boston Tea Party. Through My Own Eyes was the theme song which was performed by Aaron Carter and Kayla. The Boston Tea Party episode was basically about characters named Sarah, Moses, James and Henri who was at the wrong place at the wrong time. They were caught in the middle of gang patriots whose sole purpose was to aboard the ship and destroy the tea cargo. In this episode Adam Sandler made a guest appearance.
Liberty's Kids is a historical fictional television series that educates young kids about the United States history. It's an adventure for kids to explore and learn about events and heroes of America. It covers events that happened starting from 1773 to 1789 and the Revolutionary War as well as the aftermath. Liberty's Kids began on Labor Day and there were a total of 40 episodes all of which ended on April 3, 2003 but PBS continued to play the series until 2004. Shout! Factory released Liberty's Kids DVD which contained all 40 episodes on October 14, 2008.
1 Season,

40

Episodes

September 2, 2002

10

/
Watch Full Episodes of Liberty's Kids

Season 1 Episode 40
We the People (23:31)
Season 1 Episode 39
Going Home (23:31)
Season 1 Episode 38
The Man Who Wouldn't... (23:31)
Season 1 Episode 37
Born Free and Equal (23:31)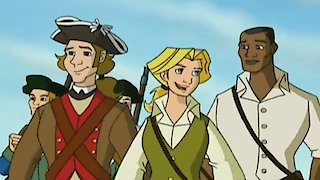 Season 1 Episode 36
Yorktown (23:31)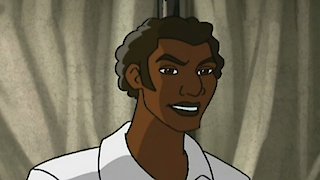 Season 1 Episode 35
James Armistead (23:31)

Liberty's Kids

Full Episode Guide
Season
1
40 full episodes
Episode

40

-

We the People

America's leaders meet at a convention in Philadelphia and decide to write a radical new Constitution.

With the signing of the Treaty of Paris, loyalists are forced to leave their homes. Many slaves move to Canada to avoid being returned to slavery.

Episode

38

-

The Man Who Wouldn't Be King

Ben Franklin and John Adams sign the peace treaty with England. In New York, some members of Washington's officer corps want him to become king.

Episode

37

-

Born Free and Equal

Massachusetts slave "Mum Bett" sues for her freedom. When she wins, she renames herself Elizabeth Freeman.

In the climatic battle of the war, Moses' brother, a soldier for the British, is sent into harm's way and is aided by a sympathetic Hessian soldier.

Episode

35

-

James Armistead

Virginia slave James Armistead joins Lafayette and spies on Benedict Arnold. Then, as a double agent, he gives false information to Gen. Cornwallis.

Episode

34

-

Deborah Samson

Deborah Samson masquerades as a man so she can enlist in the Continental Army. Washington and French Gen. Rochambeau disagree.

Episode

33

-

Conflict in the South

Virginia Governor Thomas Jefferson is forced by Benedict Arnold to abandon the governor's residence in Richmond.

Episode

32

-

Benedict Arnold

Benedict Arnold tries to hand West Point over to British, but his plot is uncovered when his accomplice, Maj. Andre, is captured.

James travels to New York, where he meets an Iroquois chief and learns firsthand about atrocities committed by Iroquois and American alike.

Episode

30

-

In Praise of Ben

Sarah returns to Philadelphia. Henri gets into a scrape with a Tory boy when the Tory makes disparaging comments about Ben Franklin.

Episode

29

-

The Great Galvez

Spanish Governor Bernardo de Galvez aids the American cause by capturing Baton Rouge, Natchez and Mobile from the British.

Episode

28

-

Not Yet Begun to Fight

Sailing to England, Sarah is shipwrecked and saved by Jones. Later, she comes to the realization that she is now, in her heart, an American.

Episode

27

-

The New Frontier

In the Ohio territory, Shawnee Chief Cornstalk and his people are caught between the Americans and the British, with tragic results.

Episode

26

-

Honor and Compromise

The States struggle to unite politically before the arrival of the French ambassador. Henri befriends Wappinger Abraham Nimham.

Episode

25

-

Allies at Last

News of the American victory at Saratoga helps pave the way for Ben Franklin to negotiate a treaty with France.

Episode

24

-

Valley Forge

James, Sarah and Henri are there as George Washington and his Continental Army endure a horrible winter at Valley Forge.

Episode

23

-

The Hessians Are Coming

Benedict Arnold is the true hero of the Battle of Saratoga but is angered when he fails to receive proper recognition.

Episode

22

-

Lafayette Arrives

The 19-year-old Marquis de Lafayette arrives after an eventful journey from France and offers his services to Congress.

Episode

21

-

Sybil Ludington

Sixteen-year-old Sybil Ludington makes her own "midnight ride" in Westchester County, NY. Benedict Arnold fights for "respect" from Congress.

Episode

20

-

An American in Paris

Ben Franklin sets up residence in Paris and begins his uphill battle to enlist France in the American cause.

Episode

19

-

Across the Delaware

Washington recrosses the Delaware River on Christmas Day. His troops defeat the sleeping Hessians at Trenton.

Episode

18

-

American Crisis

At the low point of the war for the Americans, Washington's adjutant, Gen. Joseph Reed, questions the commander's ability to lead.

Episode

17

-

Captain Molly

Ben Franklin, appointed to a commission to negotiate a treaty with the French, sails for France aboard the Reprisal.

Episode

16

-

One Life to Lose

A failed peace conference convinces the American leaders that the British have no interest in making peace.

The kids, thinking they're reporting on the sighting of a "sea monster" in New York harbor, instead meet David Bushnell, the father of the submarine.

Episode

14

-

New York, New York

At the Battle of Long Island, Washington fights the British in open-field battles -- with catastrophic results.

Episode

13

-

The 1st Fourth of July

As Hessians arrive off the coast of Staten Island, John Adams convinces Congress that independence is the only answer to the colonies' problems.

Episode

12

-

Common Sense

James, Sarah and Henri meet Thomas Paine and learn of his belief that the common man can rule himself.

Episode

11

-

Washington Takes Command

George Washington arrives in Boston to take command of the army, but he has no idea if the New Englanders will follow a Virginian.

Episode

10

-

Postmaster General Franklin

When Patriot mail falls into the hands of the British, James and Sarah agree to carry important letters safely to New York.

The first major battle of the war results in a victory for the crown, but at such a high cost to the British that the American cause gains momentum.

Episode

8

-

The Second Continental Congress

The colonies decide they need a national army. John Adams nominates George Washington over other candidates to lead the new force.

Episode

7

-

The Green Mountain Boys

Ethan Allen and Benedict Arnold reluctantly join forces to capture Fort Ticonderoga in New York, thereby expanding the war beyond New England.

Episode

6

-

The Shot Heard Round the World

The Revolutionary War begins with the battles of Lexington and Concord. Minutemen citizens take up arms to fight the powerful, experienced Red Coats.

Episode

5

-

The Midnight Ride

Paul Revere and William Dawes spread the word that the "British are coming!" on the eve of "the shot heard round the world."

Episode

4

-

Liberty or Death!

Patrick Henry, the greatest speaker of his day, stirs the South to the cause of freedom with his famous "Give me liberty or give me death!" speech.

Episode

3

-

United We Stand

Episode

2

-

The Intolerable Acts

Moses, James, Sarah and Henri hide at poet Phillis Wheatley's house in Boston, where some of His Majesty's soldiers are being quartered.

Episode

1

-

The Boston Tea Party

Colonists in Boston rebel against "taxation without representation" by throwing a fortune in tea into the harbor.
If You Like Liberty's Kids, Then Try...
Most Popular Liberty's Kids Episodes
Season 1 Episode 1

The Boston Tea Party

9/02/2002