Watch Lip Service
Lip Service is a TV show. It is aired at the Trinity Broadcasting Network (TBN) from 1 - 2 p.m. in the afternoon. The presenter is a middle aged women of about 65 years old. The reason she started this show is because she realized that people don't know how to tame their tongues. It troubled her so much and this gave birth to the Lip Service Show.
She invites responsible men and women to come and make valuable contributions during the show. She also invites parents and work with them to help their children at home. Teaching them about good manners and taming their tongues. And being respectful to their seniors especially the elderly.
In fact, this is a very educative show. Especially as it deals with the youth too. You know, youths of now a days do not have respect for anyone. They talk as they like and doing anything they want to do. They don't listen to their parents. And that is why they fall into problems.
The show goes a long way to see to it that children, especially teenagers are reached. Topics that are touched are how to tame your tongue. How to say please and thank you and many others.
How to say please and thank you is one of the topics that is very interesting. Children think that it is their right to ask anything from their parents and must get. Be it by hook of crook. The manner they use to ask is not their problem. All they are interested in is getting what they want.
But Lip service show teaches them that even God is pleased when his children say please and thank him. That it is a good habit for children to learn how to say please and thank you to their parents. They should not take things for granted. Because they think their parents must provide for their needs.
You can send your contributions to this show through facebook and twitter.
Friday 9:00 PM et/pt

2 Seasons,

12

Episodes - Canceled

October 12, 2010

Comedy

,

Drama

,

Romance

10

/
Watch Full Episodes of Lip Service

Season 2, Episode 6
Episode 6 (55:08)
Season 2, Episode 5
Episode 5 (55:08)
Season 2, Episode 4
Episode 4 (55:09)
Season 2, Episode 3
Episode 3 (55:03)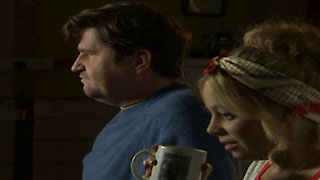 Season 2, Episode 2
Episode 2 (55:07)
Season 2, Episode 1
Episode 1 (55:09)

Lip Service

Full Episode Guide
When Sam makes an unexpected visit to the flat; a wedge is driven between her and her friends. The situation with Lexy's stalker intensifies, but luckily Tess is on hand to help although Hugh proves an obstacle.

Tess and Lexy are getting closer and when Tess goes on a blind date she calls on Lexy for help. Sadie's irreverent take on waitressing gets her into hot water but Lauren proves helpful in ways she didn't expect.

The friends each try to deal with events in their own way. Sam starts asking questions & Frankie makes a drastic decision. Sadie and Lexy both have surprising guests. Tess enlists Ed's help with the difficult Nora but is unprepared for the consequences.

It's Cat's birthday and Sam's planned the perfect day but Cat feels like a total fraud because she's still sleeping with Frankie who offers her a very different sort of present. When Tess leaves work early events take an unexpected turn.

After a loved up month in South America, Cat and Sam arrive back in Glasgow. Having run away from her affair with Frankie, how will Cat deal with seeing her again.
Tess has an audition that could change her career but gets stuck in a lift with Jay. Meanwhile Sam confronts Frankie, leaving the latter to buy a ticket to go back to New York. Cat attempts to stop Frankie from leaving Glasgow.

Cat puts her relationship on the line when she lies to Sam, while Tess tries internet dating but finds no luck. Frankie and Jay make what seems to be a big mistake.

Frankie puts herself in danger as she follows a lead that might unravel the mystery of her past. Fate gives Cat a second chance when she runs into policewoman Sam, but is she really ready to forget Frankie? Tess makes a fool of herself on live television.

When Frankie returns to Glasgow to investigate a mysterious message left by her dying aunt, her sudden reappearance rocks ex-girlfriend Cat, who is re-entering the dating scene after Frankie left her heartbroken two years earlier.