Watch Love It or List It
Series Length:
7 Seasons,

131

Episodes
Schedule:
Thursday 6:00 AM et/pt on HGTV
Description:
Love It Or List It is a show about homes. In each show, a homeowner or homeowners will make a decision on whether or not to stay in their current home or to move to another home. They do this with the help of two professionals, David Visentin and Hilary Farr.
David Visentin is a realtor and throughout the course of the show, he will take the homeowners on tours of several different homes and show them different ways that the prospective new homes would meet their needs. Hilary Farr will sit down with the couple and discuss why their current home is no longer working and begin finding ways she can give them solutions to their problems through redesigning the home. The homeowners help David and Hilary to do their jobs by giving each one a set of needs. They give David a list of what they would like to see in a new home, should they decide to sell their current home and move to a new home. They give Hilary a list of what they need to see changed in their current home to make it work for them once again.
While Hilary and her crew get to work, David is taking the couple to see new homes they could purchase. Oftentimes, Hilary and her crew will run into unexpected problems which cause complications in the remodeling plans. When this happens, Hilary has to conference with the homeowners and let them know their options to fix the problem and how this will affect the budget that has been set up for the project. Sometimes, this means that all of the requests from the homeowners cannot be met because it affected the budget.
As the show comes to a close, the homeowners announce if they are going to keep their home or sell it and move to a new location. So, they are making a decision to love it or list it.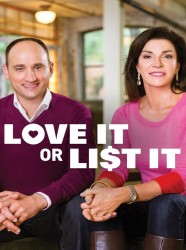 Love It or List It

Full Episode Guide
Episode 15 - Mother Daughter Mortgage

First Aired: December 09, 2013

Summary not available

Episode 14 - Talk of the Town

First Aired: December 02, 2013

Ten years ago, Danielle and Aaron purchased an extreme fixer upper from her uncle after it had been run down by previous renters. She knew she had to have it and despite a long list of problems, she somehow convinced Aaron that they should become the home's owners.

Episode 13 - Country Home Conflicts

First Aired: November 25, 2013

One year ago, Ron and Mishelle bought this five generation, century old home from his parents. Ron loves the legacy home, but Mishelle misses their bungalow in the city. Soon after she agreed to move in, the classic conflicts between city girl and country boy quickly became apparent.

Episode 12 - Make Room for Baby

First Aired: November 04, 2013

When Brian and Andrea bought this partially renovated home 3 years ago, it was everything they wanted- or at least what he wanted. He loved the idea of making the home their own by renovating whenever he had time, but with one renovation after another, the end is nowhere in sight.

Episode 11 - Urban Versus Suburban

Episode 10 - Space for Six

Episode 9 - A Case of Buyer's Remorse

Episode 8 - Missing the Condo Convenience

Episode 7 - Safely at Home

Episode 6 - Sister Strife

Episode 4 - Collapsing Victorian

Episode 3 - Donovan Family

Episode 2 - Finlay Family
Episode 14 - Wendie & Dave

Episode 13 - Duplex Dilemma

Episode 12 - Twin Takeover

Episode 11 - Country Living in the City

Episode 10 - Far Out Fantasy

Episode 9 - Privacy Pains

Episode 8 - House of Walls

Episode 7 - Neighborhood Necessities

Episode 6 - Reunited Family Friction

Episode 5 - Double Duty Digs

Episode 4 - Business Based Burden

Episode 3 - Ready for Retirement

Episode 2 - A Budget for Abatement

Episode 1 - Hazardous Household
If You Like Love It or List It, Then Try...