Watch Love Thy Neighbor
Love Thy Neighbor is a comedy sitcom created by Tyler Perry. The show is centered around Hattie Mae Love played by Patrice Lovely. Hattie Mae shares ownership of a diner with her dead husband's brother Floyd (Palmer Williams Jr), who also has a second job as the superintendent in an apartment building. This apartment building where Floyd is the 'super' happens to be the same place that Danny (Andre Hall), Hattie's grandson, lives.
Danny shares an apartment with his party animal friend Sam (Jonathan Chase). Sam throws wild parties in his apartment every evening after work to the dismay of his roommate Danny. The two guys are also co-workers to Drew (Darmirra Brunson) who also lives in the building and shares an apartment with their boss Marianna (Zulay Henao).
Hattie's daughter Linda (Kendra C. Johnson) is going through a divorce and trying to get her life back on track. Since Linda never have to work during the time in which she was married, she has a limited work history. While trying to find a job she asked to move back home with her mother Hattie. Hattie reluctantly said 'yes', but asks Linda everyday about when she plans on leaving her house.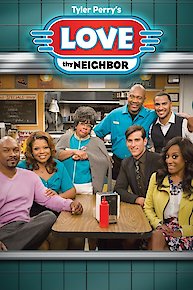 Love Thy Neighbor

Full Episode Guide
Danny is fed up with Sam's annoying behavior.

Troy has a heated discussion with Danny's family.

Linda receives an unexpected phone call.

Episode

19

-

I Want My Mamma

Episode

18

-

Hattie's Memoirs

Episode

14

-

Who You Know

Episode

13

-

Invasion of Privacy

Episode

12

-

The Bus Station

Episode

11

-

Second Thoughts

Episode

10

-

Why's Hattie Happy

Episode

9

-

Hattie's Uncle

Episode

6

-

Hattie Still Got It

Episode

5

-

One Mama Of A Nightmare

Episode

4

-

A Pregnant Wife

Episode

3

-

Enough of This

Episode

2

-

Three Is A Crowd

Episode

1

-

A Mother's Heartbreak
Episode

69

-

I Got You Baby

Episode

68

-

The Promotion

Episode

67

-

Love Thy Decorator

Episode

66

-

An Empty Palate

Episode

65

-

Spring Cleaning

Episode

64

-

Ronald and Maggie

Episode

63

-

Caroline and P.J.

Episode

62

-

Love For Linda

Episode

61

-

Just The Way You Are

Episode

60

-

The Ring Part 2

Episode

58

-

Don't Feel Pressured

Episode

57

-

Linda's Silence

Episode

56

-

When She Was a Little Girl

Episode

55

-

Madea and Hattie

Episode

54

-

Madea's Pressure Is Up

Episode

53

-

Linda's Hormones

Episode

51

-

Morning Sickness

Episode

50

-

Did Philip Get Away

Episode

49

-

A Night Away

Episode

48

-

Make Love To Me

Episode

47

-

Gotcha Part 2

Episode

46

-

Gotcha Part 1

Episode

43

-

A Tornado Named Linda

Episode

42

-

Love Thy Competition

Episode

41

-

Will and Philip

Episode

40

-

Love Thy Condiments

Episode

39

-

Love Thy Kiss

Episode

37

-

I Don't See You That Way

Episode

36

-

Permission Granted

Episode

35

-

Danny Meets Philip

Episode

34

-

Missed Calls

Episode

33

-

Fair to Middlin'

Episode

32

-

Linda to the Rescue

Episode

31

-

Duped Part 1

Episode

30

-

An Unfortunate Circumstance

Episode

29

-

The Predator

Episode

28

-

The Internet Suitor

Episode

27

-

Take Your Pick

Episode

26

-

Love Thy Family

Episode

25

-

Love Thy Courage

Episode

24

-

Love Thy Children

Episode

23

-

Love Thy Youth

Episode

22

-

Love Thy Self

Episode

21

-

Love Thy Mortality

Episode

20

-

Love Thy Wager

Episode

19

-

My First Love

Episode

18

-

Love Thy Surprise

Episode

17

-

Love Thy Patient

Episode

16

-

Love Thy Baby

Episode

15

-

Love Thy Doctor

Episode

14

-

Love Thy Boss

Episode

13

-

Love That Bracelet

Episode

12

-

Love Thy Compromise

Episode

11

-

The Black Tie Affair

Episode

10

-

Love Thy Celibacy

Episode

9

-

Don't Mess with That White Lightning

Episode

8

-

Love Thy Partnership

Episode

7

-

Love Thy Vindication

Episode

6

-

Love Thy Journey

Episode

5

-

Where's My Mamma

Episode

4

-

Love Ain't Opening This Door

Episode

3

-

Love Thy Privacy

Episode

2

-

Love Thy Independence

Episode

1

-

What's Love Got To Do With It (Pilot)