Watch Made in Chelsea
Made in Chelsea is a reality TV show that features scripted scenes allowing the main characters to portray highly stylized versions of themselves. The show is produced by Monkey Kingdom for the U.K. cable network E4, for whom four seasons have been produced of 60 minute episodes and a number of Christmas specials broadcast on U.K. TV. Made in Chelsea is often compared to the similar U.K. scripted reality TV show The Only Way is Essex; the show is popular because the main characters are rich and many the children or descendents of powerful U.K. families, such as the Sassoon family.
The first season of Made in Chelsea focused on a small number of characters living and working in the wealthy London borough of Chelsea; the show uses locations in expensive central London districts, such as Belgravia and the Kings Road. The main stories of the first season focused on the love lives of the main characters; much of the focus remained on the relationship between Spencer and Caggie, childhood friends who had never acted on the undoubted attraction between them. Their relationship was often interrupted by the presence of a former girlfriend of Spencer, called Funda. Spencer's friend Hugo was also involved in a difficult relationship as he tried to decide who he should date between Rosie and Millie.
As the season's have progressed new characters havbe been added to the show, many of whom have been introduced as the love interest of an existing character. One of the major characteristics of each episode is the cast preparing for an event before arriving at a party or function where they come into contact with a rival or former love interest. During each event the cast get together and discuss their feelings for each other; during season four Spencer holds a birthday party at which a number of relationships either end or decisions made to try to progress them further.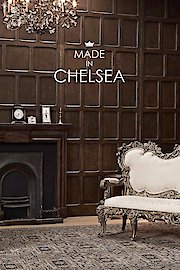 Made in Chelsea

Full Episode Guide
Episode 8 - Series 2, Episode 8

With summer coming to an end, Jamie organises a a trip to Morocco and the exotic setting sees romantic feelings coming to the fore for Spencer, who finally gets his answer from Caggie. The chemistry between Proudlock and Alice also increases. Ollie and Cheska wonder whether they'll ever make up with Binky.

Episode 7 - Series 2, Episode 7

Millie has returned to Chelsea and Hugo is adjusting to having his ex-girlfriend around again. Rosie has some news that changes everything. Caggie's cousin Alice shows up and there ends up being chemistry between her and Caggie's ex, Proudlock.

Episode 6 - Series 2, Episode 6

Proudlock shares a kiss with Caggie and Spencer becomes determined to get the boys' minds on something more frivolous and decides to host a pool party. The girls are on a secret mission in Paris to bring back a souvenir for Hugo that he wont be expecting. Ollie and Chloe realise it's time they need to confront the cracks that are forming in their relationship.

Episode 5 - Series 2, Episode 5

Caggie is still feeling shocked by the news that Louise thinks she should 'go there' with Spencer. Caggie is preesed for some answers by Spencer for and it looks like that her flirtation with Proudlock could have something to do with it. Binky and Cheska's friendship is under pressure. Francis still likes Natalia and takes her out on a date that she will never forget.

Episode 4 - Series 2, Episode 4

Episode 3 - Series 2, Episode 3

Episode 2 - Series 2, Episode 2

Episode 1 - Series 2, Episode 1
If You Like Made in Chelsea, Then Try...