Watch Mahabharat
Mahabharat is a Hindi series about the Kurukshetra War, an ancient struggle for the throne of Hastinapura between related branches of a powerful Indian-Aryan royal family, the Pandavas, and the more senior branch of the family, the Kauravas. With direction by Ravi Chopra and production by his father, B. R. Chopra, the 94 episode format is narrated by the character of Time. It loosely follows the tale as spun by the author of the Mahabharat, another character named Maharishi Veda Vyasa. The full cast of characters includes gods, goddesses, and heroic men and women, and spans some one thousand years.
Each episode opens with a song whose lyrics are excerpted from sacred Hindi texts, as well as a recounting of previous events in the series. This technique is employed to bring any viewers up to speed and prepare them for the still unfolding drama. Additional text in the form of a summary or moral lesson occurs at the end of each episode, as well as more sacred text which echoes the episode's plot.
Mahabharat opens with a retelling of how it came to be recited by Sauti. History and background of the Kuru princes is given. The series progresses gradually, explaining how the character Maya Danava built the palace of Indraprastha. At court, the Pandava princes are exiled during a game of dice. The Pandava princes seek to regain power, but want to do it peacefully. They prepare both for battle with the Kurus and for peace talks, both of which come to naught.
For the first battle, the Kurus are led by Kauravas, who perishes after falling on a bed of arrows. Determined to see their efforts through, his soldiers continue their opposition to the Pandava. Meanwhile, Belarama, older sibling to the god Krishna, makes a pilgrimage to the Saraswati rivers, where the battle between Duryodhana and Bhima is taking place. His appearance promptly ends the battle.
But the greater war continues, raging for centuries. There are love triangles and demi-god children, intrigues, and plenty of victories, making the Mahabharat a thoroughly engrossing epic.
1 Season,

94

Episodes - Canceled/Ended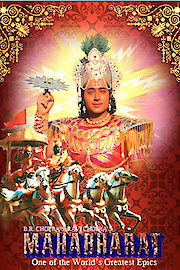 Mahabharat

Full Episode Guide
After the mourning period is over, Krishna leads Yudhishthir to the throne. Yudhishthir crowns Bheem the Yuvraj and appoints Vidur as the Prime Minister of Hastinapur. Arjun is made the commander of the army.

The Kurukshetra war has ended. The Pandavas visit Dhritarashtra who coldly embraces Yudhishthir. Dhritarashtra then moves forward to embrace Bheem, but Krishna tells Bheem to put an iron statue in his place. Dhritarashtra hugs and crushes the iron statue.

Duryodhan commands Ashwathama, the new commander-in-chief, to kill the Pandavas. Ashwathama, Kripacharya and Krit Verma arrive at the Pandava camp in the middle of the night as Dhristadyum and Draupadi's five sons are sleeping.

The battle between Bheem and Duryodhan begins. The warriors appear equal in strength and skill, but Krishna informs Bheem that Duryodhan could be defeated only if he smashes Duryodhan's thighs.