Watch Meteorite Men
"Meteorite Men" is a television series that peers into the lives of a team of two men who are meteorite prospectors. Each week whenever a meteorite has crashed in a certain rural area the hosts takes a film crew and investigates whether the meteorite contains valuable minerals or not. Some of their finds are in the collections of museums and scientific institutions in the United States. Some of the locales are not always located in North America, on a few occasions a trip down to South America can yield a terrific scientific find. In one episode the team is granted access to the munition fields of Dugway Military Base near Dugway, Utah.
In the second season of "Meteorite Men" reports are investigated as far away as Australia and Europe. Each episode shows not only the meteorite find, but also the international location for the viewers at home.
The third season takes the intrepid team to both Poland and Eastern Russia to find rare meteorites that are worth a fortune. On a trip to Canada the team finds the meteorite remains in the Whitecourt Crater and also some very interesting minerals. Investigating in the deserts in both California and Arizona, they find both meteorites and the remains of them to be anaylized.
In three seasons alone this two man team have traveled across the globe to find some of the most rarest minerals contained in meteorites. The series can be followed on the Internet or on the show's web site that can be watch online and also videos from the three seasons that have aired on television since the year 2010. This series can be followed on Facebook.com by the members of that website to see what goes on each week with online posts.
The Science Channel has created another educational hit that will surely be a modern classic. Tune in each week to see what is unearth by this team to see if the find is worthy of a scientific discovery that will go down in history.
Friday 9:00 PM et/pt on Science Channel

3 Seasons,

22

Episodes - Returning Series

January 20, 2010

3.9

/5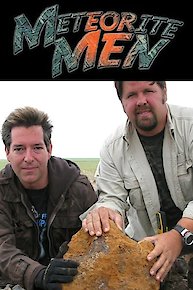 Meteorite Men

Full Episode Guide
The guys travel to eastern Poland in hopes of securing a piece of one of the most famous meteorite falls in history. In 1868 the quiet town of Pultusk was showered by a storm of space rocks in one of the largest stony meteorite falls ever recorded.

In 1875 the famed "detonating space rock" exploded six times over Iowa. Forgotten for almost 150 years, the Meteorite Men setout to uncover the extraterrestrial treasure buried beneath the cornfields of Homestead, Iowa.

A hot tip sends the guys to southern Arizona in order to investigate a possible cold find. But hunting for an unknown and unclassified meteorite poses new challenges for the duo, so they recruit the help of Dr. Garvie from ASU.

A hunt for meteorites at two locations in the Mojave Desert.

Episode

3

-

Return to Whitecourt

Episode

2

-

Return to Sweden
Episode

8

-

Henbury Craters, Australia

Episode

7

-

Mundrabilla, Australia

Episode

6

-

Swedish Meteor Balls

Episode

5

-

Wisconsin Fireball

Episode

4

-

Utah Fireball

Episode

3

-

Monturaqui Crater & San Juan, Chile

Episode

2

-

Atacama Desert Hidden Gems, Chile

Episode

1

-

Alpha Site, Kansas
If You Like Meteorite Men, Then Try...