Watch Mildred Pierce
The film entitled Mildred Pierce is centered on the life and challenges of a lady known as Mildred. She is a very hardworking housewife who decides to separate from her lazy and promiscuous husband so that she can concentrate on taking care of herself and her children. She succeeds in getting a low paying job as a waitress even though the job is below her standards. She is however troubled by the fact that her older daughter known as Veda will consider the job demeaning for her.
After sometime, Mildred quits her job as a waitress and decides to start a restaurant. The business starts flourishing and she opens two other restaurants to expand. She is devastated when her last daughter dies unexpectedly and as she struggles to get over it, her older daughter Veda who is very lazy and ungrateful starts giving her trouble at home and spending too much.
One day Mildred finds out that Veda plans to blackmail a very rich family about being pregnant for their son. Mildred gets angry and asks her to leave the house. Veda then starts to pursue a career in singing and becomes very successful and famous. When Mildred starts missing her daughter she begs her lover guy known as Monty to make peace between the two of them. Later, Monty and Mildred get married but the business starts making loses due to Veda's wasteful spending. Mildred's business partner at the restaurant becomes angry and starts planning on how to send Mildred away from the business.
Mildred decides to confront Veda and tell her to stop wasting her money. She is heartbroken when she gets to the house and finds Veda with Monty and Monty tells her he no longer loves her but wants to be with Veda instead. In shock and with so much anger, Mildred attacks Veda such that she lost her voice and could no longer perform as a singer anymore.
Watch Full Episodes of Mildred Pierce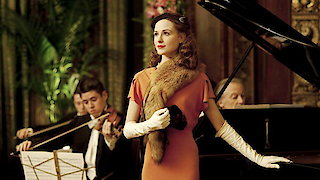 Season 1 Episode 5
Part 5
Season 1 Episode 4
Part 4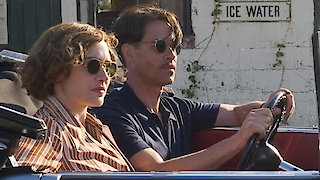 Season 1 Episode 3
Part 3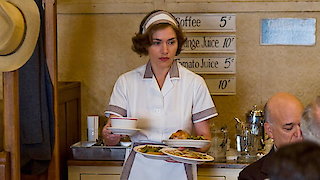 Season 1 Episode 2
Part 2
Season 1 Episode 1
Part 1

Mildred Pierce

Full Episode Guide
In the Miniseries Finale, Mildred reconnects with Monty. Meanwhile, Veda's singing career takes off under Carlo Treviso and a new manager. Mildred ends up in a financial bind after indulging herself.

Four Years Later (1937-1938). Mildred's restaurant empire continues to expand, but her success is tempered by a major rift with Veda -who ends up in the company of society loafer Sammy Forrester.

In the wake of unspeakable tragedy, Mildred moves forward withe the preparations for her new chicken and pie restaurant.

With her pies in high demand, Mildred finds a perfect spot to open a restaurant. As her relationship with Veda continues to disintegrate, Mildred finds unexpected romance with a handsome stranger, Monty Beragon.

Academy Award Winner Kate Winslet stars as Mildred Pierce, a talented baker and a mother of two daughters. Recently single, after kicking her husband out of the house, she is on a quest to find work and perhaps love.
If You Like Mildred Pierce, Then Try...
Most Popular Mildred Pierce Episodes
Season 1 Episode 1

Part 1

3/27/2011
Mildred Pierce News
Kate Winslet Pulls Richard Branson's 90-Year-Old Mother from a Fiery Inferno
We reported yesterday that Kate Winslet and her kids were lucky to escape from a massive fire on Richard Branson's island estate two days ago. New details (and pics) have emerged on the fire, and it turns out Winslet saved the life of Branson's 90-year old mother!
Kate Winslet and Family Escape as Richard Branson's House Engulfed in Flames
What should have been a relaxing vacation staying on the posh island estate of one of the world's wealthiest men ended up being a potentially life-threatening experiencing for Kate Winslet and her family. The actress, her boyfriend and her children were part of a 20-person group staying at eccentric British billionaire Richard Branson's island paradise when a fire started during a tropical storm burned down the house they were staying in.
Evan Rachel Wood: 'Kate Winslet Coached Me Through My First Nude Scene' in New HBO Series
I suppose, all things considered, seeing Kate Winslet giving you a thumbs-up while you're completely naked isn't such a bad thing.
That's what happened to Evan Rachel Wood during the filming of the new HBO show "Mildred Pierce." The "True Blood" star has her first-ever nude scene in the series, and said that co-star Kate Winslet was helping her every step of the way.