Watch Minute to Win It
Minute to Win It is a fast pace, exciting game show. Hosted by is Guy Fieri, the show challenges contestants to take part in 60 second ordinary challenges that uses objects commonly found around the home. Prior to appearing on the show, the contestants are given a list of 60 potential games they may be required to play on the show. They practice each game at home in an effort to perfect the tasks that will earn them money. Each completed task earns a dollar amount of money with a maximum payout of $1,000,000 for 10 successful completions.
On the show, contestants are presented with a task and example of how the game is to be completed. It is called blueprint. To win the first level, the game must be successfully completed within a 60-second period before advancing to the next level. There are levels a contestant must complete that will guarantee they leave with no less than the cash award for those levels. Those levels are the first, fifth, eighth, and ninth level.
As the game progresses, the difficulty increases. If the 60 seconds expire before the blueprint is completed, the contestant loses a life. If they lose three lives in as many attempts, the game is over and the money won drops to the last milestone completed. Contestants have the option to leave the game at any time before seeing the next blueprint, if they do not want to risk the money they have already won at the previous levels.
Games that contestants have been challenged to play are: Hanky Panky, Match Them Up, Egg Toss, Blind Ball, Breakfast Scramble, Chop Stack, Coffee Topper, Elephant March, and Go the Distance, just to name a few. In past seasons, there have been teams made up of individuals, families, best friends, couples, sisters, brothers, husband and wife, and children.
The games show is fun for all ages to watch, and will keep you at the edge of your seat!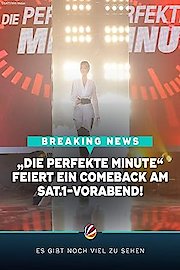 Minute to Win It

Full Episode Guide
Host Apolo Ohno challenges contestants to maneuver a series of tasks using household items. Tasks completed within 60 seconds result in a financial gain.

Host Apolo Ohno challenges contestants to maneuver a series of tasks using household items. Tasks completed within 60 seconds result in a financial gain.

Host Apolo Ohno challenges contestants to maneuver a series of tasks using household items. Tasks completed within 60 seconds result in a financial gain.

Host Apolo Ohno challenges contestants to maneuver a series of tasks using household items. Tasks completed within 60 seconds result in a financial gain.

Episode 0 - Sneak Preview
Episode 42 - Like Mother, Like Daughter

Episode 41 - Battle of the Sexes

Episode 40 - Girls Got Game

Episode 39 - Opposites Attract

Episode 38 - Hit Me With Your Best Shot

Episode 37 - An Army Of Gamers

Episode 36 - Go For Broke

Episode 35 - The Manny and The Nanny

Episode 34 - Sibling Rivarly

Episode 33 - Soul Sisters

Episode 32 - Jackass in the Circle

Episode 31 - Brotherly Love

Episode 30 - Million Dollar Redemption Pt 2

Episode 29 - Million Dollar Redemption Pt 1

Episode 28 - The Odd Couple

Episode 27 - The Family That Plays Together

Episode 26 - Million Dollar Bromance

Episode 25 - Mother's Day Face-off

Episode 24 - 60 Seconds To I Do

Episode 23 - Law and Order

Episode 22 - Kids Try This At Home

Episode 20 - Beauty and the Geek

Episode 19 - Like Father, Like Daughter

Episode 18 - Lakers in the Circle

Episode 17 - Couple Showdown

Episode 16 - Show Us The Blueprint

Episode 15 - 127 Hours To A Million, Part 2

Episode 14 - 127 Hours To A Million, Part 1

Episode 13 - Family Face-off

Episode 12 - Not Just a Pretty Face-Off

Episode 11 - There's No Place Like Home, Part 2

Episode 10 - There's No Place Like Home, Part 1

Episode 9 - Kids Rule, Part 2

Episode 7 - Second Chances

Episode 6 - A Love Connection?

Episode 5 - The Model and the Mom

Episode 4 - Million Dollar BFFs

Episode 3 - A Marry Me, Christmas

Episode 2 - A Family Affair

Episode 1 - A 60-Second Miracle