Watch Mustard Pancakes
Series Length:
1 Season,

13

Episodes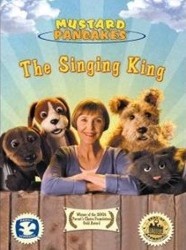 Mustard Pancakes

Full Episode Guide
Episode 13 - The Singing King

Courtney brings out a basket full of musical instruments for everyone to play. Mo learns the keyboard, Oogleberry learns the harmonica, Tina learns the bongos and Mr. D uses his voice. Everyone learns that practice makes you better.

Episode 12 - We Are All Together

Summary is not available.

Episode 11 - The Camel With the Runny Nose

It is the day for the special picnic. Mr. D, Mo, Tina and Oogleberry get everything ready. Courtney's too sick for a picnic. As Courtney naps, Tina has the idea to have the picnic in the living room.

Episode 10 - A Very Loud Snore

Summary is not available.

Episode 7 - The Dancing Princess

Episode 6 - Jumpin' Jake's Song

Episode 5 - A Suitcase for Mr. D

Episode 4 - Tongue Twister

Episode 3 - Oogleberry Ink Dog

Episode 2 - See How the Garden Grows

Episode 1 - Mustard Pancakes
If You Like Mustard Pancakes, Then Try...