Watch My Little Pony Friendship is Magic
My Little Pony: Friendship is Magic is the 4th iteration of Hasbro's My Little Pony cartoon series and focuses on the adventures of the "Mane 6" protagonists and their adventures in learning about friendship. The Mane 6 ponies each represent one facet of the "Elements of Harmony" which establish friendship. Furthermore, two of each kind represent each of the major pony species: earth pony, pegasus pony, and unicorn pony. The hard-working Applejack and the joyous prankster Pinkie Pie are the show's earth ponies and represent the harmonious elements of Honesty and Laughter, respectively. The tomboyish and sporty Rainbow Dash and the timid and animal-friendly Fluttershy represent the elements of Loyalty and Kindness. Lastly, the studious Twilight Sparkle and fashionable Rarity represent the elements of Magic (the rarest of all) and Generosity.
In the two part pilot episode, "Friendship is Magic," Twilight Sparkle has been studying in Canterlot for her mentor as well as the ruler of Equestria, Princess Celestia. Although Twilight is worried about a prophecy that the villainous Nightmare Moon will soon return to bring eternal night to the land, Celestia is more concerned with Twilight's lack of any friends; Twilight spends all her time studying and reading instead of socializing. Twilight is thus given the task of overseeing the preparations for an event in Ponyville, where Celestia will be raising the sun. It's during this time in Ponyville that the rest of the Mane 6 are introduced to Twilight as well as to the audience, culminating with Celestia absent and Nightmare Moon's return.
Twilight recalls her studies well and asks the other ponies to assist her in recovering the magical Elements of Harmony. They all agree, instantly acknowledging each other as friends. During their adventure into the ominous Everfree Forest, (where nature takes care of itself instead of needing ponies to help it out) each of the ponies proves their worthiness as an Element bearer in a final showdown with Nightmare Moon that awakens the Elements and allows Twilight to purify Nightmare Moon into Princess Luna as well as free Princess Celestia.
5 Seasons,

98

Episodes - Currently Airing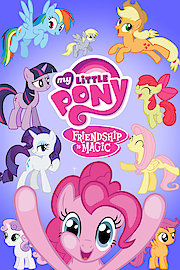 Watch Episodes
News
Clips & Extras
My Little Pony Friendship is Magic

Full Episode Guide
Season 5
(7 full episodes, 18 clips available)
Episode 5 - Tanks for the Memories

Episode 4 - Bloom and Gloom

Apple Bloom's anxieties about getting her Cutie Mark turn her life into a nightmare from which she may never escape.

Episode 3 - Castle Sweet Castle

When her friends find out that Princess Twilight has been avoiding her new castle, they offer to make it feel more like home.

Episode 2 - Cutie Markless - Part 2

The Mane 6 have had their Cutie Marks taken and must find a way to get them back. When a deep dark secret is revealed about the pony who took them, they think they may have the answer.

Episode 1 - Cutie Markless - Part 1
Season 4
(74 full episodes, 4 clips available)
Episode 27 - A Very Minty Christmas

Episode 26 - Twilight's Kingdom Part 2

Episode 25 - Twilight's Kingdom - Part 1

Episode 24 - Equestria Games

Episode 23 - Inspiration Manifestation

Episode 21 - Testing, Testing, 1, 2, 3

Episode 20 - Leap of Faith

Episode 19 - For Whom the Sweetie Belle Tolls

Episode 17 - Somepony to Watch Over Me

Episode 16 - It Ain't Easy Being Breezies

Episode 15 - Twilight Time

Episode 14 - Filli Vanilli

Episode 12 - Pinkie Pride

Episode 11 - Three's A Crowd

Episode 10 - Rainbow Falls

Episode 9 - Pinkie Apple Pie

Episode 8 - Rarity Takes Manehattan

Episode 5 - Flight to the Finish

Episode 2 - Princess Twilight (Part 2)

Episode 1 - Princess Twilight (Part 1)
Season 3
(38 full episodes, 9 clips available)
Season 2
(77 full episodes)
Season 1
(76 full episodes)
My Little Pony Friendship is Magic News
My Little Pony Friendship is Magic Video Clips & Extras