Watch My Shocking Story
Series Length:
3 Seasons,

15

Episodes
Description:
An astounding look at stories which are outside the usual realm of normality.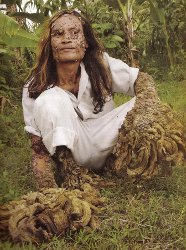 My Shocking Story

Full Episode Guide
Episode 2 - Treeman meets Treeman

Two men meet for the first time who have a rare medical condition which causes them to have bark-like growths covering their bodies.

Episode 1 - Season 3, Episode 1

Summary is not available.
Episode 5 - Electric Human

A look at tests conducted on rare humans who seem to be able to conduct electricity with their bodies.

Episode 4 - Savaged by a Bear

A look at controversial transplant procedures as we give insight to one of surgeries most bizarre, face transplants. The most daring surgeons in the world offer hope for people who are disfigured by giving them a new face.

Episode 2 - Real Wolf Kids

Episode 1 - Treeman: A Search for the Cure
If You Like My Shocking Story, Then Try...