Watch Natural Born Sellers (US)
Some of California's most popular and successful real estate agents are Glorie Lee and Rick Beyenhof and their twin daughters, Julianna and Marissa. They are not like most agents with their passionate, quirky fun and tough nosed negotiation skills.
Thursdays at 09:00 pm on HGTV

1 Season,

13

Episodes - Currently Airing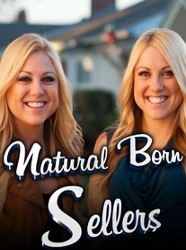 Natural Born Sellers (US)

Full Episode Guide
Episode 13 - Natural Blonde Sellers

The Twins look for mansions. Glorie Lee works in Burbank.

Episode 12 - Bailiff's Beach Home

Glorie Lee helps a war veteran get his dream beach home.

Episode 11 - Home Equation

The family looks for homes in Sherman Oaks and Sylmar.

Episode 10 - Arts & Craftsman

Buyers view downtown lofts and Feng shui homes.

Episode 9 - Under One Roof

Episode 8 - House Versus Condo

Episode 7 - Real Estate Race

Episode 6 - Juicy Real Estate

Episode 5 - California Dreamin'

Episode 4 - It Must Be Perfect

Episode 3 - Homes are for Horses

Episode 2 - Location, Location, Location

Episode 1 - Victory Goes to the Bold
If You Like Natural Born Sellers (US), Then Try...