Watch Nazi Hunters
Series Length:
2 Seasons,

15

Episodes
Description:
Hear about eight mesmerizing missions from the real-life Nazi hunters. Which were a select group of secret agents and avengers that hunted down some of the most evil men in history and brought them to justice.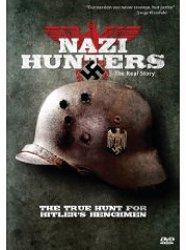 Nazi Hunters

Full Episode Guide
Episode 9 - Hunting Adolf Eichmann

First Aired: November 27, 2013

The hunt for SS officer Adolf Eichmann, who organized the transport of Jews to the death camps. He escaped from U.S. custody after the war, was captured in 1960, and was executed in 1962.

Episode 8 - Killing of Reinhard Heydrich

First Aired: November 20, 2013

The story of Nazi general Reinhard Heydrich, who chaired the infamous Wannsee Conference (which approved the Final Solution). He died in 1942 of injuries from an ambush near Prague.

Episode 7 - The Jewish Avengers

First Aired: November 13, 2013

The story of Jewish vigilantes who, after the WWII, tracked down known Nazis and killed them; and plotted to poison the water supplies of Munich, Berlin, Nuremburg, Hamburg and Weimar.

Episode 6 - The Angel of Death

First Aired: October 30, 2013

The search for Nazi doctor Josef Mengele, who experimented on Auschwitz inmates.

Episode 5 - The "Good" Nazi?

Episode 4 - Death Camp Kommondant

Episode 3 - Peiper - The Murderer of Malmedy
Episode 8 - The Villain of Lyon

Episode 7 - Commander of Treblinka

Episode 6 - Gestapo Chief

Episode 5 - Angel of Death

Episode 4 - Assassin of Rome

Episode 3 - Architect of the Holocaust

Episode 2 - The Butcher of Lyon

Episode 1 - The Hangman of Riga
If You Like Nazi Hunters, Then Try...