Watch NBC TODAY Show
"The Today Show" is a live morning news and entertainment program produced for the NBC television network. "Today" (as it is also known) is currently broadcast Monday through Friday from 7 AM (EST) to 11 AM (EST) from the NBC News headquarters at 30 Rockefeller Plaza in New York City. Matt Lauer and Savannah Guthrie are the co-hosts during the first two hours of the weekday broadcast. Both performers anchor the news desk at the start of every half hour, as well as deliver breaking national and international news stories as they occur. Weatherman Al Roker and News Correspondent Natalie Morales host the third hour of "Today." The fourth and final hour of the weekday program is co-hosted by Hoda Kotb and Kathie Lee Gifford and utilizes a more casual format. The "Today Weekend" editions are anchored by NBC News Anchor Lester Holt. "The Today Show" on Saturday is two hours in length, while the Sunday version is one hour. Every show includes a group of regular "Today" personalities live in the studio, on location and in recorded segments. "The Today Show" originally premiered in January of 1952 and starred radio personality Dave Garroway. The two hour broadcast was the first live national morning program to mix headline news, interviews, feature and entertainment segments. Prominently featured along with Dave Garroway in the early years of the show was his on-screen companion J. Fred Muggs, a trained chimpanzee. Since 1952, the list of "Today Show" personalities has included Barbara Walters, Hugh Downs, Florence Henderson, Bryant Gumbel, Jane Pauley, Katie Couric, Meredith Vieira, Ann Curry and Weatherman Willard Scott. Adding to the news related content, each "Today Show" blends an assortment of entertainment, lifestyle and often light banter between co-hosts. Daily segments vary greatly, but usually include pieces about nutrition, cooking, exercise, pets, fashion and home decorating. Physicians and experts regularly discuss health, parenting, travel and financial planning. In recent years, several "Today" segments have emerged during the weekday shows to become traditions. "Where in the World is Matt Lauer" is a series of mystery travel segments from around the globe featuring the intrepid co-host. During the summer months, live musical performances by top recording acts are staged and broadcast outdoors at Rockefeller Center. A high-rated yearly holiday show continues to be the Halloween broadcast, when the "Today" cast dresses up in themed and outlandish costumes to the amusement of the crowd.
Weekdays 7:00 AM et/pt on MSNBC

1 Season,

1

Episode - Returning Series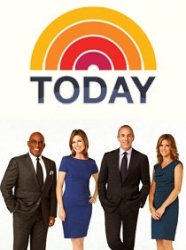 NBC TODAY Show

Full Episode Guide
Episode 1 - The First Today Show: January 14, 195...

The very first episode of America's favorite morning show.
NBC TODAY Show News
View More News