Watch NBC TODAY Show
"The Today Show" is a live morning news and entertainment program produced for the NBC television network. "Today" (as it is also known) is currently broadcast Monday through Friday from 7 AM (EST) to 11 AM (EST) from the NBC News headquarters at 30 Rockefeller Plaza in New York City. Matt Lauer and Savannah Guthrie are the co-hosts during the first two hours of the weekday broadcast. Both performers anchor the news desk at the start of every half hour, as well as deliver breaking national and international news stories as they occur. Weatherman Al Roker and News Correspondent Natalie Morales host the third hour of "Today." The fourth and final hour of the weekday program is co-hosted by Hoda Kotb and Kathie Lee Gifford and utilizes a more casual format. The "Today Weekend" editions are anchored by NBC News Anchor Lester Holt. "The Today Show" on Saturday is two hours in length, while the Sunday version is one hour. Every show includes a group of regular "Today" personalities live in the studio, on location and in recorded segments. "The Today Show" originally premiered in January of 1952 and starred radio personality Dave Garroway. The two hour broadcast was the first live national morning program to mix headline news, interviews, feature and entertainment segments. Prominently featured along with Dave Garroway in the early years of the show was his on-screen companion J. Fred Muggs, a trained chimpanzee. Since 1952, the list of "Today Show" personalities has included Barbara Walters, Hugh Downs, Florence Henderson, Bryant Gumbel, Jane Pauley, Katie Couric, Meredith Vieira, Ann Curry and Weatherman Willard Scott. Adding to the news related content, each "Today Show" blends an assortment of entertainment, lifestyle and often light banter between co-hosts. Daily segments vary greatly, but usually include pieces about nutrition, cooking, exercise, pets, fashion and home decorating. Physicians and experts regularly discuss health, parenting, travel and financial planning. In recent years, several "Today" segments have emerged during the weekday shows to become traditions. "Where in the World is Matt Lauer" is a series of mystery travel segments from around the globe featuring the intrepid co-host. During the summer months, live musical performances by top recording acts are staged and broadcast outdoors at Rockefeller Center. A high-rated yearly holiday show continues to be the Halloween broadcast, when the "Today" cast dresses up in themed and outlandish costumes to the amusement of the crowd.
Weekdays 7:00 AM et/pt on MSNBC

1 Season,

1

Episode - Returning Series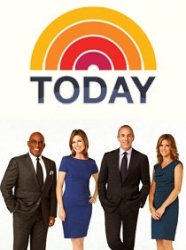 NBC TODAY Show

Full Episode Guide
Episode 1 - The First Today Show: January 14, 195...

The very first episode of America's favorite morning show.
NBC TODAY Show News
NBC Ignores 9/11 Moment of Silence in Favor of 'Keeping Up With The Kardashians' Interview
Today marked the 11th anniversary of the horrific attacks on the Twin Towers and Pentagon, as well as the heroic and selfless actions of Flight 93. Hard to believe, isn't it? So many of us can still remember exactly where we were when we heard the news, or first saw the terrible destruction being broadcast. Even after more than a decade, the images are still fresh in so many of our minds, and so many of us around the country are still trying to recover from the loss of family members, or friends.
Angeline Jolie: Brangelina Interviews To Ann Curry, Not 'Today'
My, look at the clout in Ann Curry's corner. The former co-host of NBC's "Today" might have handled her dismissal with professional grace, but Angelina Jolie and Brad Pitt are big fans feeling no such obligation to niceties. The Oscar winner told Curry personally in the immediate days after Curry's sudden "Today" departure that neither she nor her husband-to-be would give NBC the time of day unless it was Curry doing the asking, RadarOnline.com reports. Jolie also reportedly explicitly nixed a talk with anyone currently appearing on "Today" after Curry's exit.
VIDEO: Michael Vick Previews Dogfighting Scandal Memoir On 'Today'
We often learn more about a man not so much by how he falls, but how he rises. Even some three years after his release from prison, Philadelphia Eagles quarterback Michael Vick believes there's more yet to say about his climb since then. Vick appeared on Wednesday's "Today" to tell NBC host Matt Lauer about his forthcoming memoir Finally Free, his chronicle of his introduction to illegal dog-fighting through his arrest and prison term, up to his ongoing path to redeem himself.
'7 Habits Of Highly Effective People' Author Stephen Covey Dead At 79
A man whose bestselling books helped millions live saner, more streamlined lives, self-help author and motivational speaker Stephen Covey has died at age 79, the Associated Press and NBC's "Today" reported Monday. Up until his death, Covey had endured lingering effects that followed an April 19 Provo, Utah bicycle accident. The accident knocked him unconscious and caused bleeding in his brain. He died around 2:15 A.M. surrounded by his wife, all nine children and their respective spouses at Idaho Falls' Eastern Idaho Regional Medical Center.
Friday: Savannah Guthrie To Replace Ann Curry On 'Today'
Ann Curry's butt imprint has barely faded from her "Today" co-host's chair beside Matt Lauer, but her successor is about to start making herself comfortable. Following Curry's tearful exit from "Today" Thursday morning that capped almost a week of rumors she wasn't long for continuing to co-host, TMZ reports that Savannah Guthrie is set to step in starting with Friday morning's broadcast. What's more, it's rumored that Guthrie may be announced during the show as Curry's permanent replacement.
Ann Curry Makes 'Today' Departure Tearfully Official
The speculation that started the week came to fruition this morning: after a year, Ann Curry will step down from co-hosting NBC's "Today." Curry made the announcement during Thursday morning's broadcast, fighting back and finally succumbing to her tears, but USA Today broke the news Wednesday following a 40-minute phone interview with the long-time NBC News and "Today" correspondent. "I'm going to have to tell our viewers," Curry said. "That's what makes me more emotional than anything.
NBC Seeks Ann Curry's 'Today' Replacement
What a dismal co-host turnover rate for the past year NBC's "Today" has. Just 14 months after succeeding Meredith Vieira as the 60-year-old morning show's co-host, Ann Curry looks bound for the alumni list herself. NBC brass are already setting Curry's exit strategy following a spring in which ABC's rival "Good Morning America" soundly topped its ratings for several consecutive weeks, The New York Times reports today. Curry, 55, had previously spent 14 years on "Today" in more of a supporting role before taking Vieira's seat beside fellow co-host Matt Lauer.
Justin Bieber Brings The Fangirl Insanity To 'Today'
The headlines haven't exactly been nice to Justin Bieber lately. In fact, they've made him look quite the little miscreant. Come what may, he's ever the showman. The 18-year-old Canuck recording phenom, boxing enthusiast and Twitter scourge brought one big ol' Bieber-Fever recurrence to NBC's "Today" this morning, and you'll see hordes of Walkers traipsing about Atlanta on "The Walking Dead" less terrifying than the throngs of Beliebers there to worship their Lord and Zach Morris-looking master.
Bobby Brown Fires Back At Blame For Whitney Houston's Death
In the two and a half months since Whitney Houston's death, ex-husband Bobby Brown has apparently heard himself blamed for her passing just about enough. In an interview to air this week on NBC's "Today", Brown attempts to set straight his view that Houston had substance-abuse issues that went above and beyond their marriage, Reuters reports. Houston, 48, was found unconscious in her Beverly Hills Hilton hotel room's bathtub the afternoon of Feb. 11, and later pronounced dead at the scene.
View More News