Watch Oprah's Next Chapter Online - Full Episodes
Series Length:
1 Seasons,

54

Episodes
Schedule:
Sunday 9:00 PM et/pt on OWN
Description:
Oprah's Next Chapter is a program that airs on the OWN Network. It stars Oprah Winfrey and the show has her going to the homes of famous people to sit down with them and ask them questions about their lives. The show is one hour long and Oprah asks many questions that have intrigued her about the celebrities for years.
Some of her guests have included Governor Chris Christie, Stephen Colbert, Joel Osteen and his wife Victoria, Paris Jackson, 50 Cent, Neil Patrick Harris and his partner David Burtka, Rihanna and Steven Tyler. The interviews are very in depth and personal. It is not like a typical talk show interview that most people would expect.
Most of the time, the guest takes Oprah on a tour of their home and they sit down together so that she can ask them about many different topics. For example, she might ask someone about their childhood, why they decided to become a famous person, how they feel fame has changed their life and what their personal philosophy is.
There are typically four segments of the show and outtakes are shown during the commercial breaks. The show allows Oprah to go on site visits as well. She went to Joel Osteen's church with her friend Tyler Perry and got to experience what his congregants do every Sunday when they attend church services.
The format of the show allows guests to talk about anything that they want. Rarely are the interviews ones where upcoming movies or projects are discussed by Oprah. The show focuses mainly on the personal lives of celebrities and their accomplishments.
Sometimes other family members will join in on the conversation to cast some light on the guest's life experiences. Oprah's Next Chapter is a great show that allows viewers to be able to really humanize the celebrities that they see on TV and read about in magazines and online.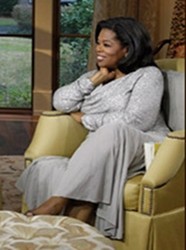 Oprah's Next Chapter News