Watch Orangutan Island
Series Length:
2 Seasons,

25

Episodes
Description:
Orangutan Island is a new series on Animal Planet that chronicles the lives of the orphaned and homeless Orangutans who live deep in the heart of Borneo's forests. Join Cha Cha, Saturnus, Daisy, Chen Chen, Hamlet, Jordan and the other classmates as they learn to live together in a community, struggle to form their own society, learn survival skills and adapt to their new world on Orangutan Island.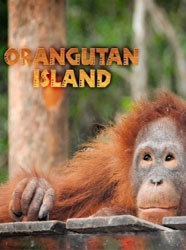 Orangutan Island

Full Episode Guide
Episode 10 - Chain Reaction/A Walk on the Wild Sid...

Bonita gives an unexpected reaction after an action by Jupiter, and she leaves the island after her run in with Hamlet. Lone sets out to find Bonita, fearing that she is in danger of poachers.

Episode 9 - Double Edged Sword/Teen Angst

Hamlet's future may be compromised after he strolls into the wild side. A plump Chen Chen had no one to meet him after returning from the clinic having mended. Lone tries to find the best way to ensure Bonita's health. Meanwhile, the males of Palas Island go on a rampage to targeting Kiki, and leaving baby Hardi in harm's way.

Episode 8 - Where There's Smoke...

Reno's attempt to establish himself on the island ends with disastrous results.

Episode 7 - We Are Family

Episode 5 - Kindered Spirits/

Episode 1 - An Angel in Paradise
Episode 14 - Many Happy Returns

Episode 12 - Rumble in the Jungle

Episode 11 - River's Rewards

Episode 10 - House of Cards

Episode 8 - Orangutan 911

Episode 7 - Growing Pains

Episode 5 - Lessons Learned, Lessons Lost

Episode 1 - New Beginnings
If You Like Orangutan Island, Then Try...