Watch Paula's Home Cooking
Series Length:
11 Seasons,

57

Episodes
Description:
Paula shares her own family recipes from her restaurant.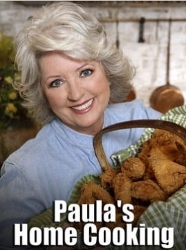 Paula's Home Cooking

Full Episode Guide
Episode 13 - Garden Get Together

Paula Deen's cooking up some of her favorite sunny day dishes. From Blue Crab and Gazpacho to Fettuccini Chicken Salad, Paula serves up a perfect way to spend an afternoon in the garden with good friends and great food.

Episode 12 - BBQing with Bobby

Paula Deen and her son, Bobby, head outside to fire up the grill and cook up some delicious foods. From Dry Rub Baby Back Ribs to Grilled Pineapple Pound Cake -- it's just a good time when Paula barbecues with Bobby.

Episode 11 - It's My Party

Paula Deen enjoyed her birthday party foods so much. She recreates some of her favorite dishes like Scallop Burger Sliders, Butter Poached Lobster Shooters and a whole lot of delicious party eats!

Episode 10 - Wake Up Call

There's nothing better than waking up with Paula Deen especially when she's preparing breakfast with dishes like Bananas Foster French Toast and Hot Mocha Floats. You're sure to get out of bed!

Episode 9 - Steak in the City

Episode 8 - Garden Delight

Episode 5 - Dinner on Deck

Episode 3 - Southern Style

Episode 1 - Fry Me to the Moon
Episode 9 - Tailgate Time

Episode 3 - One Pot Meals

Episode 0 - Paula Goes to Europe
If You Like Paula's Home Cooking, Then Try...
Paula's Home Cooking News