Watch P.D. James: Devices and Desires
Adam Dalgliesh of Scotland Yard escapes to a seaside cottage that he inherited from his aunt for a little R&R, only to find himself in a string of serial killings. Can he find the killer before his vacation is ruined?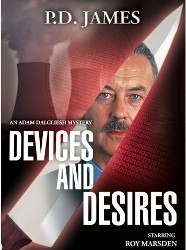 P.D. James: Devices and Desires

Full Episode Guide
With the Whistler out of the picture, Commander Dalgliesh sifts through suspects and alibis to find out who killed Hilary Robarts.

As the computer virus spreads at the nuclear power plant, so does the danger -- along with suspicions that it could be the work of terrorists.

Crossing one more suspect off his list, Commander Dalgliesh questions whether Toby Gledhill's curious suicide was actually the work of a murderer.

When Commander Dalgliesh discovers the body of a second murdered power plant employee, he begins to doubt the Whistler's involvement.
If You Like P.D. James: Devices and Desires, Then Try...