Watch Primeval
Primeval is a Sci-Fi look into the future, yet, firmly rooted in the past. A few talented actors and actresses portray a group trying to keep the world safe while the government sweeps terror under the rug. Primeval developed by Adrian Hodges and Tim Haines is a series that faces unique occurrence on a daily basis. The stars are energetic and the creatures are always a surprise. The settings of the different worlds are creative; occasionally, the stars are lost and found in these desolate environs. This Sci-Fi adventure sends audiences on quite the adventure.
Abby portrayed by Hannah Spearritt is the passionate animal lover, always struggling to save and send invading creatures back to their respective habitat. Helen Cutter, played by Juliet Aubrey is the villainous person thought to be lost, but it is later discovered she is alive and well, with ill intent on her agenda. Helen is sought to help but she is having no part of the struggle to put the world right. She wants the anomalies or time tears to continue, to her advantage.
Leaving destruction behind her, Helen Cutter travels through the Anomalies with expert precision, showing up wherever she pleases and leaving as easily. Douglas Henshall plays Nick Cutter, the sharp thinking leader of the troupe. Andrew Potts plays the anxious to learn Connor and James Murray plays Stephen Hart. This mixture of talent creates an interesting combination of energy befitting a Sci-Fi presentation. Set in England this series has plenty of handsome stars, both do-gooders and villains. A story filled with treachery and subtle romance, changing circumstances leaves plenty of drama for the anomalies chasers.
The crew fights the invasion of a world billions of years lost while they try to control a technology not understood by the present. Each portal is a different world, a parallel place, none, knows about the other, each individually different. Primeval showcases strange creatures racing from one dimension to the next, with a few gifted people trying to control a world verging on disaster. They are met with interference from any number of places, while they try to save the populace, which is kept unaware.
Saturdays at 8:00 pm on

BBC America

5 Seasons,

43

Episodes - Currently Airing

February 10, 2007

Science Fiction

,

Drama

,

Mystery

10

/
Watch Full Episodes of Primeval

Season 5, Episode 6
Episode 6 (47:31)
Season 5, Episode 5
Episode 5 (43:59)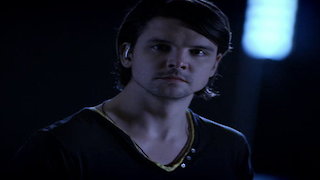 Season 5, Episode 4
Episode 4 (43:01)
Season 5, Episode 3
Episode 3 (43:22)
Season 5, Episode 2
Episode 2 (47:04)
Season 5, Episode 1
Episode 1 (44:26)

Primeval

Full Episode Guide
Matt thinks that he has failed and believes Philip is victorious. Predators from the future attack. Matt tries to help Connor.

With more anomalies occurring, Connor and the ARC team race a race against time to stop Phillip and his machine.

Philip and Connor end up opening an aomaly in the ARC and end up being invaded by a mass of future-beetles. The beetles end up forcing the ARC to go into a complete lockdown.

A velociraptor is followed back to Victorian London by Matt.
Episode

7

-

Series 4, Episode 7

Episode

6

-

Series 4, Episode 6

Episode

5

-

Series 4, Episode 5

Episode

4

-

Series 4, Episode 4

Episode

3

-

Series 4, Episode 3

Episode

2

-

Series 4, Episode 2

Episode

1

-

Series 4, Episode 1
Season
3
10 full episodes
Season
1
13 full episodes
If You Like Primeval, Then Try...
Most Popular Primeval Episodes
Season 1 Episode 2

Episode 2

8/16/2008

Season 5 Episode 3

Episode 3

11/26/2011