Watch Que Bonito Amor
Among a group of recent Spanish-language television programs of the "telenovela" form -- in which high dramatic tension and long-form stories are combined -- to have emerged in the last two years, "Qué bonito amor" ("What a Beautiful Love") features seasoned actors such as Jorge Salinas (as the lead in the show) and Colombian actress Danna García, of the highly successful soap opera "Café con aroma de mujer." Both actors have received accolades in the past for the depth of the roles they take on.
It has been suggested by many critics since its premiere last year that the kind of dramatic sensibility of "Qué bonito amor" puts it ahead of the heavy competition in television's recent renaissance as an artistic medium, with the website TVNotas praising the elaborate and well-thought-out references to the history of music featured in the melodrama. (The show is defined by a simple yet effective plot device in which the lyrics of traditional Mariachi songs are used to determine the story lines of the main characters -- with love being the primary emotional focus of the series.)
Salinas and García -- whose characters play star-crossed singers in a small club -- promise to share some of the most elaborate character roles of the season, building on careers that have come from paying dues in the difficult field of television drama and film through a myriad CV of roles for each performer. Indeed, the plot line of the series -- with Salinas' character, falsely accused of fraud, taking cover as an anonymous ranchera singer in an out-of-the-way music venue where García's character sings to support her family -- is one demanding a very complex set of character traits, with music in the series playing its own central role.
As the main characters' interest in one another is called into question when García's character discovers that Salinas' identity is a false one, the question soon becomes: how will Salinas' character move on from a past which threatens to destroy everything he has worked for? And will that life now destroy his chance at love with a woman whom he has only just met?
It's just this method of complex plot-writing and mixing of artistic forms that has had many viewers speculating that television is experiencing a rebirth as a major artistic medium, and of which "Qué bonito amor" seems to be a part of.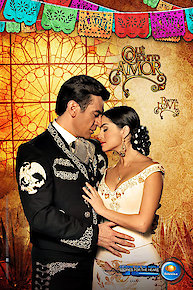 Que Bonito Amor

Full Episode Guide
Episode

124

-

Boda de Ensueño

Santos y María logran cumplir el sueño de casarse, venciendo todos los obst'áculos que pusieron Giuliano, Elvira y Rubén.

Episode

123

-

Dos Almas al Cielo

Santos es asesinado al salir de la c'árcel, el bar es clausurado y María tiene que vender el traje de su pap'á. Guiliano muere quemado al intentar matar a los mariachis.

Episode

122

-

Planeando la Venganza

Guiliano y Elvira planean su venganza contra María. Susanito se entera que Irasema est'á embarazada. Santos es puesto en libertad.

Episode

121

-

Ultimos Suspiros de Vida

Don Concho fallece después de una pelea con Elvira y Susanito, pero les pide perdón antes de morir. Guiliano y Elvira se unen en contra de Rubén.

Episode

120

-

Confesiones y Enfermedades

Episode

119

-

Giuliano Amenaza a María

Episode

118

-

Día de Declaraciones

Episode

117

-

Amenazas y Muertes

Episode

115

-

Padre E Hijos Unidos

Episode

113

-

Se Acerca el Juicio

Episode

112

-

Cerca de Santos

Episode

111

-

Fernando y Ana quieren adoptar al Jal...

Episode

110

-

Doctor Peligroso

Episode

109

-

Visita en el Reclusorio

Episode

108

-

Cruzando al Norte

Episode

107

-

Pérdida de Movilidad

Episode

106

-

Intento de Escape

Episode

105

-

El Examen de María

Episode

104

-

Peligrosa Entrega de Dinero

Episode

103

-

Seduciendo a Susanito

Episode

102

-

Millones O Sufrimiento

Episode

101

-

Muerte del Padrino

Episode

100

-

Ajuste de Cuentas

Episode

99

-

Encuentro de Detenidos

Episode

98

-

Viviendo Por Los Dos

Episode

97

-

Intento de Abuso

Episode

94

-

Escondiéndose del Mundo

Episode

93

-

Ultima Visita

Episode

92

-

Peligro en el Bosque

Episode

91

-

Buscando a Santos y María

Episode

90

-

El camerino de María explota mient...

Episode

89

-

Festejo Interrumpido

Episode

87

-

Jorge Alfredo recibe un anónimo en e...

Episode

86

-

La Vida Por Un Hijo

Episode

85

-

Susanito en Libertad

Episode

84

-

Gran Rechazo

Episode

83

-

Sacrificando el Amor

Episode

82

-

Nuevo Gerente del Bar

Episode

79

-

Jorge Alfredo le cuenta a Doña Amali...

Episode

78

-

Analizando Evidencia

Episode

77

-

Confuso Expediente

Episode

76

-

Luchando Por Amor

Episode

75

-

Peleando Por Una Mujer

Episode

74

-

Enloquecida de Dolor

Episode

73

-

Bebé Perdido

Episode

72

-

Apoyo Familiar

Episode

71

-

María es llevada al hospital muy g...

Episode

70

-

Trampa Mortal

Episode

69

-

La Foto Atrevida

Episode

68

-

Tomando Distancia

Episode

67

-

La Venganza de Rubén

Episode

66

-

Mentiras y Amenazas

Episode

65

-

Denuncio Por Secuestro

Episode

64

-

Defendiendo Su Amor

Episode

63

-

Justo y Wendy se mudan a la Ciudad de...

Episode

62

-

Caída en el Pozo

Episode

61

-

La Hija Adoptada

Episode

60

-

Una Verdad Dolorosa

Episode

59

-

Apoyo de Madre

Episode

58

-

Prueba Positiva

Episode

57

-

Adiós Por Siempre

Episode

56

-

Alcohol Por Penas

Episode

55

-

Fugitivo Libre

Episode

54

-

Las Despedidas

Episode

53

-

Deuda Saldada

Episode

52

-

Peligro de Muerte

Episode

51

-

Cuidando al Papá

Episode

50

-

Visita Al Hotel

Episode

49

-

Saldando Deuda

Episode

47

-

Castigo Imperdonable

Episode

46

-

Matrimonio Simbólico

Episode

45

-

Malos Conocidos

Episode

43

-

Ultimos Suspiros

Episode

42

-

Padre E Hijo

Episode

41

-

Fuera Comandante

Episode

40

-

Delincuente Confrontado

Episode

39

-

El Delincuente

Episode

38

-

Meseras Por Un Día

Episode

37

-

Ayuda Inocente

Episode

36

-

Prueba Genética

Episode

35

-

Consuelo al Padre

Episode

33

-

Baño Para Dos

Episode

32

-

Lavado de Dinero

Episode

31

-

Desengaño De Amor

Episode

30

-

Limpiando el Nombre

Episode

29

-

Isabel Accidentada

Episode

28

-

Hacer Justicia

Episode

26

-

El Sombrero de Papá

Episode

25

-

Declarado Culpable

Episode

24

-

Serenata de Mariachis

Episode

23

-

Doña Amalia le dice a María que r...

Episode

21

-

Amor de Mi Vida

Episode

20

-

Infidelidad Descubierta

Episode

19

-

María se entera que su padre le fu...

Episode

18

-

Licenciado Golpeado

Episode

17

-

Gastos Hospitalarios

Episode

16

-

Juicio Difícil

Episode

14

-

Jorge Alfredo se va de la pensión co...

Episode

12

-

Somos Novios

Episode

11

-

Amantes Separados

Episode

10

-

María Bonita

Episode

9

-

Nuevo Trabajo

Episode

5

-

El Nuevo Cantante

Episode

4

-

Celos y Crítica

Episode

3

-

La Primera Mentira

Episode

2

-

Amor a Primera Vista