Watch T.I.'s Road to Redemption
T.I's Road to Redemption is a American reality television program. The show was created to help seven teenagers that are making the wrong decisions in life. T.I. mission is to give these seven kids a wake-up call and show them there is a better way to live their lives. The show was taped a few weeks before T.I. had to turn himself into prison.
During the show T.I. mentor the seven teenagers himself using lessons from his own life. With that being said the each episodes has a theme that the youth are taught. In addition to the hip hop moguls personal life experiences, the teens are taken on "field trips". In one episode one teen is taken to jail; this is to show him where he could end up if he does not make any positive changes.
The show will also highlight personal events happening in T.I.'s life with his family.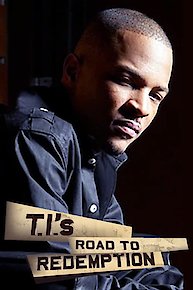 T.I.'s Road to Redemption

Full Episode Guide
Episode

9

-

The Reckoning

T.I. prepares for the end of this chapter in his journey by bringing the kids he's tried to help to Atlanta to witness his sentencing first hand where he recieves a minimum sentence due to his non-stop community service.

With only 4 days left till his sentencing, T.I. spends time with his family and looks back on everything that's happened in the last year.

Episode

7

-

You Quit, You Lose

T.I. shows just how far making the right choices can take you in life when he sets Donald up as 'King' for a day.

Episode

6

-

Revenge Is Not The Answer

T.I. meets up with 15-year-old gang member Cynthia who is seeking revenge for her brother's death but will soon understand that she needs to get out of the game before it catches up to her.

Episode

5

-

Reality Is Not Entertainment

Episode

4

-

You Have To Focus On The Positive

Episode

3

-

Your Environment Does Not Define You

Episode

2

-

Own Your Mistakes

Episode

1

-

You Are Responsible For Your Own Acti...
If You Like T.I.'s Road to Redemption, Then Try...