Watch Rock Center with Brian Williams Online - Full Episodes
Series Length:
2 Seasons,

70

Episodes
Schedule:
Thursday at 10PM EST on NBC
Description:
Rock Center With Brian Williams is a weekly news magazine hosted by longtime NBC anchorman Brian Williams. The show is named after the headquarters located at 30 Rockefeller Center. Rock Center focuses on serious and compelling news stories taken from the headlines, rather than crime and murder mysteries. The format, which initially featured multiple topics is now centered around one. The show receives relatively good reviews as a fair program that provides a point of view from all sides.
Correspondents on Rock Center include Harry Smith, NBC News contributor; Kate Snow, of Dateline News; Ted Koppel, former host of Nightline; Chelsea Clinton, daughter of President Bill Clinton, and spokesperson for the Clinton Initiative; Bob Costas, longtime sportscaster for NBC; Meredith Viera, former moderator of The View and co-host of The Today Show; Richard Engel, chief foreign correspondent for NBC News; Nancy Snyderman, physician and chief medical editor for NBC News; Matt Lauer, longtime host of The Today Show; Ann Curry, anchor at large for The Today Show, and Natalie Morales, co-anchor of The Today Show.
Notable figures and topics presented on Rock Center include Ambassador Susan Rice, author James Patterson, film director Peter Jackson, Petra Anderson, a musician who survived the Aurora, Colorado theater shooting, evangelist Rick Warren, and the tragedy at Sandy Hook Elementary, where 26 students and teachers were murdered by gunman Adam Lanza. The highest rated and most prolific segment featured Bob Costas interviewing former Penn State coach and convicted child molester Jerry Sandusky. At the time of the interview, Sandusky was awaiting trial and was free on bail. Sandusky admitted no wrongdoing and suggested that his accusers were lying about his alleged molestation. Although Sandusky claimed not to be a pedophile, he had trouble answering Costas' questions as to whether or not he is attracted to children. Although Rock Center receives descent ratings, it still ranks third behind other shows in the same time slot.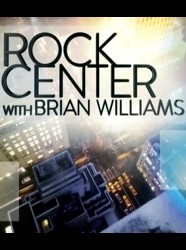 Rock Center with Brian Williams Video Clips & Extras
Rock Center with Brian Williams News