Watch Rooftop Prince
The Rooftop Prince is an intriguing television series from South Korea that can be considered a romantic comedy with a murder mystery twist. The story begins when a Joseon crown prince, Lee Gak, awakes to find that his beloved crown princess has been drowned in a pond. Believing that it was not an accident the prince immediately calls for an investigation. While the prince and his entourage are waiting to interrogate a witness they are confront by assassins. Running for their life, the prince and his entourage jump off of a cliff.
The prince along with his tutor, personal bodyguard and palace eunuch are transported 300 years into the future and land in present day Seoul. They fall into the rooftop apartment of Park Ha and believe that they have been placed there to solve the crown princesses death or they will never be able to return home to Joseon.
Park Ha is not so sure about her new found friends and although she has a hard time believing their story she agrees to let them stay with her. If trying to teach them about the 21st century was not enough; when the prince meets Park's step-sister Se-Na he believes that she is his beloved crown princess reincarnated.
Se-Na is not all that she appears to be though because as a master manipulator she managed to become the personal assistant to the CEO (Kang) of a very prestigious company. She also is having a scandalous affair with Tae Mu, the heir to the company. Two years earlier Tae Mu is believed to have killed his cousin Tae Yong while they were on vacation which left him the sole heir to the company.
When the CEO of the company meets the prince she believes that he is her long lost grandson Tae Yong and the only way the prince can get to Se-Na is to pretend to be Tae Yong. This does not sit very well with Tae Mu who is now afraid that he secret will be revealed and it does not sit well with Park Ha who is falling in love with the prince.
The pieces of the puzzle are starting to fall into place and the prince is getting closer to the secret of Tae Yong and solving his wife's death. The real problem for the prince is deciding if he wants to return to his time or stay in the present.
Wednesday & Thursday 9:55 PM et/pt on DramaFever

1 Season,

20

Episodes - Canceled

March 21, 2012

10

/
Watch Full Episodes of Rooftop Prince

Season 1, Episode 20
Episode 20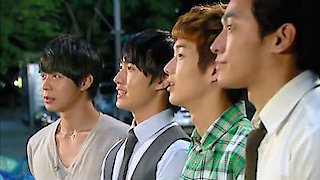 Season 1, Episode 19
Episode 19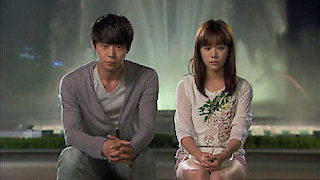 Season 1, Episode 18
Episode 18 (01:02:43)
Season 1, Episode 17
Episode 17
Season 1, Episode 16
Episode 16
Season 1, Episode 15
Episode 15

Rooftop Prince

Full Episode Guide
Season
1
20 full episodes
Lee Gak is back in Joseon and gets closer to finding the truth behind the Crown Princess' murder.

Se Na must choose between her Tae Moo and her sister Park Ha while Lee Gak struggles to save Park Ha from a dangerous accident.

The conditions of the late Chairman Yeo's will are announced. In a desperate move to claim the inheritance, Tae Moo corners Prince Lee Gak with an accusation.

When Chairman Jang suddenly decides to take one of her daughters to Hong Kong, Tae Moo and Lee Gak find themselves scrambling to outdo the other.

Lee Gak pretends to be Tae Yong to discover what really happened in New York between Tae Moo and his cousin. Meanwhile, Park Ha discovers a clue that may lead to her mother.

Se Na fails to trick President Jang with her scheme. The new CEO of HSN is announced, and Tae Moo makes a desperate move to ruin Lee Gak once and for all.

Prince Lee Gak discovers Se Na's deceptive scheming. The Chairman of HSN announces a surprise that catches Tae Moo and his father off guard.

Park Ha decides to leave the rooftop after a conversation with Lee Gak. Tae Moo is stunned to discover his cousin is alive.

Prince Lee Gak is given a second chance after failing to secure a contract agreement. Tae Moo discover's Se Na's family secret.

Park Ha does everything to prevent Prince Lee Gak from discovering her secret confession. Se Na plans schemes to marry Lee Gak before Tae Moo's father can rid of her.

Se Na is determined to ruin Park Ha. Prince Lee Gak struggles to resolve his feelings towards both Park Ha and Se Na.

Park Ha's birthday approaches while Se Na continues to scheme to overtake her step sister.

The rooftop apartment is renovated. Park Ha goes on a blind date.

The mysterious Chairman is looking for her long lost daughters. Park Ha attempts to piece together her hazy past.

Prince Lee Gak begins to court Se Ha when he starts work at Tae Yong's family company. Park Ha begins to remember her hazy childhood past.

Prince Lee Gak strikes a deal with the chairman to save Park Ha's rooftop apartment.

Park Ha loses her deposit check. With her business at risk, Prince Lee Gak and crew rally to keep her from leaving for America.

Park Ha uses Prince Lee Gak and his minions to help the opening of her store. Tae Moo worries that his family will discover his dark secret.

Prince Lee Gak and his trio of detectives are stunned to find themselves in the rooftop apartment of Park Ha, a modern day Korean woman who just returned from New York City to discover that her father has died.

Crown Prince Lee Gak is looking for a beautiful wife. Sisters Hwa Yong and Boo Young are both considered for the royal seat.
If You Like Rooftop Prince, Then Try...