Watch Rove LA
Rove LA is a talk show with a comedic aspec to it. It is hosted by Rove McManus from a set in Los Angeles. McManus is an Australian comedian. The show has a lot of segments that are comic bits. There are interviews with celebrity guests. Each episode starts with McManus delivering a monologue straight to the screen. In his monologue, McManus talks mainly about current news events and happenings around the world. All of this he does with a comedic bent.
After his monologue, McManus heads to a segment called The Couch. McManus sits on a couch and interviews that week's celebrity guest. McManus does not hold traditional interviews but he has a variety of different methods that allow him to get his guest to talk. One segment is called Random Question Hat and McManus actually pulls random questions from a hat and asks them of his guest. Another segment is called Getting To Know You and McManus asks basic questions.
McManus hosts the show all by himself but he has hired actor Gary Busey to do occasional guest appearances. Busey's role is that if no one else can be booked to guest on the show he will perform as an automatic stand-in guest. McManus has also faced some controversy as being the one of the few television hosts that allow his guests to swear on the show.
Each episode of Rove LA lasts about an hour. He has featured guests such as actors Hugh Jackman, Lisa Kudrow and Lauren Graham. McManus also interviews musicians such as will.i.am and LL Cool J. He has even interviewed his own son, Luke, who he calls Mini Mac. The last four episodes of season two all feature random guest appearances from Gary Busey in addition to the main celebrity guests booked.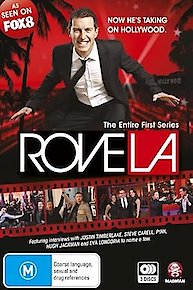 Rove LA

Full Episode Guide
Episode

12

-

Jesse Tyler Ferguson, Krysten Ritter ...

In This segment from Rove LA, Rove continues his quest for Bigfoot. Will he find the legendary creature?

Rove talks with John Travolta and Olivia Newton John about how they came together to star in Grease.

Episode

10

-

Olivia Newton-John, John Travolta

Presented by TV Guide - Rove LA 209. Australian talk show host Rove brings his popular show to the U.S. Sarah Silverman talks about her twitter behavior and Judd Apatow chimes in with how he handles rude tweets.

Episode

9

-

Zach Braff, Nicole Richie and Tom Ken...

Zach Braff, Tom Kenny and Nicole Richie address rumors of their deaths, and Rove introduces emergency backup guest Gary Busey.

Episode

8

-

Nicole Richie, Kunal Nayyar and Rob S...

Episode

7

-

Kate Walsh, Eric Idle and Maggie Grac...

Episode

6

-

Ben Folds, James Van Der Beek and Jef...

Episode

5

-

Joel McHale, Wendi McLendon-Covey and...

Episode

4

-

Aisha Tyler, Matthew Fox and Emmy Ros...

Episode

3

-

Eric Stonestreet, Casey Wilson and Be...

Episode

2

-

Rainn Wilson, Sarah Wayne Callies and...

Episode

1

-

Russell Brand, Adam Lambert and Krist...
Episode

11

-

Best of Season 1

Episode

10

-

Seth MacFarlane, will.i.am and Lauren...

Episode

9

-

P!nk, Jim Parsons and Chris Hardwick

Episode

8

-

Ty Burrell, John Krasinski and

Episode

7

-

LL Cool J, Michael C. Hall and k.d. l...

Episode

6

-

Justin Timberlake, Eliza Dushku and J...

Episode

5

-

Steve Carell, Lake Bell and Eva Longo...

Episode

4

-

Seth Green, Olivia Munn and Michael W...

Episode

3

-

Anna Faris, Daniel Macpherson and Kev...

Episode

2

-

Paul F. Tompkins, Tim Gunn and Hugh J...

Episode

1

-

Jerry Ferrara, Kathy Griffin and Lisa...
If You Like Rove LA, Then Try...