Watch SCI FI Wire
Series Length:
1 Season,

6

Episodes
Description:
Watch Sci Fi Wire on Yidio!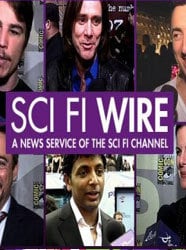 SCI FI Wire

Full Episode Guide
Episode 6 - Paranormal Hotspots

First Aired: November 15, 2006

Rich and Rob randomly approach people in Sedona, Ariz. Nearly 80 percent say they have seen something strange or unexplainable in the sky. UFO researcher and photographer Tom Dongo shows them pictures he has taken of unusual lights in the sky; in one photo, a human-like figure that was not visible when the shot was taken showed up on the developed print, leading Dongo to believe that aliens walk unseen among humans.

Episode 5 - The Roswell Incident

First Aired: November 08, 2006

The team digs for clues about U.F.O.s in the New Mexico desert, with forensic specialist Lisa Van Camp filling in for Deborah Dobrydney.

Episode 4 - The Afterlife

First Aired: November 01, 2006

The team investigates the possibility of an afterlife, starting with a search for ghosts and a visit with a woman who claims to hav lived through a near death experience and has over 11,000 documented cases of the afterlife.

First Aired: October 25, 2006

The Mothman, a winged creature is investigated, beginning at the Mothman Museum in Point Pleasant, W.Va.
If You Like SCI FI Wire, Then Try...