Watch Sgt. Frog
Sgt. Frog is anime show that first began as a popular manga for teens written by Mine Yoshizaki. When the show was being created the subjective content that was geared towards older teens was watered down to attract a more family friendly audience. The story of the anime is about frog-like aliens that are from the planet Keron whose objective is to invade the planet Pekopon (a planet that closely resembles earth). During the invasion of Pekopon the plan starts to fail and Keroro's (the main character voiced by Vic Mignogna) platoon gets left behind as the troop ship leaves them while retreating.
In a foreign planet with nowhere to go the team survives by covertly living with humans. Keroro finds shelter with a 12 year old boy (Fuyuki) and his family. Fuyuki's school friend, a 13 year old girl named Natsumi constantly thwarts all of Keroros attempts on trying to take over the planet.
The first episode of the show aired in 2004. Sgt. Frog is classified under comedies and there are very humorous anecdotes sprinkled throughout the episodes. Produced by Sunrise Studios this anime was licensed under Funamation.
Through the seven years of its presence it has spawned spinoffs, official merchandise, and home movie releases. Five of the films created were created by Junichi Sato and were again produced by Sunrise. ADV used to own exclusive rights to all of the English dub copies of this anime for paying over $400,000 but in July of 2008 all rights to the English releases were all given to Funamation.
In 2009 Funamation started to broadcast the first four dubbed episodes and then began to take a hiatus on dubbing the rest of the episodes from the first season but then released the rest of them on different online streaming sites soon after. Sgt. Frog has a collection of 358 episodes and has been translated in different languages for Europe, Asia, and America.
FUNimation

3 Seasons,

84

Episodes - Canceled

Anime

10

/
Watch Full Episodes of Sgt. Frog

Season 3, Episode 78
Frogs of the Bermuda... (24:32)
Season 3, Episode 77
The Red String Theor... (24:32)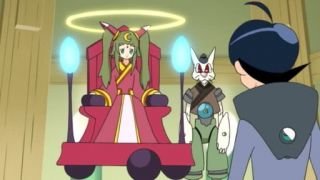 Season 3, Episode 76
To the Moon, Palace! (24:32)
Season 3, Episode 75
Me, Myself, and I'm ... (24:32)
Season 3, Episode 74
My Goodness, My Guin... (24:32)
Season 3, Episode 73
Flux Capacitor? I Ha... (24:32)

Sgt. Frog

Full Episode Guide
Season
3
27 full episodes
Episode

78

-

Frogs of the Bermuda Triangle!

Fuyuki and the frogs travel to the Bermuda Triangle in search of a legendary buried treasure, but they better find it fast because Viper is hot on their trail!

Episode

77

-

The Red String Theory!

After a narrowly avoiding a trip down the aisle, Tamama vows to change his ways, but suppressing his jealousy has disastrous side effects on the little frog's once-adorable body.

Episode

76

-

To the Moon, Palace!

Keroro's latest get-rich-quick scheme centers around building a luxurious resort on the surface of the moon. Too bad he didn't plan for a shocking encounter with robotic alien rabbits!

Episode

75

-

Me, Myself, and I'm Mean!

Momoka worries about her father's intentions to test Fuyuki's worthiness, but her outrageous plan for whipping the poor boy into shape could spell doom for the world!

Episode

74

-

My Goodness, My Guinness Record!

Episode

73

-

Flux Capacitor? I Hardly Flux Ca-Know...

Episode

72

-

Beetlemania!

Episode

71

-

The Backup Planet!

Episode

69

-

Return to the Wet Hot Beaches!

Episode

68

-

House of 1000 Floors-es!

Episode

67

-

Friday Night Frights!

Episode

66

-

Love in the Time of Color T.V.

Episode

65

-

ET: the Extra-Special Terrestrial

Episode

14

-

ET: The Extra-Special Terrestrial

Episode

13

-

I Won't Cry with a Little Help from M...

Episode

12

-

It Had to Be Ew!

Episode

11

-

Take Another Little Piece of My Art N...

Episode

10

-

Very Superstitious, Writings on the R...

Episode

9

-

Honey, I Shrunk the Frogs!

Episode

8

-

The House that Trash Built!

Episode

7

-

My Snoballs Give Me Redbulls!

Episode

5

-

Hard to (Be a) Swallow!

Episode

3

-

Dial M for Maybe I Can Solve This Mur...

Episode

2

-

Cherry Blossoms of Terror!

Episode

1

-

Green Dwarf: Back to Earth!
Season
2
25 full episodes
Episode

51

-

A Farewell to Arms, Legs, and Other F...

Episode

50

-

No More Mr. Nice Frogs!

Episode

49

-

How to Succeed in Pekopon-Conquering ...

Episode

48

-

Lazy Days and Mondays Always Get Me D...

Episode

47

-

Frogs and Dolls!

Episode

46

-

Ghost in the Cell!

Episode

45

-

V for Valentinedetta!

Episode

44

-

Domo Arigato, Aki Roboto!

Episode

43

-

Springtime for Hitters!

Episode

42

-

War of the World's Cup!

Episode

41

-

A Low Down Dirty Game!

Episode

40

-

We Don't Needs No Education!

Episode

39

-

The Space Frog Who Stole Christmas!

Episode

38

-

One Potato, Two Potato, Sweet Potato,...

Episode

37

-

Storefront Shinobi!

Episode

36

-

A Frog in Winter!

Episode

35

-

The Birthday the Earth Stood Still!

Episode

34

-

Hot Spring Hilarity!

Episode

33

-

The Episode We Wanted to Call Tiny To...

Episode

32

-

Animal Army Attack!

Episode

31

-

Lost in Transportation!

Episode

30

-

Extreme Makeover: Momoka Edition!

Episode

29

-

Actor Schmactor!

Episode

28

-

Das Snow Boot!

Episode

27

-

Should I Spa or Should I Go Now?

Episode

26

-

Keroro Presents: Everyone Unite! Let'...

Episode

25

-

Momoka Presents: Love, Youth and a He...

Episode

24

-

Keroro Presents: the Noble But Poor S...

Episode

23

-

Panic! the Hinata Household's Wildest...

Episode

22

-

Tamama Presents: I'm the Leader from ...
Season
1
26 full episodes
If You Like Sgt. Frog, Then Try...
Most Popular Sgt. Frog Episodes
Season 1 Episode 10

Sgt. Frog Versus the Cavitians of Cavity 9!

6/05/2004